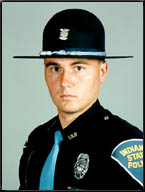 Hometown: Osgood, Indiana
Appointed: December 4, 1994
District: Versailles
November 30, 1970 - April 25, 1997
While patrolling I-74 in Decatur County, Trooper Winzenread stopped to assist a motorist who had run out of gas. Returning to the stranded vehicle after getting gas, Trooper Winzenread exited his patrol car and was struck by an oncoming semi-tractor trailer. Trooper Winzenread died at the scene.
Grave Site