General Information
There are over 200 Intox EC/IR II breath test instruments strategically located throughout Indiana. (See map below) These instruments are used by law enforcement officers to perform approximately 14,000 breath tests every year. There are approximately 4,700 state and local officers trained and certified by ISDT as breath test operators. In order to maintain certification, a breath test operator must be recertified by ISDT every two years. ISDT also inspects, services, and certifies each breath test instrument at least every 180 days.
ISDT Breath Test Program staff includes the breath test program supervisor and three breath test inspectors.
Breath Test Instruments by County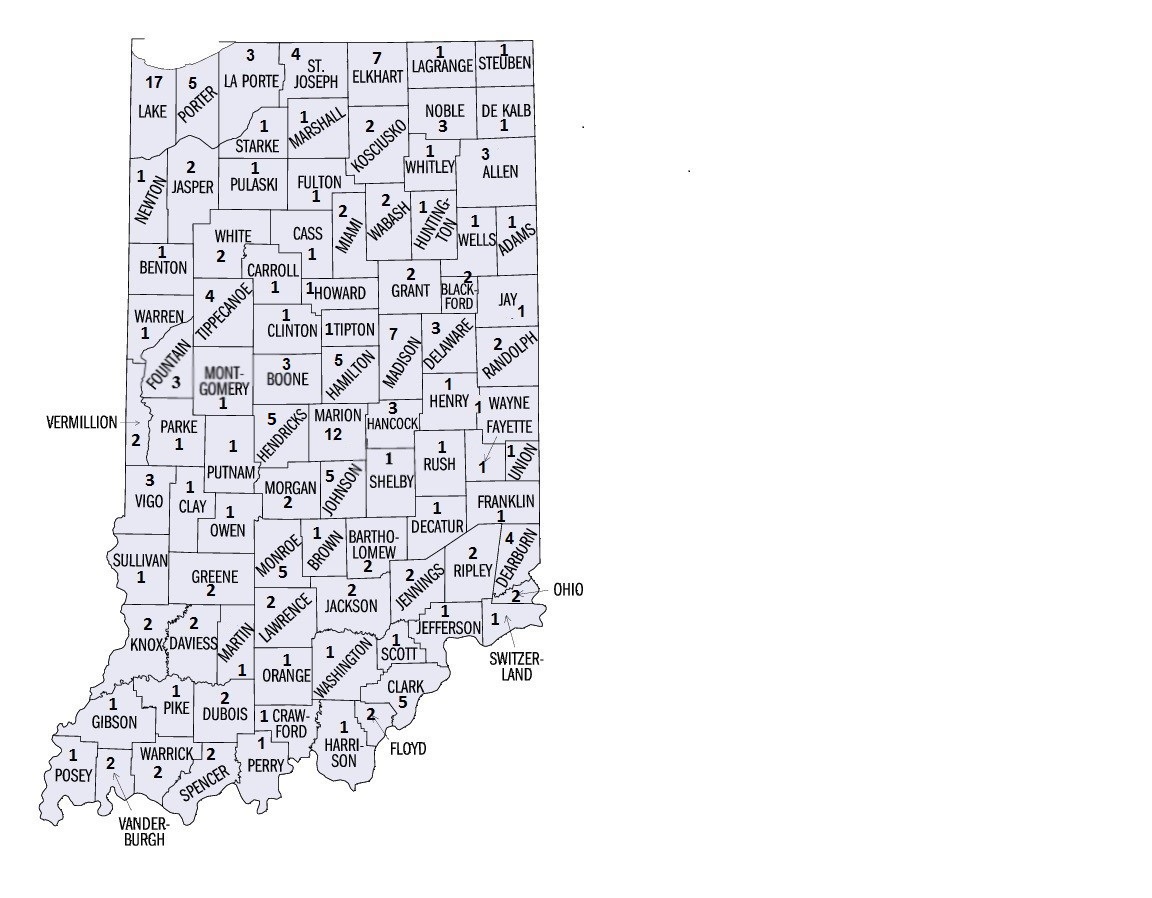 ***In response to COVID-19, the Intox EC/IR II breath test instrument manufacturer, Intoximeters, has released cleaning recommendations for handheld and desktop breath test instruments, as well as answered FAQs (see links below).
If cleaning of a breath test instrument is performed, do not pour or spray cleaners or disinfectants directly on the instrument or equipment. Instead, use a damp cloth to wipe the keyboard, breath tube, instrument case, etc. Since many cleaners contain alcohol, wait 15 minutes after all residual liquid has evaporated prior to administering a breath test. Residual alcohol in the air can cause instrument status messages related to blank checks and environmental conditions which would prevent a subject test from being performed.
Recommendations from Intoximeters also include:
wearing gloves when administering tests, washing hands frequently, operating the instrument in a manner that the subject and operator are least exposed to possible disease transmission, and utilizing one-way mouthpieces on evidentiary instruments.
Below are links provided by Intoximeters.
FAQs:
https://www.intox.com/ufaqs/what-precautions-should-be-taken-during-a-subject-test-to-protect-against-the-spread-of-coronavirus-covid-19-or-other-pathogens/
https://www.intox.com/ufaqs/are-there-steps-i-can-take-to-limit-my-exposure-to-the-possibility-of-disease-transmission-when-operating-a-breath-alcohol-detection-device/
Infection Control, Cleaning, and Disinfecting Intoximeters Desktop Instruments:
https://3gxou93ihow7rltj72rrjmb1-wpengine.netdna-ssl.com/wp-content/uploads/2020/03/Infection-Control-Cleaning-and-Disinfecting-Intoximeters-Desktop-Instruments.1.pdf
If you have any questions regarding the cleaning or operation of the Intox EC/IR II, please contact Dana Bors at dbors@isdt.in.gov.
A pdf of the information described above is located here.