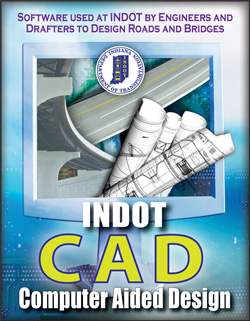 INDOT CAD Support has refreshed its consultant new user guide. Please download a new copy of this document from HERE.
This document gives a quick overview of requesting access to the INDOT ProjectWise System and it's usage.
INDOT uses many CAD products, standardizing on Bentley Software, such as OpenRoads, ProjectWise and MicroStation. The INDOT CAD environment was developed and is maintained for in-house use by INDOT engineers and technicians. This site has been designed to make navigation as easy as possible.
The INDOT CAD Support section's role is to develop, manage and maintain the CAD software/workspace that is used internally within INDOT to ensure its performance and usability. CAD Support also supplies the consultant community access to the workspace via the (Downloads & Information) page and also via ProjectWise (Web Server Access) to all of the files that make up the environment. All published documentation including the (INDOT CAD Standards) is geared toward our in house designers and systems environment, and is provided as "as-is" guidance along with the files we provide for download. The usage of these documents and files by your company is optional, but available should you be interested in working directly in our environment. A design memo will announce the official date consultant-designed plans need to adhere to the CAD standards and the specific requirements. We do however encourage consultants to be proactive and begin incorporating the CAD standards now.
Due to the highly customized nature of the our CAD environment, and the use of a managed workspace delivered via ProjectWise; we can only field questions and publish resources from our workspace as they pertain to those applications listed on our Current Versions page. Questions regarding applications that are not listed should be directed to your various software vendors.
News & Updates
OpenRoads Designer at INDOT: Our production workspace is complete and now available for download. Please find it on the INDOT: V8i Downloads webpage. Along with the workspace download, usage documentation is now complete and available as well.
Due to Bentley product updates, ProjectWise licensing is changing. Please see the INDOT ProjectWise page for information on this change and how INDOT is initially handling this transition.
A new version of the Map Insert page is now available. Please see the updated link below.
CAD Links
Training Videos
Contact Information
CAD Support
Management Information Systems
Indiana Department of Transportation
100 N. Senate Ave., Rm N758-MIS
INDOT CAD Support
Copyright © 2012, INDOT CAD Support - Term of Use