From the Vault Blog
From the Vault | 1880 Census Mix-Up
Indiana State Archives conservator Elizabeth Hague was preparing a large, disbound volume of the 1880 Agricultural Census when she discovered a mix-up had been made. The Agricultural Census pages for 1880 Deer Creek Township, Caroll County were the pages from the 1880 Population Census. The volume of Indiana's Agricultural Census was not handled since being microfilmed in 1969. Researchers regularly use the microfilmed copy, and no one ever mentioned noticing the mix-up.
Elizabeth happened to be working on the volume in preparation for digitization. She noticed that the large pages were becoming brittle, especially along the edges. Before repairing the tears and chips in the pages, Elizabeth needed to individually assess each and every page. After two weeks of preservation work, Elizabeth created a custom box to store the volume. As she carefully and neatly re-stacked the pages, she noticed a different form among the Agricultural Census pages – pages from the 1880 Population Census! These forms are more familiar to genealogists as the Agricultural Census is a less-used genealogical resource.
Curious, Elizabeth wondered if the names on the mixed-up pages appeared in the Population Census. Elizabeth checked the 1880 Population Census online. She typed in several of the names from Deer Creek Township, Carroll County and confirmed that none of them were in that census.
Elizabeth next went to IARA's microfilm collection to check out the Deer Creek Township, Carroll County Population Census. Upon mentioning the mystery to an archivist, the search turned to FamilySearch.org. There, nestled between various Population Census forms of Indiana, they found microfilm scans of the missing Deer Creek Township 1880 Agricultural Census forms!
It appears that the Deer Creek Township pages were mistakenly switched when the individual township booklets were bound together, shortly after they were taken in 1880. At some later date, the volumes were rebound, and the issue persisted. When the federal government microfilmed the originals, the camera operator either did not notice, or did not question that the Agricultural Census forms did not belong with the rest of the volume's contents. Decades later the microfilm was digitized and put online, and problem replicated with the mistaken filing. Somehow, no one noticed the mix-up until Elizabeth conducted conservation on the volume, not even the ones scanning it to put the volume on microfilm or the internet! How many years have genealogical researchers of Deer Creek Township missed out on information from the Population Census due to this mix-up? Will this discovery lead to any new genealogical finds for anyone?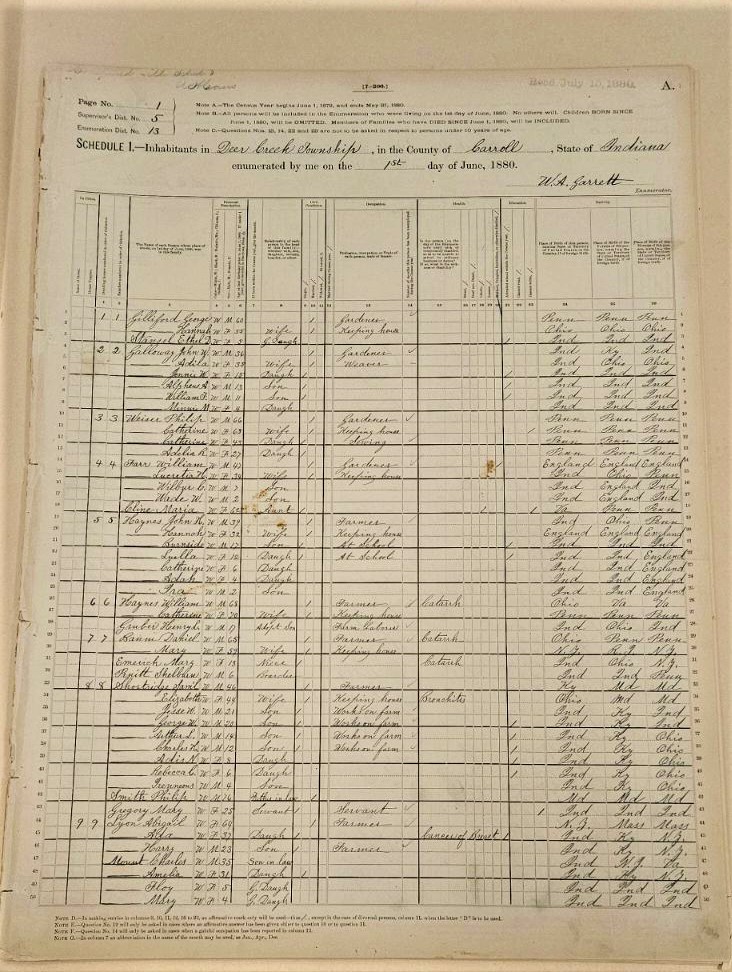 From the Vault | Modern Military Records
Presented by: Daniel Stearns, Reference Assistant
Broadcast live on August 23, 2023.
Which modern (WWII and onward) military records are available from IARA?
Why are they here?
How are they organized?
How can they be requested?
Tales from the Interns | Ben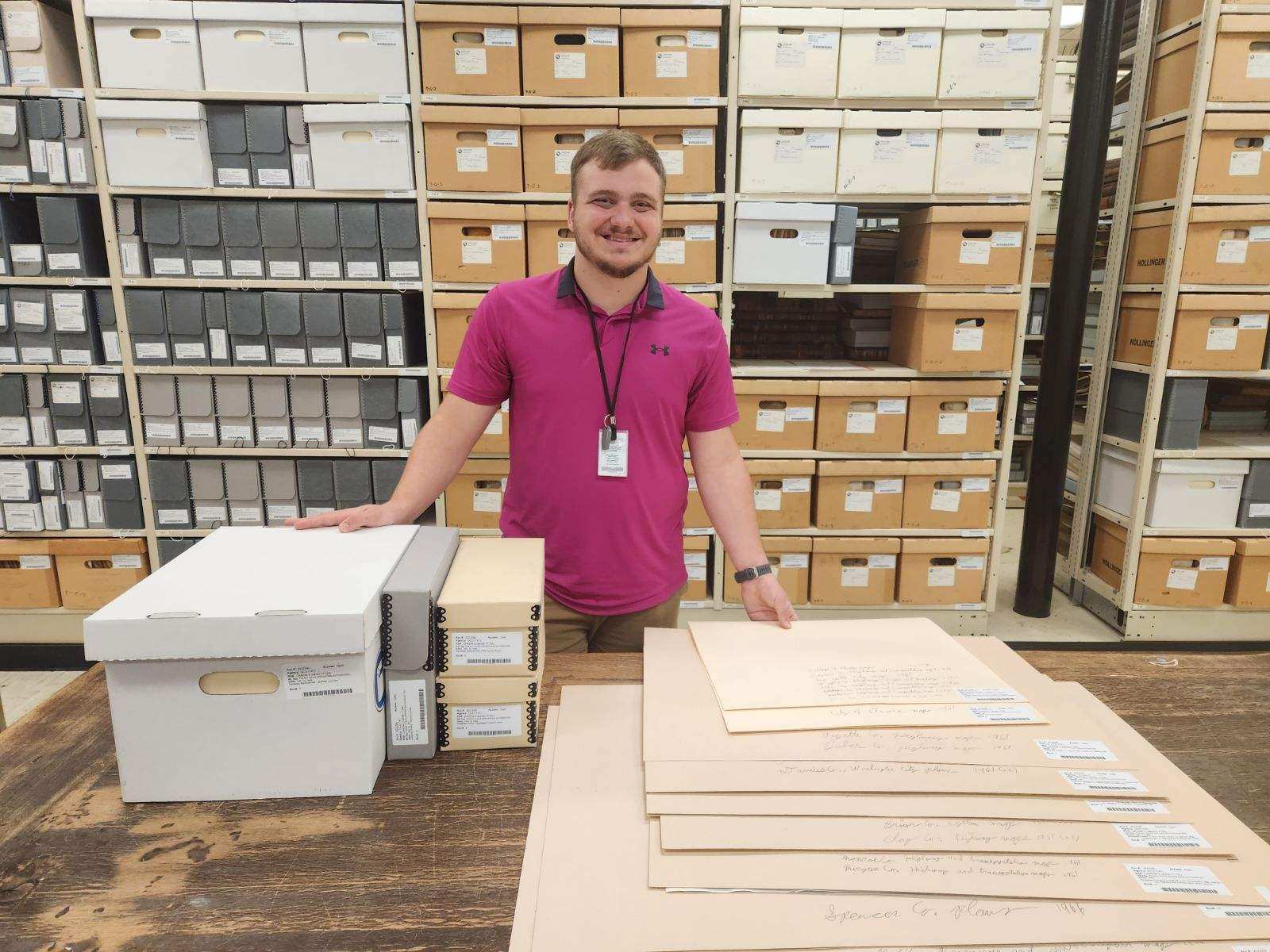 Hi, my name is Ben and I've been the Governor's Summer Intern for 2023 assigned to the Indiana State Archives! I am an incoming junior at Purdue University studying history and art history. This is my first internship, and it has been an incredibly rewarding experience! This is my first venture into archival work, and public history as a whole, and I'm very excited to see where this experience takes me.
I've learned many valuable skills during the course of my internship, chief among them being how to remove staples. I did learn other valuable skills such as how to identify non-archival material and how to recognize acidic paper. I also learned how to properly arrange and store papers and photographs.
I have worked on a few different projects during my internship. My first project was a small collection of Marion County Sheriff's records from the late 1950s and early 1960s. This project taught me most of the basics I would continue to use through the rest of the summer. My next project was a small collection of veterans correspondence from the Vietnam War era. After these two projects I began my largest project of the summer: a collection of Office of Civil Defense records and correspondence from the 1960s. This project was particularly fun to process even though it contained a very large number of photographs and staples. The most fun part of this project was seeing locations and towns that I recognized. I also particularly enjoyed identifying old cars in the photographs. My favorite car I saw in the photographs was an old Ford Galaxie!
I was also given the opportunity to explore some of the things we have in the Archives. I really loved seeing old Civil War correspondence as well as Abraham Lincoln's ACTUAL signature!
From the Vault | House Bill 264, 1897, the Indiana "Pi Bill "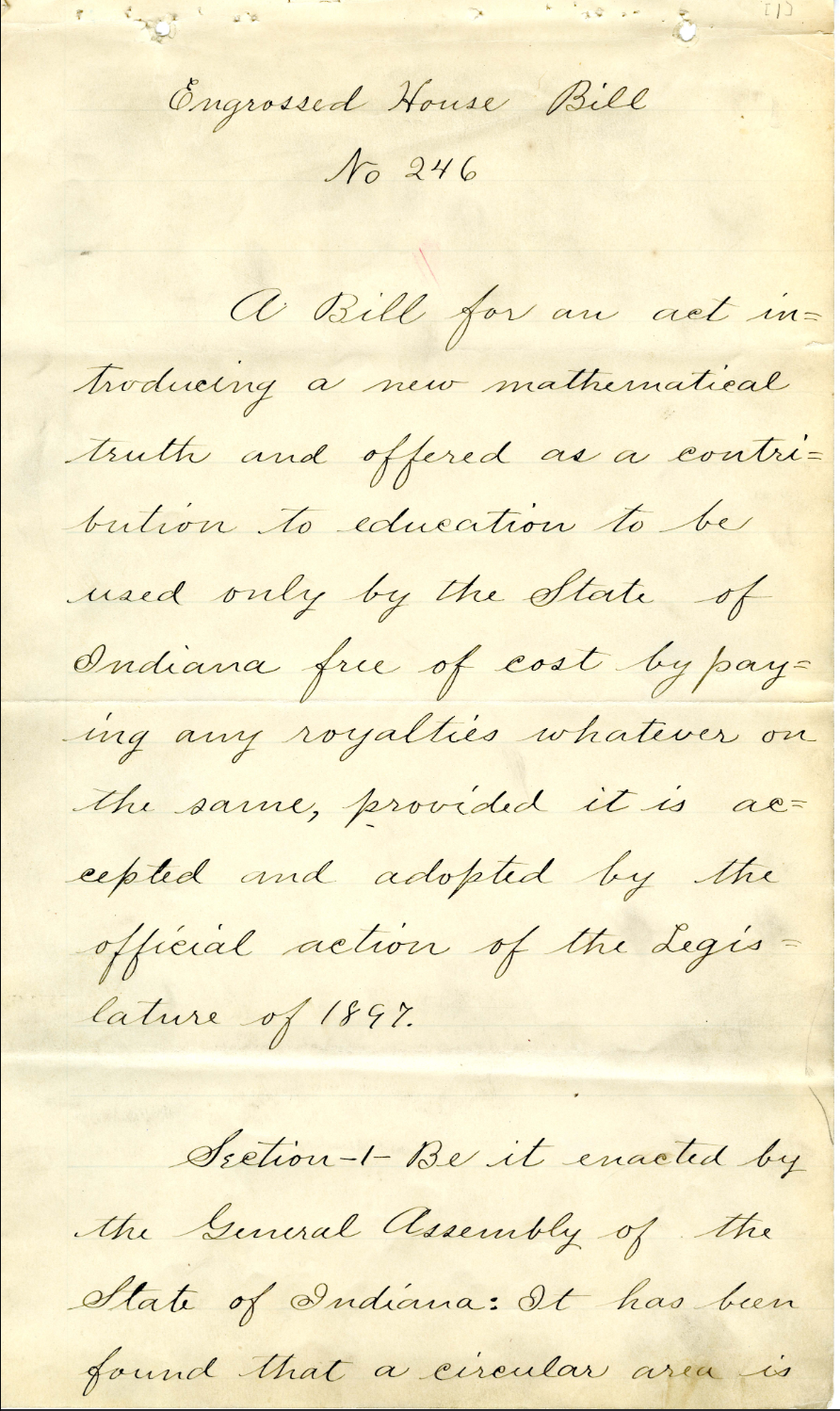 Every March 14th will see a spate of new articles on today's subject, the infamous Indiana Pi Bill.
House Bill 264 of 1897 was introduced by the representative from New Harmony, Taylor I. Record, but was composed by Dr. Edward Johnston Goodwin. While Dr. Goodwin's education and medical credentials were as legitimate as any, he did not have any training or experience in mathematics. Despite or possibly due to this, he believed that he had solved the ancient mathematical problem of "squaring the circle" and had therefore created a new and much simpler value for Pi – 3.2. In reality, he had misunderstood the basic premise of the problem and made several groundless assumptions.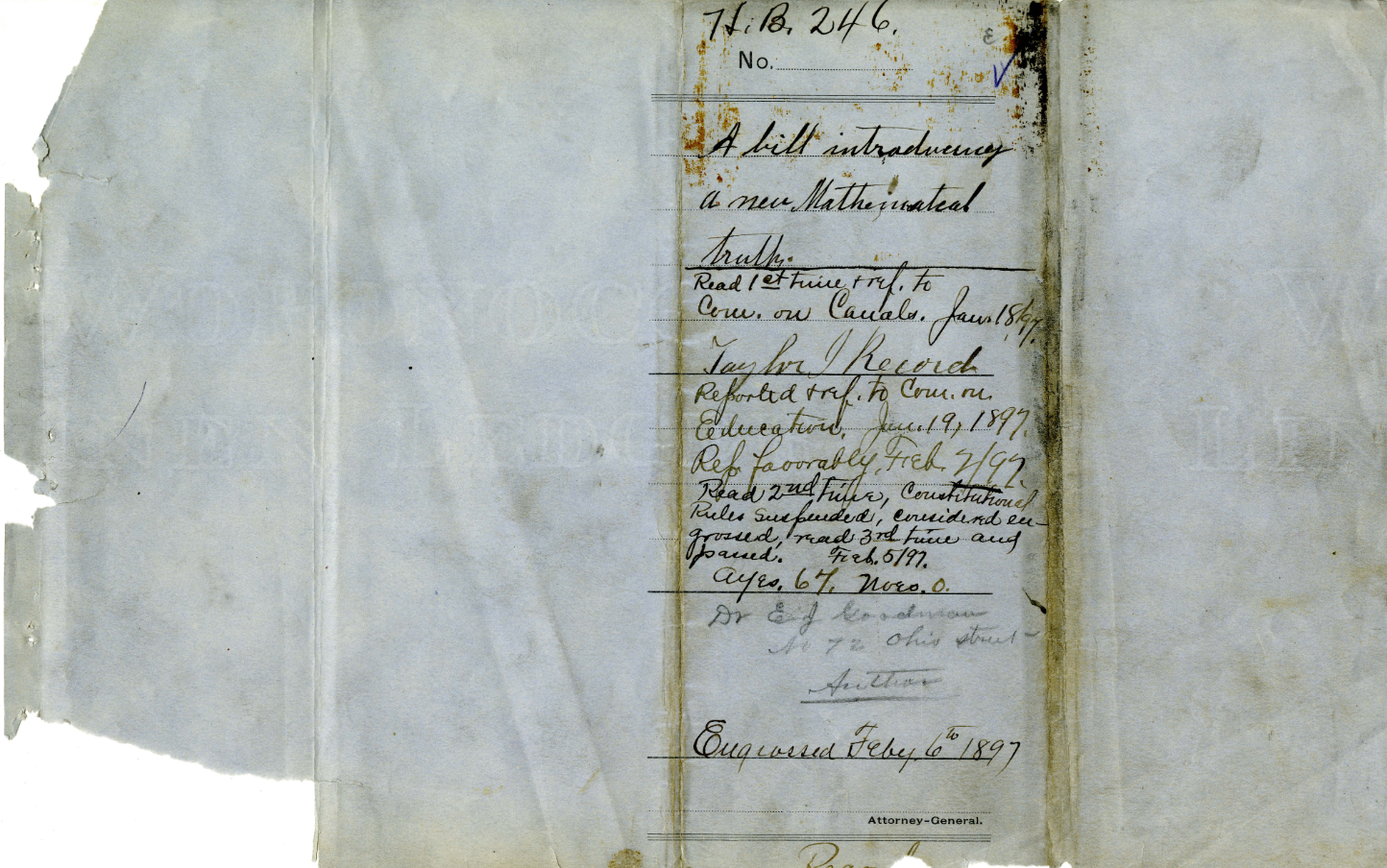 Perhaps unsurprisingly, Record, the part-time farmer and part-time legislator, accepted and submitted the bill for the esteemed Dr. Goodwin. While Goodwin's theory was not accepted by anyone of note, he managed to get it published early in the life of American Journal of Mathematics "by request of the author" meaning that it was not vetted nor peer reviewed. He recounted this publication and some vague endorsements by named academics to journalists, who also often did not question his theory. At one point he was slated to speak at the Chicago World's Fair, but was removed shortly before the event, presumably when he encountered someone that knew his theory was utterly flawed. He also had a supposed academic endorsement denied or questioned on more than one occasion. However, when recounted in most of the newspapers his accomplishments are listed without their caveats.

The combination of Dr. Goodwin's reputation and the bill's nearly inscrutable language and subject matter most likely got it through both the Canal and Education committees without amendment or comment, and it was engrossed by the House without issue. It was also approved by the Senate Committee on Temperance but was indefinitely postponed when it was read the the Senate a second time. The bill received no recommendations at any point of the process. Its failure is often attributed to Professor C.A. Waldo of Purdue, who was in Indianapolis to secure appropriations of the University and was able to explain to some Senators why the bill should not be adopted.
Images: Right - The Pi Bill as written by Dr. Goodwin. Left - The cover sheet to the Indiana General Assembly file.

ref. Hallerburg. House Bill 264 Revisited. Proceedings of the Indiana Academy of Science, 1974. https://journals.iupui.edu/index.php/ias/article/download/8180/8139/14312
Tales from the Interns | Myren
Hello! My name is Myren Mitchell, and I'm this year's Friends of the State Archive's summer 2022 intern. Currently, I am enrolled in Indiana University's Master of Library Science graduate program specializing in Archives and Special Collections. I have just completed my first year of the program, and I am interested in the hands-on experience putting to practice what I have been learning in my classes through this internship.
I started off my undergraduate experience studying Computer Science. I enjoyed working with computers and coding but found that the tech industry was not a great fit for me. I was also studying history classes on the side, and I began to look for a way to integrate my passions for history and computers. Then, through an opportunity to create an interactive, digital map of Grand Valley State University's campus with their Archives and Special Collections, I was able to confirm my interest in becoming an archivist.
This summer, I have worked on several projects, including processing a collection from Evansville State Hospital. I have never processed a collection from the beginning before, so I was excited to dive right in. I enjoyed the organization part of the process, deciding which materials should be categorized together into series. There were several different types of media I was able to work with and learn how to store, including photo negatives, film, phonograph records, CDs, scrapbooks, and even a box full of recipe cards! I feel that I have learned a lot through hands-on experience working with all these types of media in this project.

Another project I have worked on involved using the crowdsourcing platform FromThePage. Before this internship, I had no other experience working with this website, and I was interested to learn the behind the scenes work of setting up a project from scratch. I had access to several rolls of microfilm containing information on Indiana's draft for the Civil War in 1816. I decided to divide the initial project into two smaller ones, since the microfilm has information on both the men who volunteered for the militia and those who were drafted. Now both projects are available to the public here.
When I first began my internship with IARA, I was given a bingo sheet of different things I would most likely run across or experience working in the archive. One of my favorite bingo items was finding fun doodles on documents in the archives. As my internship draws to a close, I am excited to announce that I have successfully completed the entire bingo card!
This summer, I was also given the opportunity to job shadow for a day at the Micrographics Lab. Microfilm has become a recent interest of mine, and I enjoyed getting to spend a day learning how to capture and develop microfilm. I'm eager to continue learning how to properly create and duplicate microfilm. I will finish the rest of my internship working in Micrographics, and I've even been offered a part-time job there!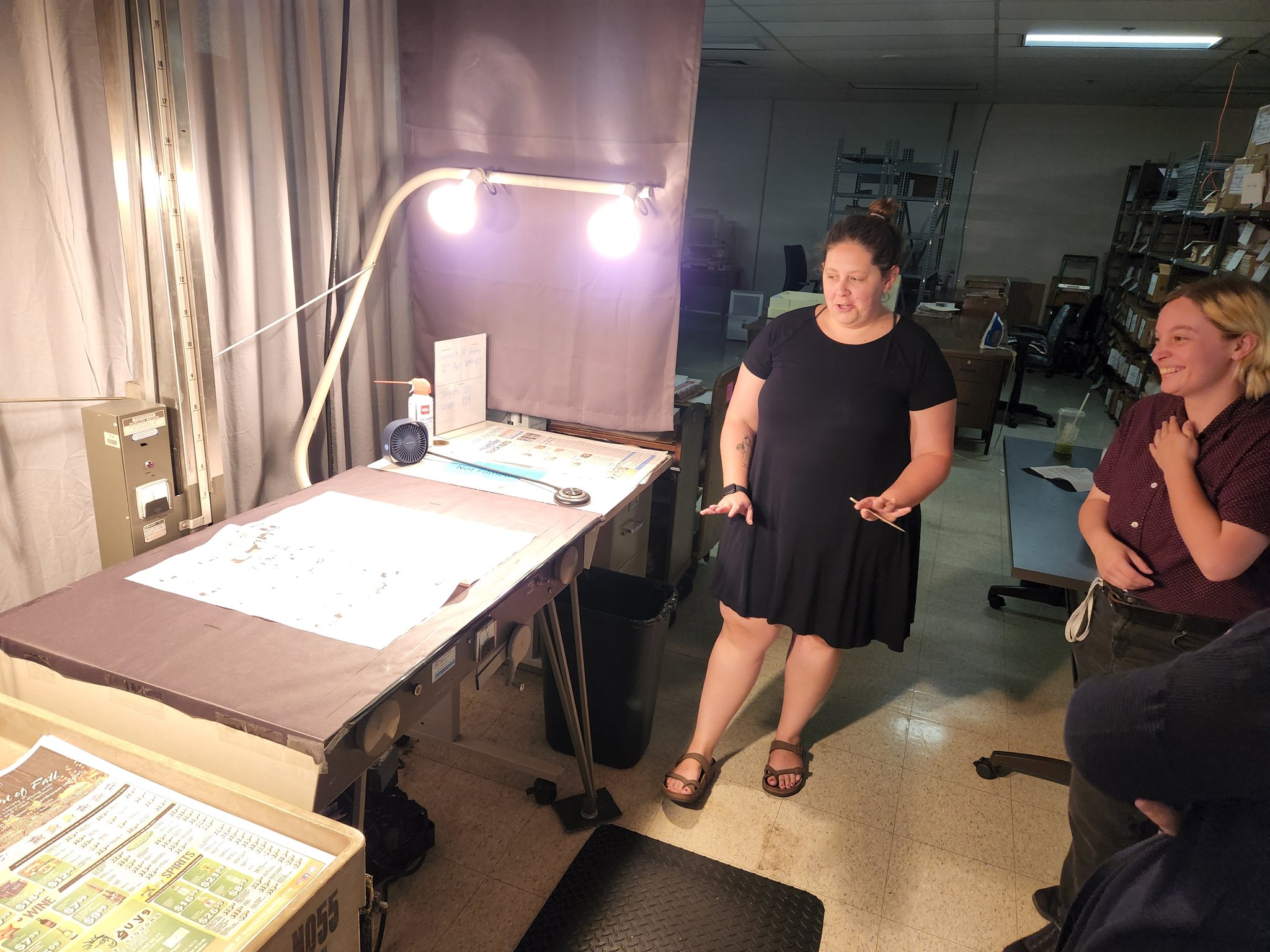 From the Vault | Barcoding

You've probably heard by now, but: We're moving!
The move won't happen until early 2025, but we have plenty of projects to keep us busy until then.
The largest, most important, and most time-intensive project we're working on is adding new labels and barcodes to every box and volume in our holdings.
This is a huge undertaking! Between our main stacks, paper and microfilm vaults, Records Center overflow, and Ready Reference room we have over one hundred thousand cubic feet of records that need to be checked, updated, and labeled.
A barcode is a unique identifier assigned to an individual box. Multiple boxes in the same archival accession share the same accession number, but each box has its own barcode. The barcode can be scanned or typed into our database to quickly find information about it, including its location, a description of the records, etc.
We began barcoding records in June 2021 and are halfway through the holdings in the stacks. Working in teams of two, our processing archivists, archives assistant, and interns each devote 4 hours a week to barcode. In these teams, one person manages the database while the other person checks the records on the shelf to confirm that the record description, container size, and dates match.
Barcoding will allow us to easily track our records as they are moved to the new building and there are other perks that will benefit our Archivists and patrons. The barcoding teams double check that record entries in our database accurately represent the records. When needed, we update record descriptions, fix typos, change dates, change locations and more. We may also update the extent (or size) of the boxes. This work makes it easier to locate records from our online catalog and it will ensure that patrons can easily find the records that they need.
Currently, many of the boxes in our stacks have old, outdated labels on them. Other boxes can only be identified by a handwritten note on the box. The new labels will allow us to quickly identify the records on each shelf.
Before: Boxes with handwritten labels
After: The same boxes with new printed labels
Our volumes are also being assigned barcodes. For the volumes, labels are attached to acid-free card stock and the non-labeled side is placed between the pages of the volume. Many of the spines on our volumes are in poor condition or have fallen off. Typically, the information researchers need are located on the spine, including title and date. The barcodes will make it much easier to identify volumes, despite readability of its spine.
As we barcode, we have discovered some boxes that were mistakenly reshelved in the wrong location, boxes that were never transferred to our current database, and mystery items. When we discover mis-shelved items we update the record's location in the database to reflect its current location. Mystery items and records that were skipped during the database change are the most challenging to fix. We need to discover what the item is, including the record series it belongs to, and we must double check that the record we found truly does not already exist within the database. Luckily, we've been able to correctly identify all the records with the help of our older databases and our archivists' institutional knowledge.
We keep track of records that need to be assessed by Conservation and records that might be a good project for volunteers or interns. One of our summer interns, Jamee, processed a collection of records from the Department of Correction's Farm Department that was discovered while barcoding. We make sure to post photos of the fun items we find on social media too!
Tales from the Interns | Jamee

Hello! My name is Jamee and I am the Indiana State Archives' Governor's Intern for summer 2022. I will be graduating with a degree in History and a Museum Studies certificate in the Spring of 2023. This is my first internship, and it has been a pleasure working with everyone for the summer. I am considering attending graduate school for a Master's in Library Science and this internship has been a great opportunity to learn more about the field and discover what I enjoy working on.
Before this internship I had not done any archival work. My first week I processed a box that contained optometry licenses. I learned how to remove staples, clean documents, and re-folder documents and pictures.
My next and more extensive project was from the Department of Corrections Farm Department. This series contained 10 cubic feet boxes which I weeded (removed non-archival records) and processed. The records were mainly between the years of 1939 and 1952, with the majority coming from the 1940s. While processing the documents I learned about the different state institutions that had farms such as the Madison State Hospital and the Indiana School for the Deaf. The farms allowed inmates to learn vocations and were also used to help make the institutions self-sufficient during World War II shortages. One of my favorite parts of the series was seeing photos of cows at institutions along with building plans and farm maps.
A majority of my summer has been spent in the stacks processing, but that is not the only work I have been able to do. I also have been busy working on projects to help prepare the Archives for its move in 2024, including barcoding records and digitizing finding aids. Barcoding large and old books is one of my favorite parts. Seeing the old handwriting and paper is interesting. Additionally, I have learned bits and pieces about the conservation work here, like how to mend a document.
From the Vault | Stories from the Archives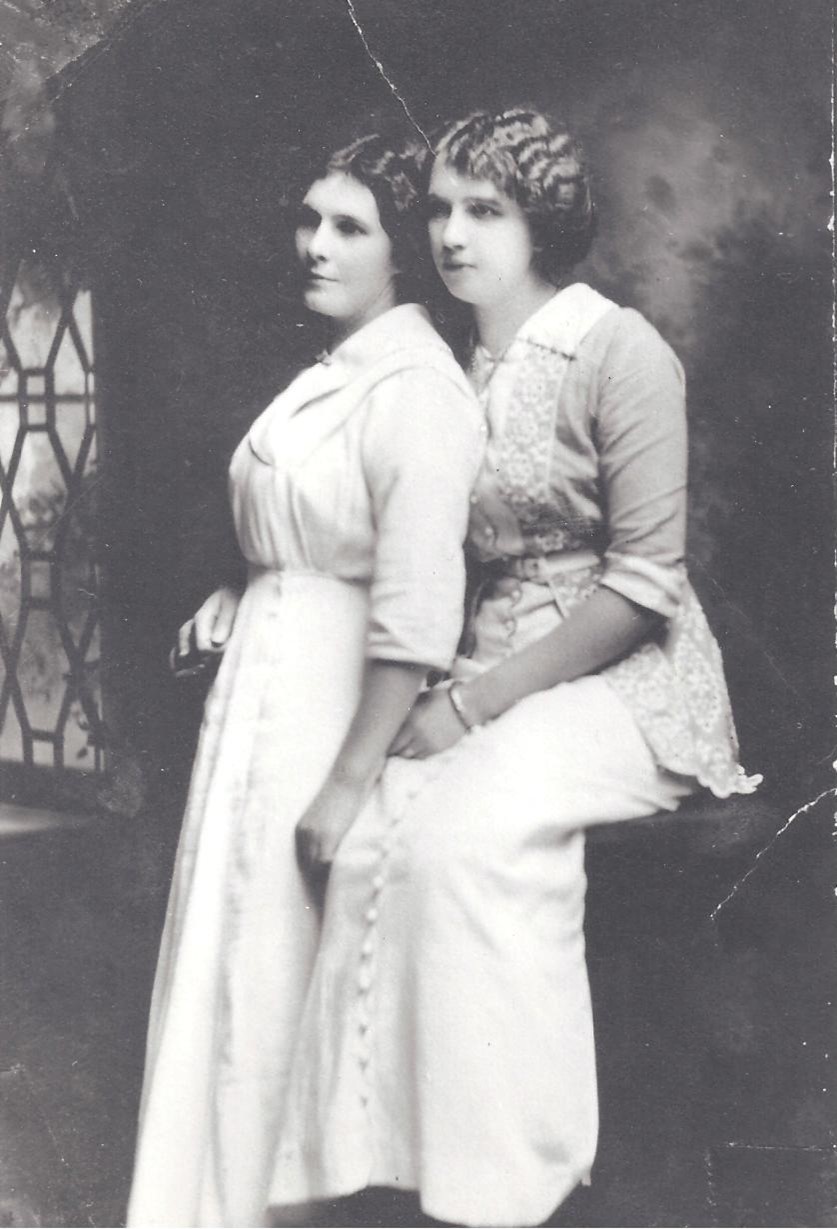 Open any box at the Indiana State Archives and you will almost certainly find an interesting story. Some collections naturally lend themselves to a greater likelihood of discovering a real page turner than others. Typically, collections that concentrate on individual people can always be counted on to be intriguing. A particular favorite for most genealogists is that of the Foster Care Files 1892-1910.
The Foster Care files, collected by the Children's Home Society and the Board of State Charities Child Saving Department, pertain to the placement of children in foster homes throughout Indiana. The files vary in size containing as little as a few sentences on a scrap of paper, or filled with multiple home reports, letters from family members, and an occasional adoption paper.
The Manlove-Wagner Family
To test the theory that one can open any box in this collection and find a great story, the first box was sampled. Naturally, thinking the larger files stood a better chance, a file for Lillian Clark was selected. Perusing the file reveals that little Lillian Clark was only three years old when she was taken in by the Children's Home Society in 1893 in Henry County, Indiana.
Lillian was soon sent to live with Earl and Melissa Rector in Jefferson County, Indiana. The Rectors were both fifty-two years old at the time. Their children were grown and living elsewhere. Mrs. Rector was not in good health, and Mr. Rector was a former Civil War soldier, now living in the town of Faulkner, where he hoped to buy a farm. He wrote to Reverend H.S. Hilton of the Children's Home Society that they would like to have a "a little girl from four to eight years old[,] an orphan preferred and that has not been spoiled[,] dark hair and eyes and healthy." In another letter he emphasized they wanted a child they "can raise and treat as we would our own."
On November 4, 1893, Rector wrote, "we are very well pleased with her[.] she is a very smart child for one of her age[.] will know in two weeks if we want to keep her[.] don't think we would like to part with her[.] Would like to know something about where she came from[.] if her parents are dead or alive and how old she is as near her age as possible." The Rectors were thrilled with little Lillian, and eventually adopted her. She apparently lived happily with the family for nearly seven years. After Mrs. Rector passed away, Mr. Rector was at a loss as to what to do. He sent Lillian to live with one of his older children's family, but they did not feel they could handle yet another child. Earl Rector remarried hoping to make a new home for Lillian, but that did not work out. His new wife could not get along with the little girl. Rector, now unemployed, feared he would be forced to go to the Soldier's Home, if he did not find a job soon.
Lillian was returned to the Children's Home Society on July 31, 1902, her young world once again upended. Eventually, she was placed with the Thompson family in Ladoga, Indiana. Attorney R.C. Woods, who helped the Thompsons arrange to foster her, described her as "a lovely child, and appears to be of a contented cheerful disposition, and I am sure she is a very kindhearted little one." According to the reports in her file, Lillian had a little trouble adjusting, but remained with the Thompsons until she married in 1907.
A few years later, a woman named Mary Wagner Brittenham saw an article about two identical twin sisters who were reunited in Indianapolis after being separated as foster children. Inspired by the story, she wrote to J.L. Peetz of the Children's Home Society and explained that she was looking for her sister's children. Mary's family had been separated when she was a child, and Mary, her brother, and her two nieces were all sent to different foster homes. Mary was sent to a home in Illinois and her brother Murray was sent to live with a farming family in Indiana.
Their experience was difficult. Unfortunately, Mary's file has not been discovered in the Foster Care collection, but her brother Murray does have a small file.
By today's standards, Murray's foster father would have been charged with abuse, and indeed the child was soon moved to a new home shortly after his foster father wrote to the agent that he beat him "like a mule" in order to gain any cooperation from him. Murray eventually also left the new home, returning to his mother who was then living in Knightstown, Indiana. Mary eventually also returned to their hometown and the siblings reunited with their father and older siblings. However, they were still unable to find their nieces.
Mary's inquiry to Peetz named the two girls as Nellie and Florence Manlove. Though Agent Peetz could find a file for Nellie Manlove, he had no information as to her whereabouts.
Unfortunately, he could find no file for a Florence Manlove. Peetz wondered if she might have been sent to the Children's Home Society under a different last name. Mary remembered that for a short time her sister Mattie had been married to a man named Clark. Peetz found information regarding a Lillian Clark, whom he believed might be Florence. He found her married name in correspondence sent just before her marriage in 1907 to Nelson Howard.
Mary wrote to Lillian who was shocked to learn that her family was still living. According to a letter in the possession of her great-grandson, Lillian believed her parents had died and did not remember having siblings. Lillian was soon reunited with both her aunt and her mother Mattie, now remarried to James Cavanaugh and living in Carthage, Indiana.
The reunion went well with Lillian frequently bringing her children from Lake County to visit her mother and aunt. Still, they all felt compelled to locate Nellie. Over the next two years Lillian joined in the search sending letters to various organizations, including the State Board of Charities and Children's Home Society. Both offices were attempting to make contacts.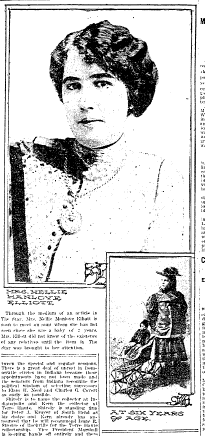 Suddenly the mystery of Nellie's whereabouts began to unravel. The women learned that Nellie had once lived in the home of a woman named Ida Black. After contacting the Marion County clerk, John Rauch, who took an interest in their search, a small article appeared in the Indianapolis Star describing the search for Nellie Manlove. The ad was spotted by Irene Black of the Humane Society who had formally worked at the Children's Home Society in Indianapolis. She remembered Nellie well.
Around the same time, the Board of State Charities also discovered Nellie had married James Elliott in Indianapolis and they were presently living in the Carter Flats at Massachusetts Avenue and St. Clair Street. Irene Webb called Nellie and explained the search her family was conducting. Nellie had only vague memories of family members whom she'd not been able to locate.
The family wasted little time reuniting, with Mary and her husband meeting with Nellie the same week. The Indianapolis Star and other central Indiana papers carried stories about their reunion.
Mary wrote to J.A. Brown, the State Agent for the Child Saving Department at the Board of State Charities. "…she and husband have visited us in our home[,and] we visited them in there [sic] home [,and] will be here Thanksgiving." Mary goes on to describe their lengthy separation, the relief evident in her writing. "Kind Sir[,] this will be the happiest thanksgiving to me. I shall have both the nieces and my baby brother all with us for the first time since we were all separated and placed out in homes…"
She continues, thanking him for his help, "thank you for your kindness just the same[.] us children have saw hard times and mean treatment but never more."
Sisters Nellie and Lillian reunited as well, even sitting for the portrait pictured at the beginning of this post.
Though Thanksgiving 1913 proved to be a good year for the Manlove-Wagner family, the few short years that followed were not. Lillian gave birth the next year to her fourth child who died of pneumonia within a few weeks. The Howards moved from Crown Point to New Castle, closer to her family, where Nelson worked as an engineer in an automotive plant. In 1916, Lillian passed away due to pregnancy complications.
During her search for Nellie, she had written to J.A. Brown that she had "a good husband and three sweet little children two girls and a baby boy seven months old the 28th of July."
All that from one file chosen at random, which led to two other children's files in the same collection! With a little work we were able to track down one of Lillian's descendants. Lillian's great grandson, the grandson of her son James Melvin Howard, kindly loaned the images of Lillian and Nellie, Mary Brittenham, and Lillian's children.
From the Vault | Santa Claus vs. Santa Claus
Right: Cover of Appellate Court Brief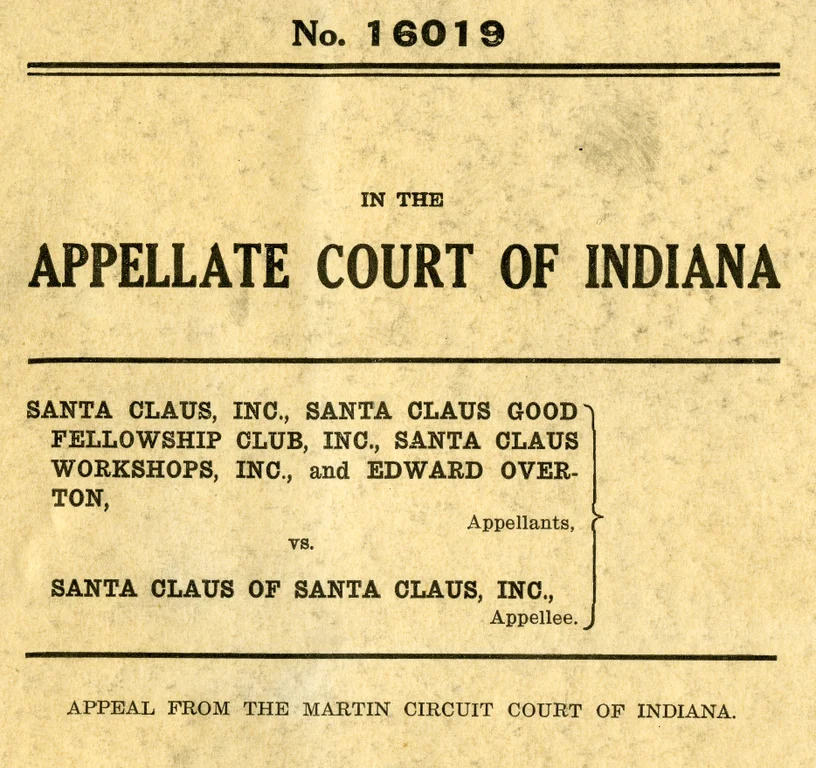 Likely holding the record for the number of times the name "Santa Claus" appears in the title of a legal case, the story of Santa Claus v. Santa Claus started in 1856 when the town of Santa Fe was set to get its first Post Office. Their first application was rejected, as there was already a Santa Fe, Indiana in Miami County. Stories vary on how they settled on the name Santa Claus instead, ranging from magical to mundane, but in any case, the second application was accepted. While the town was still referred to as Santa Fe locally, the post office started receiving mail from across the country, addressed to the office's namesake.
In 1914 the local postmaster, James Martin, took it upon himself to start answering the letters, encouraging even more correspondence. The post office's fame exploded in the 1920s, when the Postmaster General declared that there would never be another Santa Claus post office in the U.S. due to the logistical problems caused by its holiday mailing and "re-mailing"; the process of sending packages and letters to Indiana so that they could be forwarded through Santa Claus and receive the coveted Santa Claus postmark. It gained even more notoriety when it and Martin were covered by Ripley's Believe it or Not! in 1929. So much so that the USPS considered changing the name in the 1930s to avoid the holiday chaos. At its peak, the office managed almost 3 million letters to Santa!
With this level of fame, it wouldn't be long until people started attempting to monetize the town's connection to the magical old elf. One of the first of these men was Vincennes entrepreneur Milton Harris, who worked with James Martin to open Santa's Candy Castle in 1935. Harris's vision was that Santa Claus would be turned into an ideal Christmas village where toys and candy would be made and given freely, sponsored by various corporations. He followed up the Candy Castle with Santa's Workshop and Toy Village and secured a lease from the Reinke family on 31 nearby acres for future expansion of Santa-related attractions.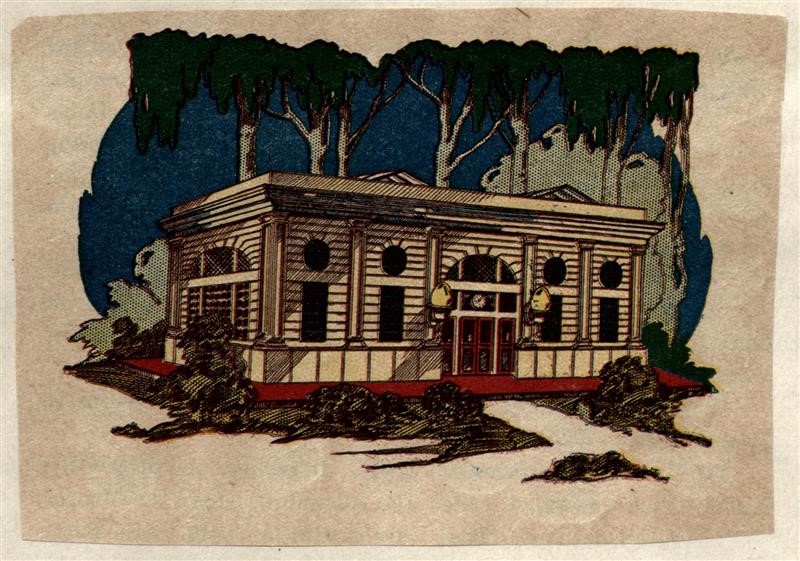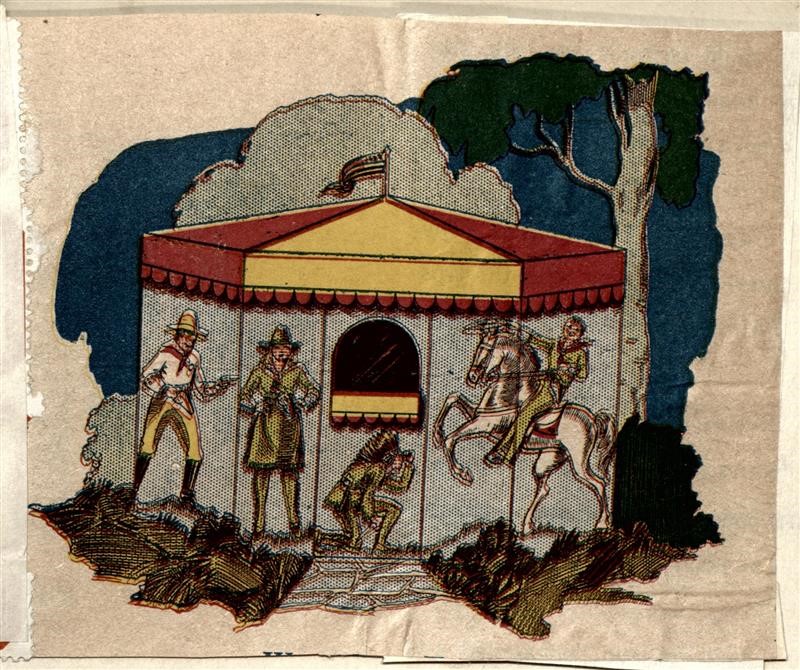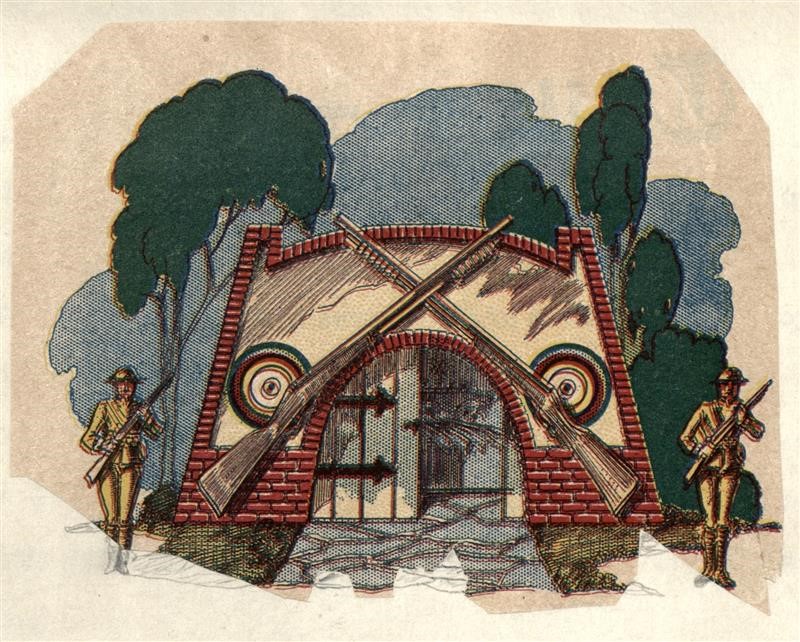 Above: Concept art for Harris's Lionel Train Depot, Wyandotte Pavilion, and Daisy Air Rifles Barracks.

However, Carl Barrett, President of the Illinois Automobile Club, was hot on his heels. Just 4 months after Harris leased the land from the Reinkes, Barrett came to Santa Claus and purchased the very same land that had been leased to Harris. As Harris had a head start on a full-fledged attraction, Barrett rushed to put up a giant statue of Santa Claus, eventually unveiling the piece on the same day Harris opened the Candy Castle. Barrett insisted that he had come to rescue the town from the materialism of Harris but established himself as unreliable by insisting that his granite statue was blessed by a fallen meteor just before the dedication. In reality, the statue was cement, and degraded quickly, and the crater nearby was just a plain old hole that Barrett threw some metal into to sell the myth. This statue, and further actions by Barrett & Harris's attempts to stop them would be what eventually landed Santa Claus in front of the Indiana Supreme Court.
---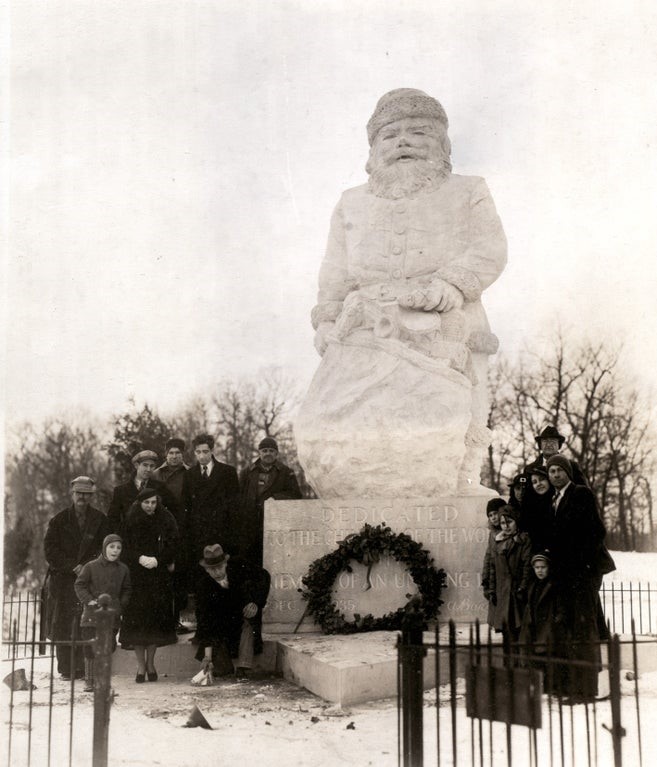 Left: December 23, 1935 Unveiling of Santa statue
Milton Harris and Carl Barrett unveiled their competing attractions on December 22, 1935. However, at this point the two men had already been fighting one another in court since November, when Harris filed a complaint in the Spencer County Court. Harris's primary complaint was that Barrett, and his associates were not honoring the terms of the lease that Harris had signed with the Reinkes. The key passage of the lease reads:
"It is agreed and understood by the parties that the second party (Harris) shall have the exclusive right during the term of this lease to conduct on said real estate any and all business having any relation to the Santa Claus idea"
For his part, Barrett and his associates appear to have never taken the lease seriously, telling the Reinkes when he purchased the land that it "didn't amount to anything." However, the Martin Court, where the case was eventually moved to, disagreed with his assessment and upheld Harris's lease in November of 1936. The court also awarded Harris $5,100 in damages. Most surprisingly, the Martin Court went so far as to quiet Barrett's title to the land, effectively giving ownership of it to Harris for at least the next 25 years.
In the county court Barret's primary argument was that Harris's "Santa Claus of Santa Claus, Inc." had been incorporated after Barrett's "Santa Claus, Inc." and that Harris' incorporation should not have been accepted and was invalid as it was confusingly similar. However, both the county shot this argument down quickly, stating that the Indiana Secretary of State was given the quasi-legal authority to determine when a corporate entity's name was too similar to another and that the courts had no ability to alter that decision.

Barret's team immediately began the appeal process, but the case was denied by that Court in October of 1939 on grounds of both an adequate judgment from the Martin Court and procedural errors on behalf of the team. The Appellate Court was also concerned with what was either gross incompetence or willful obstruction on the part of Barrett's group stating regarding one point of contention:
"the record has been mutilated, changed, and forged to show that a written praecipe was filed whereas the clerk's return to the writ of certiorari shows that no such written paecipe was ever given to him"
Either undeterred or desperate, Barret requested a transfer to the Supreme Court, which was granted, finally appearing before the court in May of 1940. In a somewhat surprising reversal, Harris's damages were significantly reduced and the action to quiet Barrett's title to the land was overruled. However, Barrett was still forced to honor Harris's lease and would be subject to future damages if he continued to pursue the business of Santa Claus in Santa Claus.
Carl Barrett had "won" in the Indiana Supreme Court and had his damages reduced. However, he was still worse off than he was before the case. He would face off with Harris in court again after acquiring some of his competitor's stock and demanding either a promise of profitability or a dissolution of Harris's leases. He was once again unsuccessful. Barrett would continue to promote his statue, the village, and future attractions such as a 22-story cross and genuine Alaskan totem pole through the 1940s. However, the statue and its surrounding park, featuring a wishing well and small log cabin, were the only things of significance he ever actually completed.
Things started to look up for Barrett in 1938, when oil was discovered in the area. As opposed to Harris's leases, which gave him no rights to extract oil, Barrett had purchased land outright and had such rights. While Barrett doesn't appear to have accumulated a huge amount of oil wealth, he did live a comfortable life running the Rush Creek Oil Company out of New Harmony until his retirement. By 1954 newspapers noted that the Santa Claus statue and the park sat in a state of abandonment and disrepair, indicating that Barrett had moved on to more profitable interests. He died in Evansville in 1978.
While Harris was successful in enforcing his lease, it never really paid off for him. He struggled to secure sponsors for his attractions other than Curtiss, and only ever completed a small toy shop and workshop aside from the Candy Castle. With the U.S. entry into the war coming shortly after the resolution of the Supreme Court case, Harris never had an unobstructed chance to make his ambitious dream a reality. After the war he would find himself once again attempting to enforce his position as the controller of Santa Claus business in Santa Claus, this time against Louis J. Koch. Unfortunately, he would not prevail, and died in Vincennes in 1950.
In 1946 Louis Koch of Evansville opened a toy factory on the outskirts of town. Shortly after it was built the USPS opened bids to relocate the overflowing post office, still in the small village of Santa Fe. Koch won the bid over Harris's protests, relocating the post office outside the town and almost a mile away from Barrett's statue and Harris's castle, into the center of his newly built Santa Claus Land. Koch also found that since the town had never officially changed its name, he was free to organize his unincorporated area on the outskirts of the village as the first, 100% official, Santa Claus, IN. With a healthy initial investment and the securing of the all-important name and post office, Santa Claus Land would expand rapidly in the post-war era, and would eventually rebrand as Holiday World in 1984.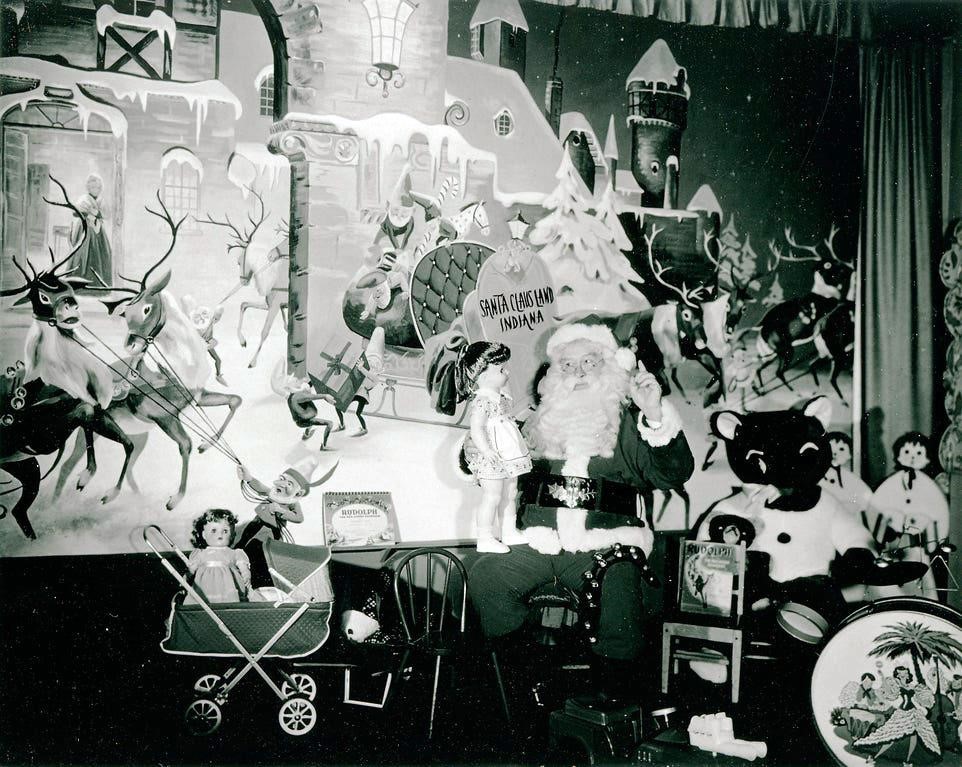 Above: Santa Claus in Santa Claus Land, Santa Claus, IN, 1950
From the Vault | The Research Indiana Indexes
For Ask an Archivist Day, we asked our staff some questions about the new Research Indiana Indexes site, which allows users to search the names, subjects, and corporations indexed across some of the Archives' most interesting collections.
Read on to find out what they had to say. You may be surprised at some of the stories you can find in the Indiana Archives' collections!
What is your favorite collection included in the Research Indiana Indexes?
It's a close tie between the Foster Children database and the Secretary of State Pardon and Paroles Collections. Both sets of records typically offer insight to the lives of their subjects, with little known details often discovered. In the Foster Care files one can learn about the homes where the children lived and more about the circumstances that led to their situations. In the Pardon and Parole files there are often viewpoints from the incarcerated prisoner, and letters and petitions from those who either support or disagree with their possible release. Some files are rather sparse and only contain a few pages, while others are quite large and informative. - Vicki, Director of Patron and Outreach Services
The Marion County Public Safety Employees collection is one of my favorites. There is a lot of useful genealogical information included in the files and the personnel records are really cool to look at. Some of them include photographs of the employee as well. It is fairly rare to have photographs included for a number of the other collections (offender records, state hospital inquests, naturalizations, etc.) utilized for genealogy in the State Archives for that time period. - Quinn, Director of Archival Processing
The State Agent's Correspondence Collection is just so interesting! Each entry contains information on the child, including responses to letters that were included in the child's file. I love that you can track the different changes and upheavals in the child's life through the 'Notes' sections. For example, Blanche Bell was bounced from different homes and institutions across the state for several years. One note remarks it is 'best not to remove Blanche from the institution as there has been much difficulty when she has been in a family home,' which makes me wonder what happened to her. - Meaghan, Archivist
Tell us about an exciting discovery you've made in the Archives' collections.
While proof reading the Marshall County Courts database I noticed the names of Joseph Burns, Joseph Byers, Art Silbert, and Peter Fox. In December 1920 they robbed a bank in Culver, Indiana. During the robbery Jacob Russell Saine was wounded attempting to stop the men. He died a few weeks later, resulting in a murder charge. The men were defended by Clarence Darrow. His defense meant the difference between life in prison or the electric chair. They were spared execution thanks to Darrow's arguments on their behalf. Joseph Burns, whose real name was John C. Heaps, later became a member of the Dillinger Gang. After orchestrating several escape attempts, he finally succeeded as one of the escapees in the infamous Michigan City Prison break in 1933. - Vicki, Director of Patron and Outreach Services
I worked on the Marion County Coroner's Inquests back when I was a volunteer at the Archives. I was sucked into reading the letters of William Cluck, and I found his letters to be eloquent, expressing gratefulness to his jailer and love to his sister. I presumed the writer was educated and I wondered why he was in jail. He had murdered his wife! He felt he hadn't gotten a fair trial and didn't want to be hanged, so he managed to get some morphine and killed himself before they could hang him. The testimony of one of the doctors attending him included this line, "I saw death stamped upon his countenance." The situation seemed so sad, but so interesting that I have never forgotten it, although I couldn't remember his name. I was able to track it down on Research Indiana because of the inclusion of the notes field. - Elizabeth, Conservator (and former volunteer!)
I found a Marion County Court case involving Lew Wallace's brother and nephew representing Butler University against a number of defendants, including Clemens Vonnegut, notable entrepreneur and great-great-grandfather of Kurt Vonnegut Jr. -Keenan Salla, Archivist
What are you most excited about regarding the new Research Indiana Indexes?
I'm most excited about being able to easily narrow down my search by using the 'Category/Filters' options on the left side of the page. I also really like the 'Introduction' section included on entries that describes the record and give a little more detail about the type of record they are looking at. I think that will be really helpful for researchers who are just beginning their search. We also have a page where they can read all of the index descriptions at once. - Meaghan, Archivist
I'm most excited because the database is finally on line. There are so many volunteers that waited so long for this that some of them, unfortunately, didn't live to see it happen. There are SO many new names out there and so many new collections represented. - Elizabeth, Conservator
Learn more about the Research Indiana Indexes on the State Archives' website!
From the Vault | "Friends of the State Archives" Summer Internship
Hello, everyone! My name is Grayson and I am the Friends of the Indiana State Archives (FISA) Summer 2021 intern. In this post I am going to tell you a little bit about myself and catch you up on what I am working on this summer.
A little about me: I am currently a Master's of Library Science student with a specialization in Archives and Records Management at Indiana University – Bloomington. I moved to Indiana for graduate school during the pandemic with my cat, Iggy, in tow. My first year of graduate school was held virtually so I am excited to be at the ISA this summer interacting with collections in person. I am not sure what type of archive I would like to end up working at after graduation, so this internship is informing that decision by giving me valuable experience in how government archives operate.
My Projects: My first project was processing a box of records from the backlog that was accessioned in 1984. The records pertain to the Kentucky-Indiana Boundary dispute of the Ohio River from the 1960s-1980. It took me about two days to process and arrange the box. It was a fun first project to lead off the internship and get me acclimated to the act of processing and arranging archival materials.
My second project is much more expansive: processing a series of 11 boxes from the Department of Conservation collection. The boxes contain records from 1901 to the 1940s. The series concerns the creation of Indiana's State Parks, an endeavor spearheaded by Richard Lieber. Lieber, an ardent conservationist, is often called "the father of Indiana State Parks" and was the first Director of the Department of Conservation.
So far, I have gone through all 11 boxes to get an idea of the content. Luckily, someone (either Lieber or someone close to him) seems to have sorted the records into named folders. I have compiled a folder-level inventory with the help of this previous benevolent organizer. The folders are not seemingly organized by subject so my supervisor, Claire, and I decided to come up with an arrangement plan for them. Using the folder-level inventory and an Excel sheet, I am sorting all the folders into separate series (such as Correspondence, Administrative Files, Speeches, etc.). I am currently about halfway through this mock-arrangement plan. Claire will look over my plan once I am finished. If the plan looks good, I will move on to actually physically rearranging the files.
I also have a couple of smaller endeavors I am working on this summer. One is helping to monitor the State Archives' indexing project on FromThePage.com. Virtual volunteers are helping index the Jeffersonville Land Office Receipt Books. My job is to review and respond to any comments from people transcribing the pages, and to also look over any pages that volunteers mark as needing review. The other is learning conservation basics from the Conservator. So far I have learned how to dry clean records and how to mend torn or otherwise damaged records. After a few weeks of mending practice, I am now mending a letter from the Lieber collection from 1903 that is torn at the folds from sitting folded for almost 120 years. See the before and after here:
Before: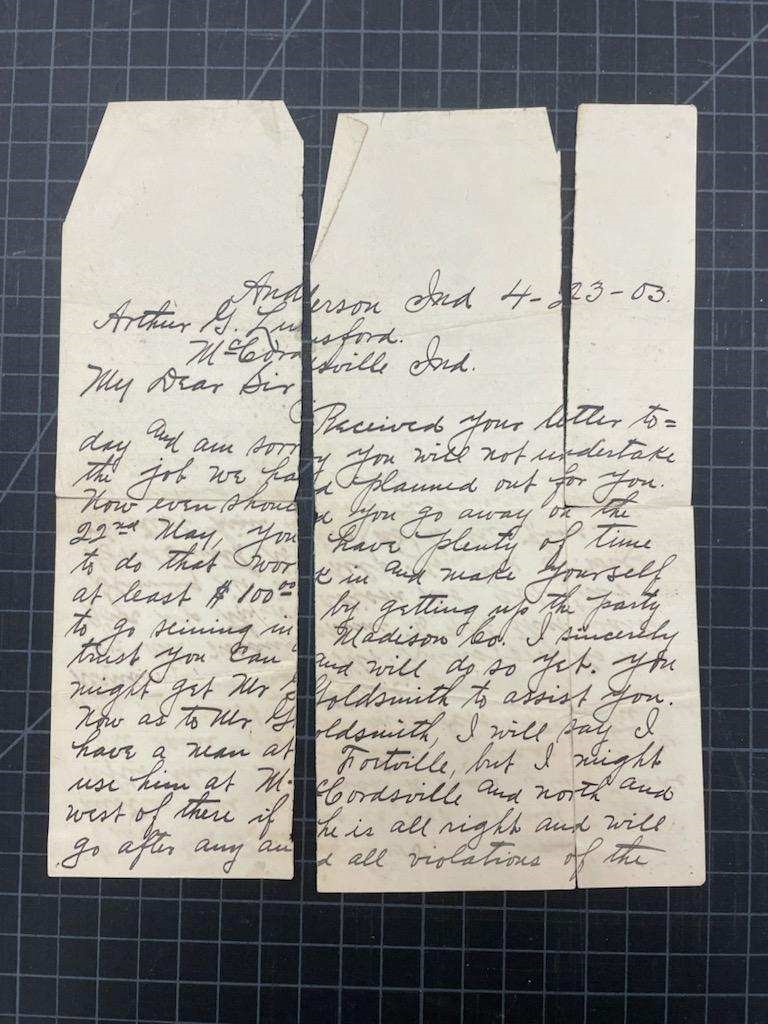 After: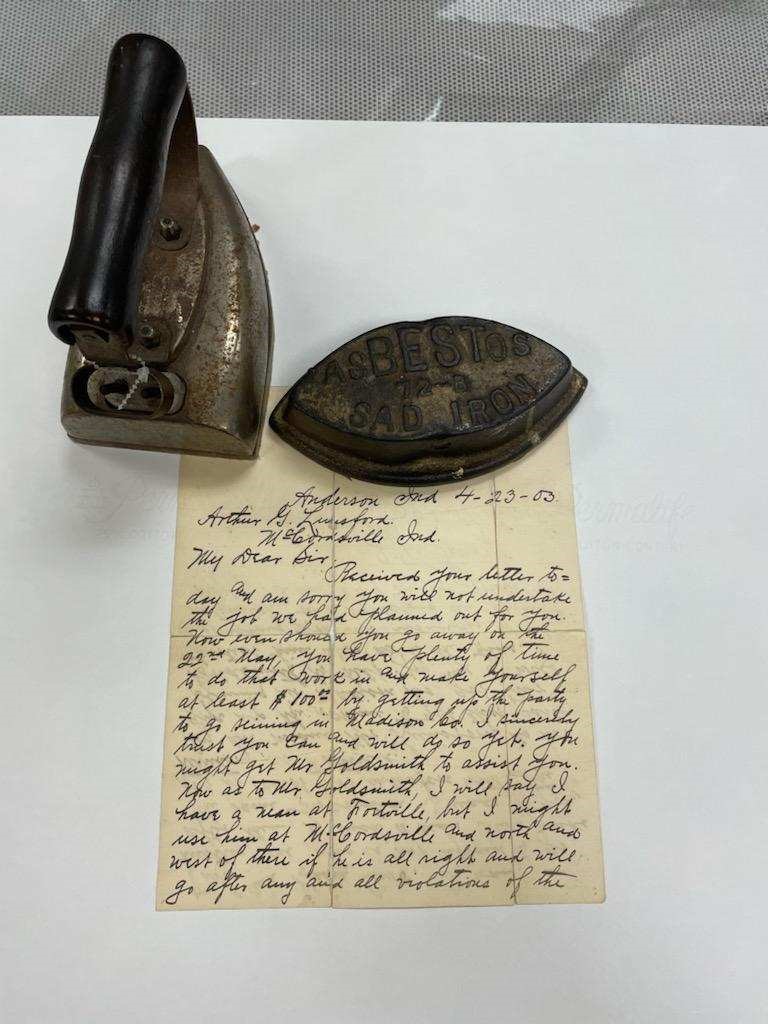 I am enjoying my time so far and have learned a lot in a short period of time. I want to thank FISA for making this opportunity possible!
From the Vault | Working From Home: The WPA Card Catalog
Much of our work at the Indiana Archives and Records Administration requires access to original state records, and can't be done from home. Tasks like repairing Civil War documents, researching historic mental health records, digitizing documents, and accessioning new transfers to the Archives will have to wait until we can return. Our Imaging Lab also uses specialized equipment that can't exactly be installed in someone's home office.
It's disappointing to put these functions on hold, but we are also trying to seize this opportunity to complete long-awaited projects. One of the first things to come to mind was transcribing the WPA Card Index.
The WPA Card index is a collection of over 400,000 cards which point to individual name entries in the Indiana Archives' collection. The card index was created using Works Progress Administration (WPA) labor. Indexing began in December 1936 and was completed in late summer of 1938.
The WPA workers went through all of the records in the custody of the Archives at the time, dated 1850 and earlier, and created a card for every name they found. For example, they went through each Supreme Court Order Book and created a card each time they saw a personal name on the page. The cards are color-coded and use alpha-numeric codes to point back to the correct book and page. Some of the records they indexed include Supreme and Territorial Court records, land records, Auditor of State records documenting the creation of the canals and railroads, and military records.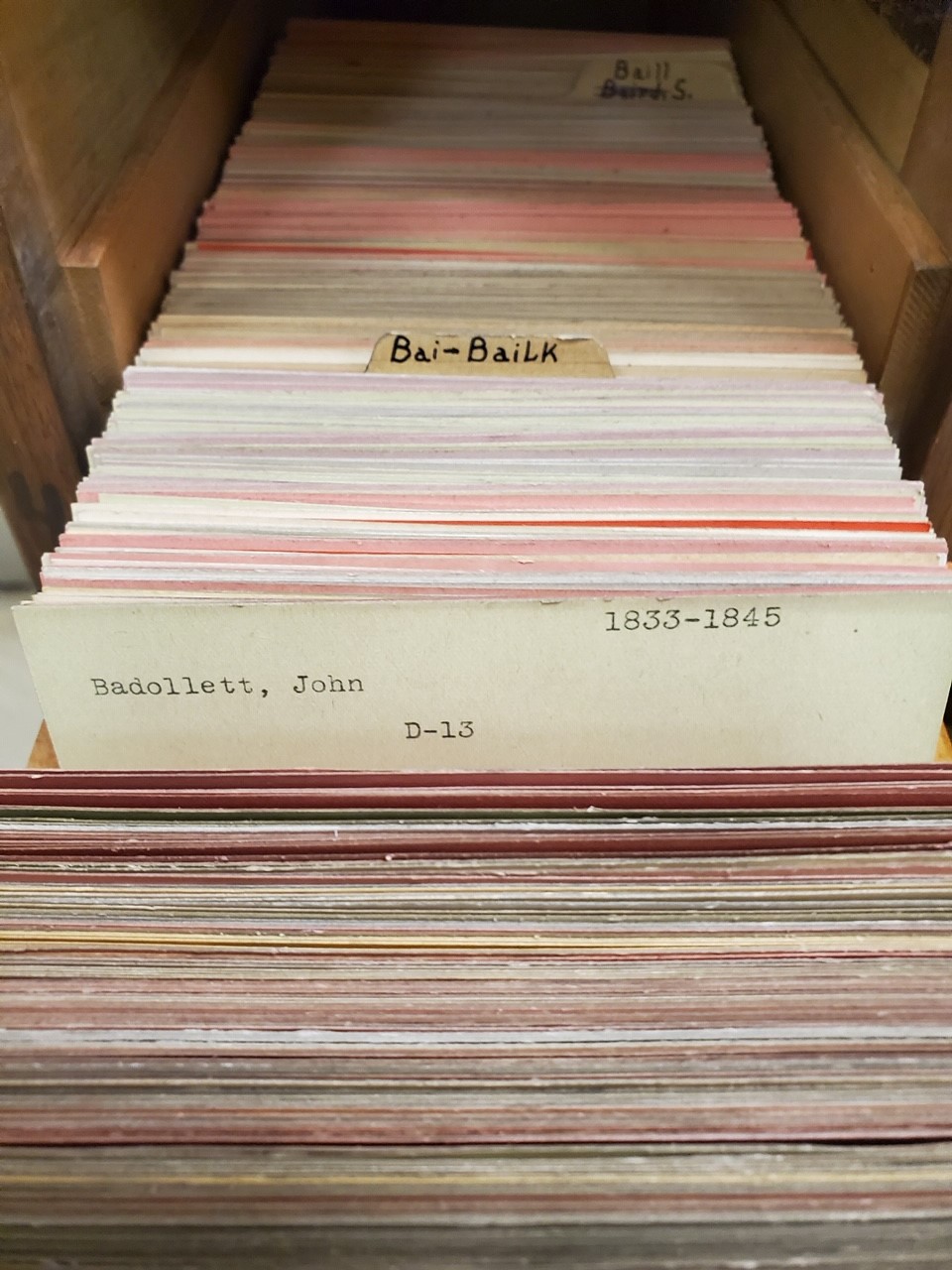 The WPA Card Index lives in a large card catalog in the Archives' stacks area. Our archivists use it for research, but with over 400,000 cards, it isn't exactly browseable. Currently, the card index is most useful for researching known names. For example, we can open the "B" drawer and quickly find over 40 references to John Badollet, one of Indiana's founding fathers. Badollet's name (spelled five different ways!) was indexed in Territorial Court records, Supreme Court records, land records, and Auditor records.
Once we've transcribed the index, it will be much easier for our patrons to see if their ancestors or research subjects are included in the index. The index is especially useful for locating Native American names, which often varied in spelling, depending on the clerk who wrote the document, and were written phonetically. The Auditor records name many Native American as well as early settlers who may not have completed land purchases and do not appear in any other index.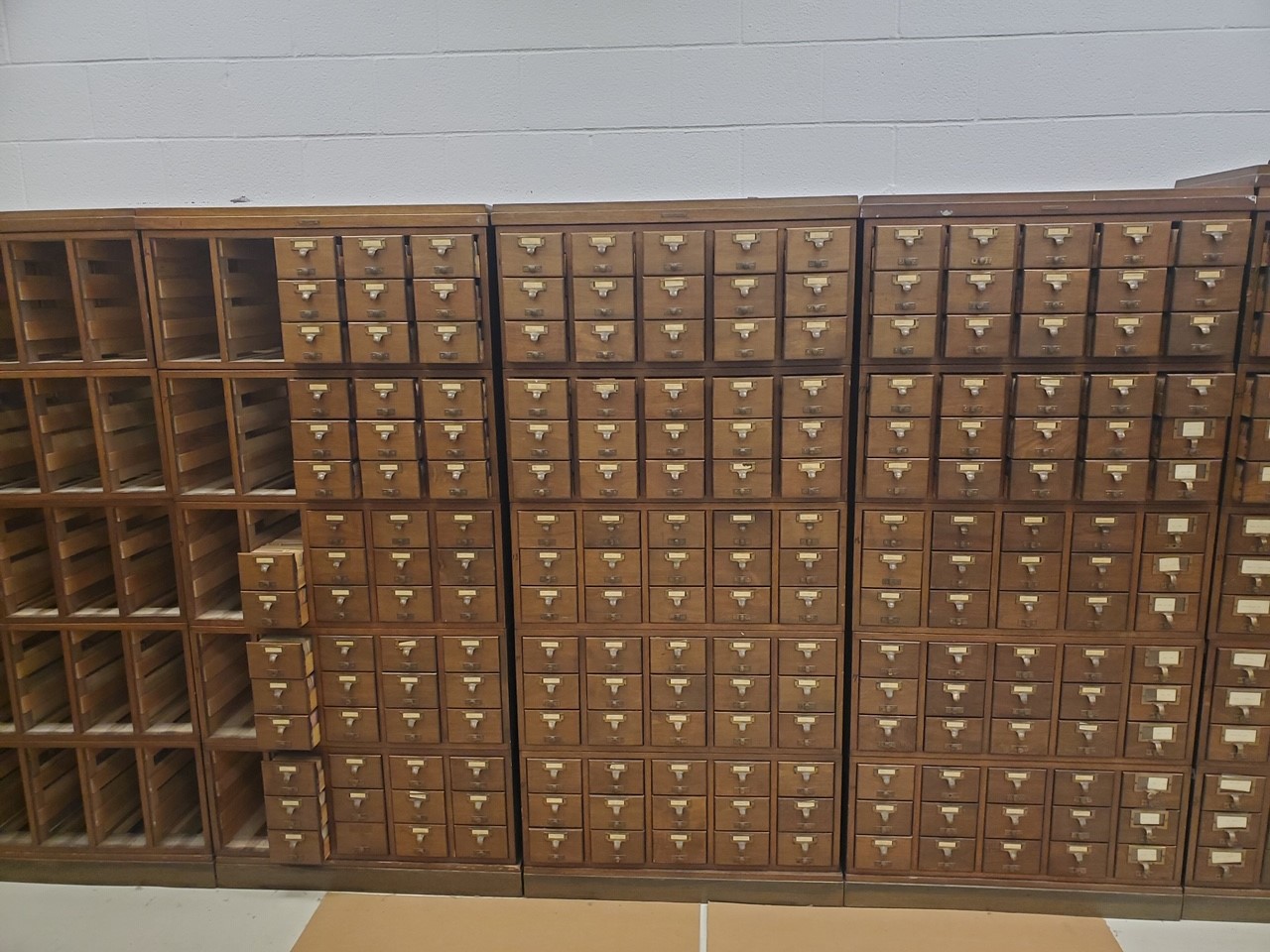 From the Vault |
Essential Operations
The Indiana Archives and Records Administration, like other institutions across the country and world, has recently shifted to a remote work model. Working from home as an archivist is an exercise in creativity, and we'll be sharing some of our at-home projects soon. First, we wanted to share a bit about our essential operations, and the types of records that may be needed urgently.
DD-214s
The Indiana State Archives holds Indiana's collection of military discharge papers, or DD-214s. Although DD-214s are a federal document, many veterans submitted their DD-214s to the state in order to apply for a state-provided bonus. The state copy was transferred to the State Archives, and we now have an extensive collection of military service records from WWII to the present (in additional to our historic military collections). DD-214s are used to prove military service when applying for benefits, services, or military funerals. A catastrophic fire at the National Personnel Records Center in 1973 destroyed many federal military records, leaving Indiana's copy as the only document available for many veterans.
The need for DD-214s continues throughout the COVID-19 pandemic. Archivist Michael Vetman, himself a veteran, is currently at the State Archives providing DD-214s to his fellow servicemen and women. We feel very privileged to provide this service. Michael recently helped the family of a 101-year-old World War II veteran who had participated in D-Day.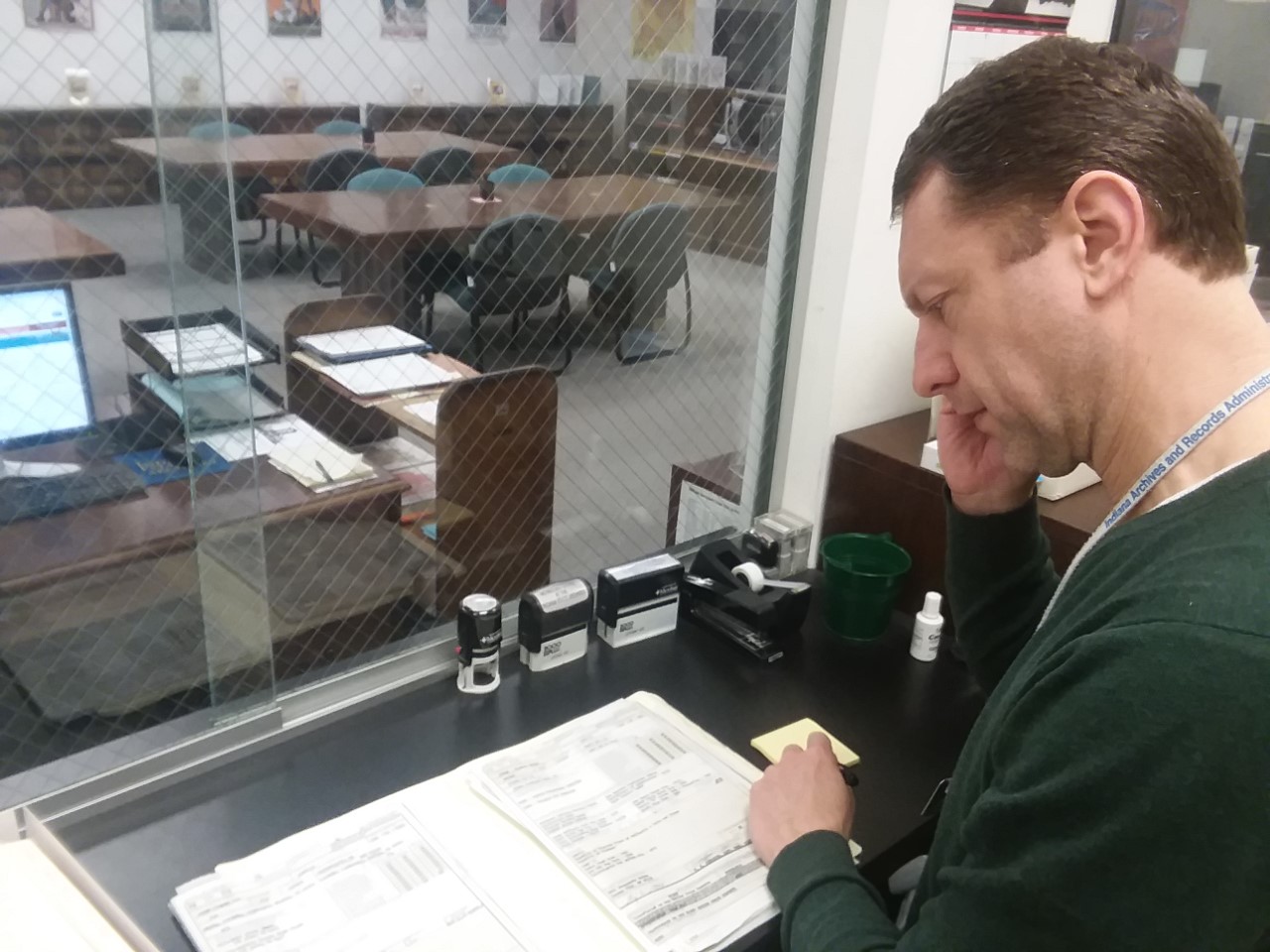 Medical Records
The Indiana State Archives is charged with maintaining state hospital patient records. With the closing of Central State Hospital, Fort Wayne State Developmental Center, and the recent move and rebranding of Larue Carter to its new location at Community East as the Neuro Diagnostic Institute, the Archives has seen an influx of patient medical records. Other hospitals, such as Madison State Hospital and Logansport State Hospital also store discharged patient records at the Archives. When a patient must return to the hospital, these facilities contact the Archives to obtain records for Continuity of Care. Like DD-214s, these records are needed urgently and are deemed essential. This is yet another type of the services Michael continues to provide during the COVID-19 pandemic.
School Transcripts
The Indiana State Archives is also home to the transcripts of closed for-profit schools, such as MedTech, Brown Mackie, and Harrison College. When these schools close, the Indiana Board for Proprietary Education transfers the transcripts to the State Archives for permanent retention. Many students require their transcripts to apply for jobs, licenses, and education programs for years or even decades after their graduation. Reference Assistant Denise Deboy continues to process these requests on a daily basis.
In addition to closed proprietary schools, the State Archives has transcripts and other records from state schools such as Morton Memorial High School, the Indiana School for the Blind and Visually Impaired, and the Indiana School for the Deaf. We also have transcripts for some nursing schools, such as Wishard, South Bend Memorial, and Ball Memorial.
During the COVID-19 emergency, it's more important than ever for medical professionals to be able to quickly join the workforce. The Indiana State Archives is waiving our transcript fee for all medical degrees. To see which closed schools we have transcripts for, and to submit a request, visit our website.
From the Vault |
Eugene V. Debs and the Railroad Workers' Bill
In this episode of From the Vault, we'll delve into Eugene V. Debs' legislative crusade for those who died working on the railroads during the 1880s.
Learn more about the Archives: https://www.in.gov/iara/
Learn more about the history relevance campaign at https://www.historyrelevance.com/
Credits:
Written and produced by Justin Clark
Special Thanks to Keenan Salla
Music: "Circle of Life" by Whitesand, "The Sound of Rain" by Sappheiros, "Art of Silence" by Uniq, and "For Tomorrow" by Savk
Full Text of Video
On the evening of June 6, 1883, about two miles outside of Seymour, Indiana, tragedy struck. Caught in a massive rainstorm, a "fast express" train traveling from Chicago faced a "washout," leaving the track flooded due to erosion of top soil. Traveling at a speed of forty-five miles an hour, the train flew off the track and destroyed the "engine, baggage car, chair car and a Pullman sleeper." Four railway workers were killed. George Ammonds, the train's baggage master, was "instantly killed" with blunt force trauma to the head. He left behind a wife who could no longer count on his income.
Railroad accidents were commonplace in Indiana during the 1880s, leaving scores dead from horrific injuries. The railroad companies at that time were under no legal obligation to help the families of those who died or were injured on the job. This harrowing reality became the focal point of a young, first-term state representative from Terre Haute named Eugene Victor Debs. Debs worked diligently to hold the railroads accountable for the welfare of their employees and their employees' families. In this episode of From the Vault, we'll delve into Debs' legislative crusade for those who died or were injured working on the railroads.
Eugene V. Debs was elected to the Indiana House of Representatives in 1884. A prominent leader in the Brotherhood of Locomotive Firemen, a union dedicated to the rights and protections of railroad workers, Debs knew first-hand the toll that this kind of work took on a person.
In the State Board of Health's 1883 report, railroad accidents accounted for 121 deaths in Indiana, or .81 percent of the total deaths that year. The year before, it had only accounted for .72 percent. Almost nothing could be done for the families of railroad workers who died on the job. They often didn't have the resources or legal representation to take on the railroad companies.
As the number of deaths increased, the need for some kind of government remedy grew more apparent. As historian Clifton J. Phillips noted, "by the [18] eighties Hoosier legislators were becoming increasingly concerned about certain aspects of rail transportation within state boundaries, particularly the large number of injuries and deaths resulting from railroad operations." This was the situation Debs came into during his first and only term in the Indiana General Assembly.
Debs served on two influential committees, railroads and corporations, the latter of which he was chairman. He also introduced a number of bills, relating to the regulation of agriculture, business licenses, and railroad engineers. However, it was one particular bill, motivated by the tragedies of railroad accidents, which became one of Debs' lasting legacies during his time in the General Assembly.
This is House Bill number 92, introduced by Debs on January 15, 1885. Its preamble read:
An act concerning the liability of Corporations and Companies for the injury or death of an employee caused in whole or in part by the carelessness or negligence of a fellow servant or co-employee, and declaring an emergency.
While this proposal didn't cover all railroad accidents (so called "acts of God" could not be leveraged against a corporation), it did provide some form of compensation to those harmed or killed by the negligence of others. Since so many accidents during the period were caused by employee error, and convincing a business-friendly legislature to make corporations liable for everything would be difficult, Debs shrewdly crafted a bill that would be nearly impossible to thwart.
Initially, it seemed easily poised to become law. It passed a first reading, after being nearly postponed in the railroad committee, and then brought to the floor of the House for a second and third reading. During house floor discussions, Debs defended the bill, saying:
I want to have it so that when an employee of a railway is hurt through the negligence of a co-laborer or of the company, he may have redress from the company. The traveling public is protected, and the employees should also have redress. I appeal on behalf of the engineers, firemen and brakemen for this bill.
It was unanimously passed by the Indiana House of Representatives on March 24, 1885; there wasn't a single vote against it.
Sadly, the bill's time in the Senate didn't go as smoothly. It was called up to a vote on April 4, 1885 and was then referred to a committee and never brought up again during the session. This is a classic example of a bill "dying in committee," leaving it to languish in the Senate so as not to become law.
Debs did not enjoy his time in the Indiana House after his first legislative session. In fact, he was "disgusted with legislative ways," the Terre Haute Daily Express reported. When the railroads committee recommended postponement of his injured workers' bill, he was so incensed that he considered resigning. However, he was convinced to stay by his colleagues, but the Daily Express noted that "it is hardly probable that he will willingly return." The papers were right. He didn't seek reelection and never served in government again.
But Eugene V. Debs' work wasn't all for naught. In 1893, just a few years after he left the General Assembly, Representative Samuel Hench of Allen County introduced a bill quite similar to Debs', both in letter and in spirit. This time, however, it passed out of the House, Senate , and became law on March 6, 1893. The state had finally passed meaningful legislation that finally allowed injured workers and bereaved families to seek compensation for railroad-related injuries or deaths. The legislative process finally worked for railroad laborers.
After leaving the Indiana General Assembly, Debs became an important political voice in America during the turn of the 20th century. He dropped his Democratic Party affiliation and dedicated the rest of his life to the cause of socialism and the rights of workers. He founded the American Railway Union in 1893, and defended railroad workers during the infamous Pullman Strike. He also co-founded the Industrial Workers of the World and ran for president multiple times on the Socialist Party ticket. In 1920, he won nearly a million votes for president while incarcerated for criticizing American involvement in World War I. The labor reforms of the Progressive and New Deal eras (the eight-hour work day, weekends, unions, and ending child labor) came in part through Debs' tireless work. But before all of that, he was just a first-term Indiana state representative who believed that what happened to workers like George Ammonds shouldn't happen to anyone.
We often focus on the bills that become law when talking about politics; we seldom reflect on the noble failures whose time had not yet come. Debs' railroad workers' bill was just that kind of proposal. Nevertheless, his efforts opened up a dialogue on the importance of worker protections in an era only beginning to grapple with the social challenges accompanying industrialization. Most importantly, Debs' story teaches us a crucial lesson—passing legislation is hard work, often taking years of committee hearings, floor readings, and lobbying other legislators until it becomes law. He may not have achieved his goal, but he paved the way for future legislators to finish the job "on behalf of the engineers, firemen and brakemen."
Past Posts
From the Vault |
Board of Commissioners v Knight
Indiana's path to suffrage took an interesting turn just a few years before women's suffrage was the law of the land, which actually granted some limited form of suffrage. In this episode of From the Vault, we'll share the story of how women gained some voting rights in Indiana in 1917, only to see their hopes dashed by the Indiana Supreme Court
Learn more about the Archives: https://www.in.gov/iara/
Learn more about the history relevance campaign at https://www.historyrelevance.com/
Credits:
Written and produced by Justin Clark
Special Thanks to Jennifer Kalvaitis, Michael Vetman, Costin Ritter, and Elizabeth Hague
Music: "Bongo" by KV, "Resolution" and "Under Cover" by Wayne Jones, "Intro" by Red Roses Realm, and "Before I Forget" by Artificial.Music
Full Text of Video
In 2020, Americans will celebrate the centennial of women's suffrage, which came with the ratification of the nineteenth amendment to the US Constitution on August 18, 1920. Cultural memory often frames this narrative in national terms, but it took 36 states for suffrage to be ratified. Each one of them has its own unique story. As one of the 36, Indiana and its path took an interesting turn just a few years before ratification, when its General Assembly actually granted women a limited form of suffrage. In this episode of From the Vault, we'll share the story of how Hoosier women gained and lost voting rights in 1917, three years before the Nineteenth Amendment.
In the fall of 1916, Hoosier voters elected a new Republican governor, James P. Goodrich, and installed a Republican majority in the Indiana House and Senate. This political transition gave Indiana leaders in the women's suffrage movement a prime opportunity to raise their concerns during the legislative session. Two groups played a key role in this effort: the Women's Franchise League of Indiana and the Legislative Council of Indiana Women (itself a subgroup of the League). The League used its considerable infrastructure and membership to lobby for bills being considered while the Council developed legislative strategy. One such plan from the Legislative Council, spearheaded by President Luella McWhirter, was to enact targeted bills that would grant women the right to vote in local elections.
This proved to be a winning strategy. Two women's suffrage bills passed through the General Assembly and became law in 1917. Senate bill 77, a bipartisan piece of legislation from Whitley County Democrat Marion H. Maston and Delaware County Republican Arthur D. McKinley, granted women the right to vote for presidential electors, constitutional convention delegates, as well as a wide variety of state and local offices. Senate Joint Resolution 14, introduced by Senator Andrew Beardsley of Elkhart, proposed a constitutional amendment that would delete the word "male" from the state constitution's voter qualifications. The latter would not be considered for ratification until 1919, but the General Assembly, led by passionate and well-organized women's suffrage activists, significantly moved the state towards equal voting rights for men and women.
Within months of the Matson-McKinley Partial Suffrage Act's passage, roughly 30,000-40,000 women registered to vote in the state of Indiana. It looked as if women were going to vote for the first time in local elections. But these hopes were dashed by William W. Knight, an Indianapolis resident who filed a lawsuit on August 9, 1917 in the Marion County Superior Court, who cited the law's obligations as a tax burden. As historian Jennifer Kalvaitis noted, Knight's involvement in this case is "strange" as he didn't have the "financial means" to file the suit. She speculates that he may have been the face of larger business and political interests. Either way, Judge John J. Rochford of the Superior Court ruled against the law on September 17, 1917, citing Article II, Section 2 of the Indiana Constitution, which stipulates that only men over the age of 21 are legally allowed to vote. The suffragists, led by attorney Emma Eaton White, immediately appealed the decision to the Supreme Court.
This is the Supreme Court case packet for Board of Commissioners v Knight, filed with the court in the early days of October, 1917. These documents are a part of our extensive collection of Indiana Supreme Court case files.
Briefs were filed with the court by October 4 and 8, 1917, according to court order books. The suffragist's side argued that any rights not explicitly laid out by the Constitution under Article II could thereby be determined by the legislature. In a brief filed in defense of the act by White and Catharine W. McCullough, the women attorneys challenged the merits of Knight's lawsuit as well as outlined how states like Kansas and Illinois granted women suffrage in some elections despite similar language in their constitutions. This is why a partial suffrage bill seemed more than reasonable, as it allowed women the right to vote in specific, local elections. Knight's attorneys argued that since Article II explicitly designated voting rights to men, it should be broadly interpreted to mean that women could only be granted the right to vote by an amendment to the Indiana Constitution and not through legislative action.
Oral arguments were heard just a few days later on October 9. The mood of the public during the court's deliberation of the case was one of uncertainty, as the South Bend News-Times reported. "It is pointed out that if the decision is held up until a few days before the election," the News-Times declared, "great confusion will result." If the Supreme Court reversed the lower court's decision, ballots for women would have to be prepared on "very short notice." If it affirmed the decision, "women would have to be removed from the registration books. This would be a long task."
Ending such uncertainties, the Indiana Supreme Court handed down their decision on October 26, 1917, ruling the Partial Suffrage Law unconstitutional. Chief Justice John W. Spencer wrote the majority opinion. In it, the Chief Justice argued that the law violated Article 2 of the Indiana Constitution. "The right of suffrage is not a natural or an inherent right," he wrote, "it is a political privilege held only by those upon whom it is bestowed either by virtue of express constitutional grant or by authorized legislative provision." Since Article 2 explicitly stated that "in all elections not otherwise provided for by this Constitution—every male citizen of the age of twenty-one years and upward—shall be entitled to vote," a woman's right to vote in even local elections could not be granted without a constitutional amendment.
Justice Moses B. Lairy, in a concurring opinion, agreed with the majority but stressed the historical record of the Constitution. The 1816 and 1851 constitutions only granted suffrage to men, and an 1881 amendment to Article 2 added further residency requirements to voters. Thus, local elections were just as much under the auspices of Article 2 as statewide or national elections. This essentially nullifies the Partial Suffrage Act. As Justice Lairy wrote, "I am prepared to hold that, in so far as the act of the legislature here under consideration attempts to confer on women the right to vote for municipal officers in cities and towns, the same is in conflict with that section of the Constitution as amended in 1881."
However, the court was not unanimous in its decision. Justice Lawson M. Harvey wrote a blistering dissent, completely disagreeing with the views of Justices Spencer and Lairy. He argued that the 1881 constitutional amendment did not take power away from the legislature to decide the eligibility of voters in local elections, since the constitution proscribed two sets of rules regarding voters: rules subject to the constitution and those subject to the General Assembly. Local elections, historically, had been subject to the latter. As he wrote:
This long-continued and consistent construction of the Constitution to the effect that the people thereby delegated to the legislature power to name the qualifications of voters at town elections, was not at any time, or in any manner, questioned by the people, by any branch of the state government, or by any litigation to which my attention has been called, or which I have found, and it thus has the force of positive law.
Therefore, the unique change of view which animated the majority was not based on precedent but on a broader reading of the Constitution, specifically Article 2 and its amendments. Harvey concluded that the Supreme Court should have reversed the decision in the lower court and the law should be held constitutional.
While the supporters of women's suffrage lost a major battle in Board of Commissioners v Knight, the case had shown the complex and often contradictory legal ground that only allowed male suffrage. The tides of public opinion were shifting, and fast. President Woodrow Wilson endorsed women's suffrage in 1918 and Indiana passed a law in 1919 granting women the right to vote for presidential electors. Once that happened, it was a matter of months before the Susan B. Anthony Amendment, known today as the Women's Suffrage Amendment, was ratified by Indiana on January 16, 1920. By August, women had the right to vote across the nation. And it wasn't until the 1965 Voting Rights Act that these rights were fully protected for all women.
This story illustrates how voting rights are not easily won by those who don't have them. It takes many years and many defeats before meaningful progress happens. The suffrage activists in Indiana developed an ingenious plan to provide voting rights to women in some elections, and even though the Supreme Court struck it down, their efforts showed how potential victories could be possible. They showed that the price of citizenship is paid by those who struggle for representation.
Thanks for watching! Please click "like" if you enjoyed this video and make sure to subscribe to keep updated on all new videos. We also want to give special thanks to Jennifer Kalvaitis, whose research on this case greatly informed this video. Finally, leave a comment or a story idea for a future episode. We want to hear from YOU!
Past Posts
From the Vault |
Marion County Circuit Court Eulogy for Abraham Lincoln
At the twilight of the Civil War, the news on April 15, 1865 of Abraham Lincoln's assassination stunned the nation. In our collections, the Archives has one of the more unique and poignant memorials for the fallen leader, one steeped in literary allusion and reflective mourning: a eulogy from the Marion County Circuit Court.
Learn more about the Archives: https://www.in.gov/iara/
Learn more about the history relevance campaign at https://www.historyrelevance.com/
Credits:
Written and produced by Justin Clark
Special Thanks to Elizabeth Hague and Robert F. Gilyeat
Music: "A Life in a Day" by Ian Post, "After the War" and "Dreams of our Possibilities" by Cinematic Sounds
Full Text of Video
The death of a political figure often prompts public commemorations. This was especially the case with the death of an American president. At the twilight of the Civil War, the news on April 15, 1865 of Abraham Lincoln's assassination stunned the nation. Tributes and eulogies filled newspapers and public addresses around the country. Indiana was no exception. In our collections, the Archives has one of the more unique and poignant memorials for the fallen leader, one steeped in literary allusion and reflective mourning: a eulogy from the Marion County Circuit Court.
Nearly all of Indiana's 92 counties have a circuit court, presided over by a judge and a clerk. The clerk of the court records the cases, trials, and any other developments that arise within its jurisdiction. During the nineteenth century, these records were handwritten. After Lincoln's assassination, Judge Fabius M. Finch and prominent attorney James Morrison convened the Indianapolis Bar Association and requested that the Marion County Circuit Court record a eulogy to the fallen commander-in-chief. In the hour of national grief, especially for a president who grew up in Indiana, the request was fulfilled.
This is the Marion County Circuit Court's eulogy for President Abraham Lincoln, written on Monday, April 17, 1865. As was common custom during the nineteenth century, the pages are bordered in black, signifying mourning of a politician or public leader. Judge Finch wrote the eulogy for President Lincoln himself. It is a document full of poetic language for the fallen chief executive. "The assassination of Abraham Lincoln, President of the United States on the evening of the 14th day of April 1865," Judge Finch wrote, "is an event so shocking and deplorable as to fill the heart of every citizen worthy of his birthright with the keenest anguish. In this dreadful tragedy, acted almost in the face of the nation, no circumstance of horror seems wanting." Finch knew firsthand the tragedies of the Civil War; his oldest son, Heneage, died in service of the Union. His words most certainly speak of Lincoln, but knowing the context of Finch's life underscores the personal grief which may have animated his emotions.
From there, Finch extolled Lincoln's qualities, writing:
His genial nature, his great heart full of tenderness and sympathy, his boundless charity for the faults of enemies as well as of friends; his unfailing good sense displayed in forms of reasoning and modes of expression entirely his own and perfectly adopted to touch the judgements and control the actions of plain men.
While Lincoln's presidency often sparked intense debate among Hoosiers, especially editors of the pro-Democratic Indiana State Sentinel, many like Finch were quick to acknowledge Lincoln's "better angels," as the slain leader had said of the citizenry only four years before.
Finch's eulogy also memorialized Lincoln through literature, a feature that the 16th President would have appreciated. Three separate passages from titans of the Western canon of letters – Pope, Shakespeare, and Tennyson— allude to Lincoln's own importance in the American canon of political rhetoric. The first quotation is from British poet Alexander Pope's, "Epistle to Robert, Earl of Oxford and Mortimer," published in 1721:
"A soul supreme in each hard instance tried,
Above all pain, all passion, all pride,
The page of power, the blasts of public breath,
The lust of lucre and the dread of death."
Pope wrote this for Robert Harley, a British politician and parliamentarian who as Lord Treasurer successfully placated the Protestant and Catholic factions of civic life during the reign of Queen Anne. He was accused of treason and imprisoned for two years before being acquitted of all charges. Perhaps Finch chose this poem as a recognition of Lincoln's leadership among two warring factions in his own time.
The second passage comes from William Shakespeare's Macbeth (Act I, Scene 7). It reads:
"Borne his difficulties so meek, hath been
So clear in the great office, that his virtues
Will plead like angels, trumpet tongued, against
The deep damnation of his take off."
In the scene, Macbeth is speaking of King Duncan, the good-natured leader who Macbeth later kills in a quest for power. Macbeth was Lincoln's favorite Shakespeare play, one he reportedly carried with him on the legal circuit as a young man. The literate public in America during the nineteenth century, who were well versed in Shakespeare, likely made the literary connection between Macbeth and Duncan and assassin John Wilkes Booth and Lincoln. In fact, this passage was later printed on broadsides after the assassination and spread throughout the country. Finch may have seen these posters as he was drafting the language, or like Lincoln, he may have known the text well.
The final selection comes from the poet Alfred, Lord Tennyson and his work, "Ode on the Death of the Duke of Wellington." The stanzas read:
"O Friends our chief state oracle is mute,
Mourn for the man of long enduring blood.
The statesmen, moderate resolute—
Whole in himself a common good.
Mourn for the man of amplest influence,
Yet clearest of ambitious crime;
Our greatest, yet with least pretense,
Rich in saving common sense,
And as the greatest only are,
In his simplicity sublime."
Written for Arthur Wellesley, 1st Duke of Wellington, former Prime Minister and the man who led the British to victory against Napoleon at Waterloo, "Ode" circulated around the time of Lincoln's death, especially in newspapers. Lincoln's connection to Wellesley is actually pretty clear. Both led their armies to successful victories against a powerful enemy (for Wellesley it was the French and for Lincoln it was the Confederacy) and both advocated policies that led to the emancipation of some of their nation's people (Wellesley helped grant full citizenship to Catholics in Britain and Lincoln signed the Emancipation Proclamation and the joint resolution for the proposed Thirteenth Amendment to the Constitution, which after ratification would free enslaved African-Americans in the United States). The "sublime simplicity" and "amplest influence" of Abraham Lincoln, like with the Duke of Wellington, comes through loud and clear in Finch's eulogy. z
With his death in 1865, Abraham Lincoln became a national martyr and a secular saint. Monuments, parks, museums, and historical institutions exist throughout the world to share his legacy. While the Marion County Circuit Court's eulogy is not as grand as the Lincoln Memorial or, as Archives volunteer Robert F. Gilyeat noted, "not as poetic as Walt Whitman's famous poem "O Captain! My Captain!", it is a solemn and eloquent tribute the nation's most-revered President.
Thanks for watching! Please click "like" if you enjoyed this video and make sure to subscribe to keep updated on all new videos. Finally, leave a comment or a story idea for a future episode. We want to hear from YOU!
From the Vault | The Kindig Mystery
By Jessica Petty
One of our virtual volunteers for our World War One (WWI) service card transcription project noticed several soldiers who enlisted around the same time with the last name Kindig from South Bend, Indiana. They also all seemed to be from the same place, Union City, Michigan. We decided to investigate and see if we could figure out the mystery! (Note: All images are taken from Ancestry.com, except the "J. Edward Kindig for Auditor" newspaper clip.)
In researching these names, our first breakthrough was a 1910 Census record that puts four of the five Kindigs in the same household.
Ephiram (with different spellings everywhere you look) and Myrtle Kindig appear to have moved from Union City, Michigan with at least one of their children. They settled in South Bend and founded the family that piqued our curiosity. We'll talk about their children from oldest to youngest, with the fifth unrelated Kindig last, and two bonus Kindigs at the end.
Vern Kindig (sometimes listed as Verne) was the oldest child. A 1917 article in the South Bend News-Times, listed him as a former pupil of Franklin School, a South Bend elementary school. In the same article, his brother Cecil was also listed as a former pupil (more on him later). Before Vern's service in the war, which began on June 18th, 1917 (one day after his brother Cecil joined), Vern married Marie Yeagley. The couple are listed in the 1916 South Bend City Directory (where all our Kindigs and some others are mentioned). Marie was granted a divorce from Vern in 1916 on the charge of "abusive and cruel treatment." Vern then remarried Charlotte Lawrence in 1919 (see above).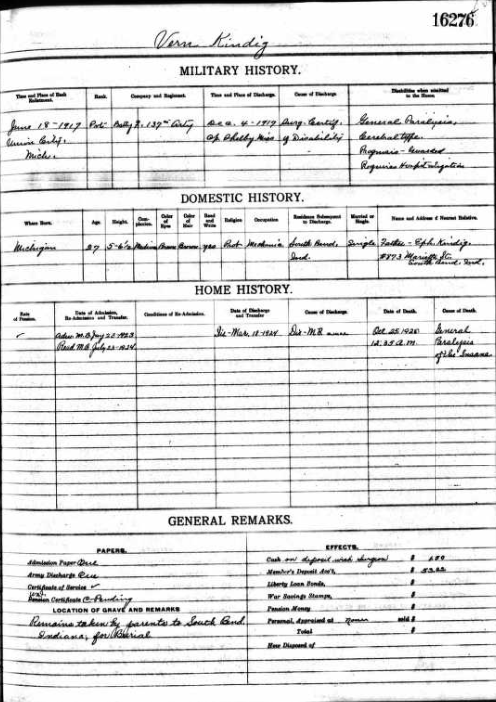 According to the 1920 Census, Vern and Charlotte were living in their in-law's house. Vern had a job as a machine operator at the Motor Wheel Company. However, a 1922 newspaper article stated that Charlotte was granted a divorce. She told authorities that Vern "threw her violently out of the house" and "called her vile names, beat and kicked her." The story gets even more complicated. A record notes that Vern was admitted to a home for disabled veterans in 1923, (where his service in the 137th Artillery during WWI was listed). The record attributed his death in 1928 to "General paralysis of the insane." It is worth noting that his WWI service card (linked above on the date of his enlistment) described that he was 25% disabled upon his leaving the army. Vern may have suffered from Post-Traumatic Stress Disorder (PTSD) or some other underlying issue from the war (or even earlier) that never received proper treatment.
The second oldest brother was Lisle Kindig. He is harder to track in the historical records. He enlisted on December 12, 1917, the same day as his younger brother Carlton. In the 1920 Census, he lived at home as a 23 year old, with his name listed as "Lyle". There were multiple misspellings of his name in different records. In the 1920 Census, he is listed as a sign painter. Despite being the second oldest, we found the least information about him, as he is not mentioned in the household's 1930 Census.
The second youngest brother was Cecil Kindig, who was at Camp Shelby in Mississippi in 1918. He enlisted on June 17th, 1917. He is also mentioned in the article on Franklin School with his brother Vern.
In the 1920 Census (see above), he is listed as living at his in-law's house, with wife Vivien, and newborn daughter Marilinn. Interestingly, it appears another couple was living in the house alongside Vivien's parents. Boyd and Helen Gandy (Vivien's maiden name) are listed along with a newborn daughter Luana Gandy. It is likely that Boyd was Vivien's brother. In this census, Cecil was listed as a repair man in a garage. By the 1930 Census, however, Cecil is listed back at home with his parents, as a 32 year old. We're not sure if he was single due to a divorce or being widowed, nor do we know the fate of his child. He is listed as the proprietor of a Radio Shop in this census.
The youngest brother Carlton Kindig (sometimes written as Carolton) was listed as 17 years old and living at home in the 1920 Census. However, the service card we have for Carlton lists his age at 18, enlisting on December 12, 1917. It could be that he faked his age in order to serve, or that the birth year is wrong in the Census. In the 1940 Census, Carlton is listed as married to Ruth Fortin and living in South Bend as a "Manager". It is also stated that his education is "High school, 3rd year". This supports the hypothesis that he faked his age and dropped out in order to enlist.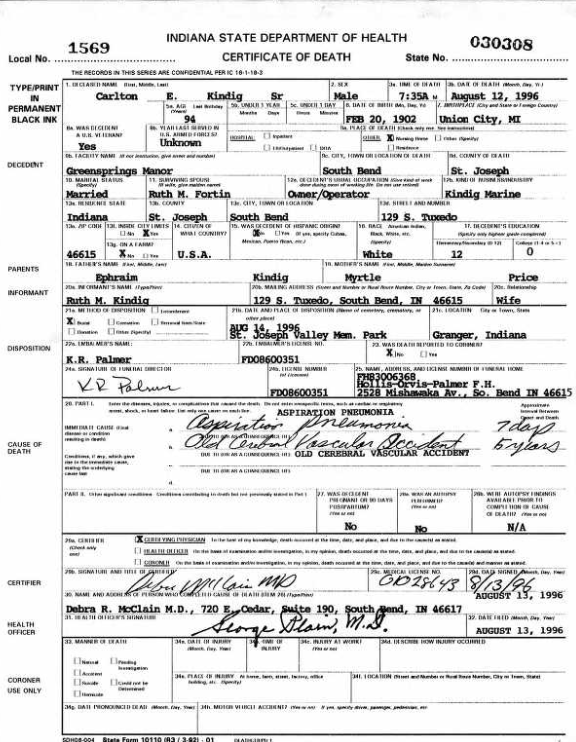 We also found a death certificate for Carlton (see above), listing his age as 94 (he died in 1996) and cause of death as pneumonia. In addition, I found an obituary for Carlton Ephraim Kindig Jr (Remember that Ephraim is the name of the Kindigs' father). It confirms other information located, as Jr's parents are listed as Carlton and Ruth Kindig. He was also a lifelong resident of South Bend, living from 1934 to 2013. Carlton Sr. and Ruth had four other children.
The fifth South Bend native with a Kindig surname in the WWI registration cards was James Edward Kindig. He was the only Kindig not related to the other four. He enlisted on April 27, 1918. After he returned home from the service in 1919, the newspaper reported that during the war he was "detailed to a theatrical troupe composed entirely of doughboys which gave vaudeville performances at all of the leading rest camps in France." Not only this, but "Due to his slim figure and tenor voice, the sergeant was given the part of a girl to play." He was married to Gertrude Dienhart in 1920, and she survived him until 1991.
James, or Edward (which he evidently preferred), was also active in civil service. He ran for auditor (image above) of St. Joseph County in 1922, but lost. According to his obituary (below), he served in the Rainbow Division, 344 Field Artillery during WW1 and was the district manager of Indiana Gross Income Tax Division for 16 years. In addition to this information, we found his service card for World War II (see right). It is not mentioned in his obituary (or in the newspapers that we searched) but he signed up in 1940 and was in the Navy during World War II. He served on the USS Shangri-La, and is listed on the muster rolls of that ship in 1946. He died in 1954, at 64 years old.
Bonus!
Gertrude Kindig was the fifth child in the Kindig family and was listed as living in the house with her older brothers in the 1910 Census (before the sixth and seventh children, Evelyn and Esther, were born – they are mentioned in the 1920 Census.) While we found two Gertrude Kindigs in the censuses, including James Edward's spouse, it's always important to consider who is who in the census, and just because you find the same names, it does not always mean that it's the same person. Keep in mind that James Edward Kindig married Gertrude Dienhart. She was born in Lafayette, Indiana, and was a school teacher in South Bend most of her life (obituary here).
The "Kindig" Gertrude, whom I found a death certificate for, died in 2011 at the age of 92, listed as widowed Gertrude Martin. She also lived in South Bend her entire life.
Another coincidence, Vernon Kindig has a service card in our collection, but is a different person than Vern/Verne. He was married to Geneva (Neva) Personette in 1920, according to his obituary and the 1920 Census. He lived in Akron, Fulton County, Indiana and died in 1941.
The Kindig family is an extremely interesting look into the great interest Hoosiers had in serving in WWI, and how family ties and geographical ties were abundant. Although four of the five Kindigs from South Bend were related, our service card collection includes thirteen total men with the last name Kindig from all over the state, and newspapers from South Bend place many other Kindigs in that city before and after the war. Their stories are just some of thousands that can be discovered because of the efforts of our transcription virtual volunteers! If you have any information on the Kindig Family, have a story you want to share, or want to help transcribe WWI Service Cards, feel free to contact us at arc@iara.in.gov!
From the Vault | Vigo County Registry
A free state upon entering the union in 1816, Indiana nevertheless had a Constitutional provision that attempted to exclude free African-Americans from moving and living there. In this episode of From the Vault, we shine a light on an item in our collections that highlights this contradiction: the Vigo County registry.
Learn more about the Archives: https://www.in.gov/iara/
Learn more about the history relevance campaign at https://www.historyrelevance.com/.
Credits:
Written and produced by Justin Clark
Special Thanks to Claire Horton, Chandler Lighty, and Michael Vetman
Music: "Memories" by Sappheiros, "Allemande" by Wahneta Meixsell, and "The Coldest Shoulder" by the 126ers
Full Text of Video
Studying American history uncovers contradictions, many of which center around the subject of race. Jefferson wrote that "all men are created equal" yet enslaved people. The Constitution, a document revered the world over for its defense of representative democracy, nevertheless originally regarded enslaved African-Americans as 3/5ths of a person. As the U. S. fought fascism abroad, it engaged in segregation and Jim Crow from within. Trying to reconcile these paradoxes has led to civil wars and social revolutions.
Indiana's history also reveals contradictions regarding race. A free state upon entering the union in 1816, Indiana nevertheless had a Constitutional provision that attempted to exclude free African-Americans from moving and living there. In this episode of From the Vault, we shine a light on an item in our collections that highlights this contradiction: a 1853 registry from Vigo County that was described then as the "Registry of Negroes and Mulattos."
Before the Civil War, Indiana's politics concerning African-Americans reflected the period's prejudices and conflicts. Even though the state had banned the practice of slavery in its 1816 Constitution, and subsequently upheld that view in an 1820 Indiana Supreme Court case, many political leaders and citizens still believed that African-Americans were inferior to whites and that the laws should reflect that. In 1831, the Indiana General Assembly passed a law that required all African-American settlers to the state to pay local authorities a $500 bond as a declaration of good citizenship and penalties for any employer who hired those who failed to meet these requirements. Despite strong opposition from religious communities like the Quakers, the law was never repealed and never overturned by the Indiana Supreme Court.
When a Constitutional convention was called in 1850, African-American citizenship became a key issue. While some advocated voting rights, most notably delegate and future vice president, Schuyler Colfax, the convention went in the opposite direction. This culminated in Article XIII, one of the most controversial aspects of the 1851 Indiana Constitution. It called for the ban of African-American immigration to the state, voided all contracts of African-Americans moving into the state, authorized fines for employers of African-American immigrant labor, promoted the colonization of African-American Hoosiers to Africa, and authorized further legislation to uphold this article of the new state constitution.
One of the laws subsequently passed to enforce Article XIII, mandated that free African-Americans in Indiana needed to prove that they lived in the state before the 1851 Constitution went into effect. The law required that African-American men, women, and children should register with the local county clerk's office. Even though this legal requirement languished under largely poor enforcement, as indicated by the vast difference in numbers between African Americans living in a county and those who actually registered, registries were still kept.
This is the Vigo County Registry of Negroes and Mulattos, recorded from 1853 to 1854. It is one of the few surviving registry books from the period that is in the state archive's collections. A digital version is available for researchers on our website.
The registry contains 32 names of African American men, women, and children, the date they registered, their ages, a physical description (which at the time meant labeling individuals based upon the complexion of their skin "negro" or "mulatto"), their place of birth, current residence, and the names of white witnesses who attested to their residency. Many African Americans from Indiana who registered were immigrants from North Carolina, Virginia, and Kentucky. In the Vigo County register, only nine people were born in the state of Indiana. Five of the nine native-born Hoosiers listed included, Kinchen, Benjamin, Amanda, William, and Augustus Brooks. They ranged in age from 15-3, and were likely the children of John and Lucy Brooks, ages 45 and 35 respectively. Two of their sons, Kinchen and Benjamin, later enlisted into 102nd U.S. Colored Infantry of the Union Army during the Civil War, the first African-American regiment from Michigan. The parents immigrated to Indiana from North Carolina. Indiana's government required a registry of its native born—simply because of the color of their skin.
According to Census records, many registrants were farmers or laborers, but some held other professions. George P. Miller, born in Washington County, Kentucky, was a doctor. Armsted Stewart, originally from Virginia, was a plasterer, who assisted in brick-laying and building. Also from Virginia, William Clark worked as a barber. One treated the sick; another raised up buildings; another was a businessman. All were vital parts of their homes—yet seen as less than in the eyes of politicians and other citizens.
After the tumultuous years of Civil War came the Thirteenth, Fourteenth, and Fifteenth Amendments to the U.S. Constitution, which banned slavery, codified birthright American citizenship, and extended voting to African-American men, respectively. These constitutional provisions essentially nullified Article XIII of the Indiana Constitution, which was repealed in 1866 and removed from the Constitution entirely in 1881.
Like the history it represents, the Vigo County African-American registry represents both a problematic past and an opportunity for the future. Indiana's past contains many instances of injustice—discrimination, racism, and bigotry. And yet, this record now exists as something people can use for research, especially genealogy. Very few records exist for African-Americans in Indiana before the Civil War, so this registry is a powerful tool for many who seek to learn more about their lineage and history.
Painful contradictions abound in our past. The point is not to ignore them, but to acknowledge them and build a better society from what we learn.
Thanks for watching! Please click "like" if you enjoyed this video and make sure to subscribe to keep updated on all new videos. Finally, leave a comment or a story idea for a future episode. We want to hear from YOU!
From the Vault | Holiday Special: Children's Guardian Home Postcards
In this episode of From the Vault, we share our unique collection of holiday postcards that were sent to a woman who improved the lives of young children: Leota Trook of the Children's Guardian Home in Indianapolis.
Learn more about the Archives: https://www.in.gov/iara/
Learn more about the history relevance campaign at https://www.historyrelevance.com/.
Credits:
Written and produced by Justin Clark.
Special Thanks to Quinn Frey, Sandy Ricketts, Rose Butler, and the Indiana Historical Society
Music: "12 Days of Christmas," "First Noel," and "We Wish You a Merry Christmas" by Jingle Punks
Full Text of Video
The Holidays are such a special time of year, a time to connect with loved ones and appreciate the important things in life. One way we share our appreciation is with greeting cards. There's something personal and kind about receiving a card in the mail during the holidays.
In this episode of From the Vault, we share our unique collection of holiday postcards that were sent to a woman who improved the lives of young children: Leota Trook of the Children's Guardian Home in Indianapolis.
The Indiana General Assembly established the Children's Guardian Home in 1889. As author Rose Butler noted, "it was not an orphanage, or a reformatory, but a rescue program for children, initially ages newborn to fifteen years, who were neglected, abused, or abandoned by family and custodians." The Guardian Home worked to improve the future for these children by providing temporary housing and then finding them permanent homes.
Over the years, many people worked at the home who left a positive impact on the children, but few were as beloved as Superintendent Leota Trook. She worked at the home for over 30 years and oversaw its transition from oversight by the Board of Children's Guardians to the Marion County Welfare Board. She often wrote past residents of the home to make sure they were doing well—and they wrote back to her.
This is the earliest holiday postcard sent to Mrs. Trook, postmarked from 1911. A young woman named Myrtle Engle, who had lived in the home in 1909, wrote to Trook "wishing her a Merry Christmas and a Happy New Year." According to city directories, Myrtle lived in South Bend until at least 1914. She married Harrison Ledbetter in 1918, had at least three children, and died in 1971 at the age of 77.
Another card, dated from 1912, came from a young man named Frank James, who wrote to wish her a Merry Christmas and to have her "say hello" to fellow children still at the Guardian home. In the 1920 Census, Frank James is listed with his family in Knox County, where he worked as a clerk in a drugstore. It's likely that the young man from the Guardian Home moved in with a family and started a whole new life.
Mrs. Trook also received New Year's cards. The first card, also from 1912, came from Miss Ruby Hupp, who lived at the home as late as 1910. She wrote this card from Greenfield, which was likely her new home. She wrote:
Dear Mrs. Trook,
I was very much blessed with your nice card and I thank you very much. I just dearly love to stay here Mrs. Trook and I am very thankful for your kindness. Wishing you the very Happiest of New Years.
Miss Ruby Hupp
P.S. I am getting along just fine so far and hope it will proceed.
Yours R. H.
Unfortunately, not much else is known about Ruby, other than she was likely married. Regardless, you can get a sense of the importance of Mrs. Trook to Ruby from her earnest words in the postcard.
The last postcard that we'll share comes from a young lady named Martha Oliver in 1920. Her message reads:
Dear Mrs. Trook,
I received your little card and was very glad to hear from you. I am getting along pretty well and hope you are the same. I would like to go out to my cousin to spend New Year's Day and will you call me up on the phone and let me know if I can go.
From your little friend
Martha Oliver
According to Census, marriage, and death records, Martha married Joseph Daugherty in 1928, had two children, lived for a time in Philadelphia and Washington State, and died in 1994.
Each of these postcards are a window into the importance of Leota Trook in the lives of children, displaying the special connection she had with those under her care. And it's these connections that matter the most during the holidays.
Thanks for watching! Please click "like" if you enjoyed this video and make sure to subscribe to keep updated on all new videos. Finally, do you send out holiday cards? Do you prefer funny cards or serious ones? Leave your answers in the comments below. We want to hear from YOU!
Statehood Day 2018
Every year on the anniversary of Indiana's statehood (December 11), the Indiana State Archives participates in a big celebration at the State Capitol, which culminates in the installation of Indiana's 1816 and 1851 Constitutions in the rotunda for the duration of the legislative session. This video chronicles the journey of both constitutions from the Archives to the State Capitol.
Learn more about the Archives: https://www.in.gov/iara/
Learn more about the history relevance campaign at https://www.historyrelevance.com/.
Credits:
Written and produced by Justin Clark.
Special Thanks to Elizabeth Hague, Michael Vetman, Capitol Police, and Friends of the Indiana State Archives
Music: "Old Friend" by Silent Partner
From the Vault | Marshall Constitution
In this episode of From the Vault, we'll uncover the largely-forgotten story of how the Indiana Constitution almost changed overnight by the stroke of a Governor's pen—and the forces that shut it all down.
Learn more about the Archives: https://www.in.gov/iara/
Learn more about the history relevance campaign at https://www.historyrelevance.com/.
Credits:
Written and produced by Justin Clark.
Special Thanks to Quinn Frey, Indiana Legal Archive, Indiana Historical Bureau, and Hoosier State Chronicles
Clips of Erza Klein from Vox Media, Inc.
Music: "Switch It Up" by Silent Partner, "Cielo" by Huma-Huma, and "The Big Score" by MK2
Full Text of Video
In a 2018 video for Vox, journalist Ezra Klein discussed how "states routinely amend and even rewrite their constitutions. On average, each state has had 3 constitutions, and Louisiana—they've had 11." He argued that the Federal constitution should be amended more like the states, in order to improve our democracy. This is an interesting thesis—but one period of Indiana's history shows just how hard this process can be, so much so that it can lead to a constitutional crisis.
In this episode of From the Vault, we'll uncover the largely-forgotten story of how the Indiana Constitution almost changed overnight by the stroke of the Governor's pen—and the forces that shut it all down.
In its two centuries as a state, Indiana has had two constitutions—one from statehood in 1816 and a revised constitution from 1851. In the wintry months of 1911, there was almost a third.
Thomas R. Marshall, progressive Governor of Indiana from 1909-1913, stressed in his January 5, 1911 message to the General Assembly that a wide array of constitutional reforms were necessary to improve Indiana's government. Specifically, he called for extending the length of the legislature's session from December through May and limiting the right to vote of "foreign-born citizens." Like with many progressive reforms of the period, you get some good (more time to complete legislation) and you get some bad (disenfranchising immigrants' voting rights).
However, changing Indiana's constitution is difficult; Article 16 notes that for an amendment to be added to the Constitution, it must be passed by two sessions of the Indiana General Assembly and then approved by a majority of the voting public. This made adding amendments a long and arduous process, especially if more than one was being considered.
With all of this mind, Marshall and the Democratic majorities in the General Assembly decided to attempt a workaround.
This is Senate Bill 407, also known as the "Marshall Constitution." Democratic State Senator Evan B. Stotsenburg introduced the bill on February 23, 1911. The House passed the bill on March 1 with a vote of 59-37 and the Senate passed it on March 2 by a vote of 60-39. Governor Marshall signed it the very next day.
This revised Constitution comprised over 20 reforms, including authorizing the General Assembly to pass a workman's compensation program, increasing the membership of the House to 130, expanding the number of Indiana Supreme Court justices from 5 to 11, lengthening the duration of the legislative session, and stricter voting rules.
Despite passing the General Assembly, the new constitution faced swift and powerful opposition in the form of Indianapolis lawyer John Dye. He filed a suit in Marion County Circuit Court against the new constitution, arguing that "(1) the General Assembly lacked the authority to prepare and submit to the electorate a new constitution, and (2) the method of submission violated constitutionally-prescribed procedures." Judge Charles Remster agreed with Dye, arguing that "[t]he delegation of power is specific and empowers the General Assembly to propose one amendment or any number of amendments to the constitution. This power does not specifically authorize the proposal of an entire new constitution."
The state appealed the case all the way to the Indiana Supreme Court. In their landmark ruling in Ellingham v. Dye on July 5, 1912, the Supreme Court ruled the Marshall Constitution unconstitutional. In their decision, the Court firmly established that Article 16 could not be circumvented by legislative action. In other words, you cannot change the constitution by statute alone.
The impact of the Marshall Constitution lingered for decades. Many of its reforms, including voting regulations and changes to the General Assembly's schedule, became laws and constitutional provisions in their own right. It also benefitted Marshall himself, who gained a national profile for his progressive instrumentation of power. In 1912, he was tapped to be Woodrow Wilson's running mate and then served 8 years as his vice president.
The Marshall Constitution, and its aftermath, reinforced a profound lesson for both public leaders and citizens: Constitutions can be bent, but they cannot be easily broken. If Hoosiers believe it is in their best interest to pass a Constitutional amendment, or propose a new Constitution, they will do so under the guidelines of Article 16. As examples, the 2016 amendment to protect the right to hunt and fish and the 2018 balanced budget amendment followed this exact approach.
So, while Ezra Klein's view of Constitutional malleability is possible in theory, the Marshall Constitution shows that it's a lot harder in practice.
Thanks for watching! Please click "like" if you liked this video and make sure to hit that "subscribe" button to keep updated on all new videos. Finally, what changes would you propose to the Indiana Constitution, or do you think it should stay the same? Leave your answers in the comments below. We want to hear from YOU!
From the Vault | Evansville Ku Klux Klan Charter
In this episode of From the Vault, we look at one of the most controversial items in the Archives' collection, one that powerfully symbolizes a dark period and its politics: the Evansville Ku Klux Klan Charter.
Learn more about the Archives: https://www.in.gov/iara/
Learn more about the history relevance campaign at https://www.historyrelevance.com/.
Credits:
Written and produced by Justin Clark.
Special Thanks to Claire Horton, Indiana Memory, and Hoosier State Chronicles
Music: "Philae" by Olivaw, "Echoes of Time v2" by Kevin MacLeod, "It's Coming" by Josh Kirsch, Media Right Productions, and "Court and Page" by Silent Partner
Full Text of Video
America's history is riddled with horrifying stories of political extremism, which have inspired intense bigotry and even violence. This is especially true of Indiana during the 1920s, when one of the most notorious extremist groups took over civic life: the Ku Klux Klan.
In this episode of From the Vault, we look at one of the most controversial items in the Archives' collection, one that powerfully symbolizes the period and its dark politics: the Evansville Ku Klux Klan Charter.
The Klan first emerged in Reconstruction-era Tennessee and quickly spread throughout the South. They terrorized recently freed African Americans, as well as their Republican allies, with violence, threats, and intimidation. They described themselves as the "Invisible Empire of the South." Thousands of people died from their acts. Throughout the late 1860s and 1870s, Congress passed a slew of laws to suppress the Klan and they worked. The Klan fell apart as an organization by the 1880s.
But that was the first wave of the Klan. The second wave, which occurred throughout the first half of the twentieth century, became nationally significant and politically powerful. This wave was emboldened by D. W. Griffith's landmark 1915 film, The Birth of a Nation, which displayed the Klan as the protector of American democracy. As a result, a resurgence of the Klan began in the 1920s.
Indiana's Klan started in Evansville around 1920 and by 1923, chapters held massive rallies around the state. By 1925, the Klan had a quarter of a million members in Indiana and published its own newspaper, the Fiery Cross.
They were motivated by an intense bigotry against not only African-Americans, who represented less than 3% of Indiana's population, but against Catholics, Jews, and immigrants. Of these, Catholics became a central focus. As historian James Madison noted, "the Fiery Cross published a list of Roman Catholic businessmen in Indianapolis, all presumably unworthy of Klan patronage."
This is the Evansville, Indiana Ku Klux Klan Charter. The charter was signed on March 14, 1922 by the leadership of the Evansville chapter of the Klan. The Archives acquired this item from Bowling Green State University in Ohio.
The man whose name appears in the bottom, left-hand corner of the charter under the title of "Exalted Cyclops" is David Curtis "D. C." Stephenson, a man of immense power and influence within the Klan and Indiana politics.
He broke away from national leadership in 1923 and started running his Indiana faction of the Klan like a political machine, with him as the all-powerful boss. His leadership and successful infiltration of Indiana politics lead to the 1924 elections of a Klan-backed governor, Ed Jackson, a pro-Klan legislature, and even the mayor of the capital city.
Once they came to power, they methodically worked to pass measures that persecuted Catholics, particularly their parochial schools. These included mandatory readings of the King James Bible in schools, discrimination against privately-educated teachers seeking a teaching license, uniform textbook standards for public and private schools, and a very controversial attempt to ban "religious garb" in the public schools.
Fortunately, those who opposed the Klan grew wise to their antics and defeated these proposals, citing the importance of "individual freedom or of separation of church and state."
The Klan's political grip on Indiana quickly began to loosen, mostly as a result of poor organizational strategy and the conviction of D. C. Stephenson for the murder of Madge Oberholtzer, a government employee he assaulted, raped, and kept from medical assistance in March of 1925.
Governor Jackson was later exposed for corruption by the Indianapolis Times, who reported his illegal financial dealings with Stephenson and the Indiana Klan. The Times won the 1928 Pulitzer Prize for their investigations into Stephenson, Jackson, and the Klan. By the end of the decade, the Klan was all but eliminated from Indiana state government.
The Ku Klux Klan charter, and the history that surrounds it, remind us of an important lesson. In our past, extremist, bigoted organizations have used their power to harm the liberty and dignity of all people in our state. This history isn't pleasant, but it provides us with the knowledge to be better citizens and to recognize discrimination and extremism in all its forms.
Thanks for watching! Please click "like" if you liked this video and make sure to hit that "subscribe" button to keep updated on all new videos. Finally, what do you think we can do as citizens to challenge harmful extremism in our state? Leave your answers in the comments below. We want to hear from YOU!
Electronic Records | Don't Get Caught in the "Twilight Zone"
From email and social media to government documents, electronic records are a big part of our work at the Indiana Archives and Records Administration. We preserve these records in order to provide transparency and accountability to our government. Thus, any problems we encounter with them will bring challenges, but it's our job to handle them.
Learn more about the Archives: https://www.in.gov/iara/
Learn more about the history relevance campaign at https://www.historyrelevance.com/.
Credits:
Written and produced by Justin Clark.
Special Thanks to Jeannine Roe and Brian Taylor
Music: "View" by Ametryo
"Twilight Zone" Clips and Music Copyright: CBS Television
Full Text of Video
"Imagine if you will a world where electronic records suddenly disappear. Cities would collapse; governments would fall; widespread panic would ensue. The existential dread that would hang over the world like the Sword of Damocles. . . ."
Cue TV Channel Change
Actually, it wouldn't be that crazy, but it would be rough. From email and social media to government documents, electronic records are a big part of our work at the Indiana Archives and Records Administration. We preserve these records in order to provide transparency and accountability to our government. Thus, any problems we encounter with them will bring challenges, but it's our job to handle them.
So, what are electronic records? They come in two broad categories: "born digital" and "converted to digital." Born digital records are emails, social media posts, documents, spreadsheets, and anything else created by a government agency that exist electronically. Converted records originated on paper, tape, or microfilm and processed for electronic access.
The first is the purview of Jeannine Roe, our electronic records specialist here at the archives. Her job is to retrieve and then process electronic records from state and local governments.
Her biggest challenge is formatting, especially old formats that we no longer use. Think about how many cell phones you've ever had. Or computer's you've owned. They've changed a lot, haven't they? The key constant of electronic devices is change-- and this change makes it almost impossible to preserve electronic records in the long-term.
As she said to me in an interview: "Deterioration and obsolescence over time are the biggest factors that we run into for maintaining these things for the longest-term. . . . You can keep paper for 500 years if kept in the right conditions, but electronic records . . . with the larger servers that we utilize here . . . we replace them every four years."
Yet, electronic records do have one great advantage: access. As Brian Taylor, head of our micrographics lab noted, "Electronic records are the easiest thing to access, as opposed to digging up paper or microfilm."
Despite technological change, there's one format that works better for preservation than any electronic medium, and like vinyl, it's never really gone out of style: microfilm. As Brian said to me, "Preservation, long-term, always has to go to film. . . . We cannot guarantee digital information tomorrow let alone 10 or 20 years from now." If an EMP spike hits Indiana, wiping out our servers and computers, the only thing we need to look at microfilm is a light and a magnifying glass.
Microfilm, when stored in the correct conditions, can last up to 500 years. Let's elaborate on the "correct" part of this for a second. The best kind of microfilm for preservation is polyester film with a silver-halide emulsion (that's the image). This film doesn't tear like acetate film or fall privy to something called vinegar syndrome, where the film begins to smell and deteriorate. If we really want to preserve electronic records for the long-term, we should consider putting them on polyester microfilm.
So, why should we care so much? As Indiana government becomes more and more committed to digital devices and mediums, it is vital that our staff prepare the archives for the perils and promises of keeping electronic records.
As Jeannine said to me, "For the public, that matters because if they send out a records request or they're looking for specific topics, about specific people, then we can provide them with those things with certainty that they were what they have requested, and that they were created as they were intended to be and held as they were intended to be."
This ensures that we provide accessibility, accountability, and transparency of state government to our citizens. In short, it's a small but essential part of maintaining our democracy.
Thanks for watching! Make sure to hit that "subscribe" button to keep updated on all new videos. Also check out my full interviews with Jeannine and Brian available on this channel. Finally, what kind of electronic records do you have that are worth preserving? Leave your answers in the comments below. We want to hear from YOU!