Indiana Archives Month
Funded by the Indiana State Historic Records Advisory Board (SHRAB), the Indiana Archives Month Committee is charged with the planning and production of statewide events focused on the education and promotion of Indiana's archival community during the month of October. Indiana Archives Month seeks to promote the use of archives and the preservation of historic records within our communities. Archival repositories throughout our state, such as the Indiana State Archives, the Indiana State Library, the Indiana Historical Society, and countless local institutions serve to preserve Indiana's heritage through the written record. Through these archives, Hoosiers can study the past, trace their ancestors, learn about their community, and maintain the laws of our state.
Archives Month Highlights from Previous Years
October 2018
#AskAnArchivist Day | October 3, 2018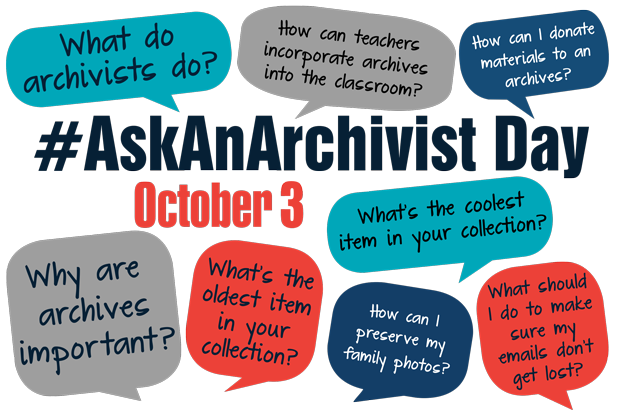 On October 3, 2018, Archivists from the Indiana State Archives and around the country -- working in universities, museums, historical societies, churches, businesses, local and state governments, and many other organizations -- took to Twitter to answer your questions about any and all things archives. This day-long event, sponsored by the Society of American Archivists, gave the opportunity to connect directly with archivists in your community and across the country—to ask questions, get information, or just satisfy your curiosity.
As professional experts who do the exciting work of protecting and sharing important historical materials, archivists have many stories to share about the work they do every day in preserving fascinating documents, photographs, audio and visual materials, and artifacts. Increasingly, archival work extends beyond the physical and includes digital materials. #AskAnArchivist Day gave people a chance to connect with archivists who are tackling the challenges of preserving our digital heritage for the future.
What questions can be asked?
Archivists participating in #AskAnArchivist Day were eager to respond to any and all questions about archives and archival work.
What's the craziest thing you've come across in your collections?
If your archives had a soundtrack, what songs would be on it?
What do archivists talk about around the water cooler?
... and no question is too practical!
What should I do to be sure that my emails won't get lost?
I've got loads of digital images on my phone. How should I store them so I can access them later on?
How do you decide which items to keep and which to weed out from a collection?
As a teacher, how can I get my students more interested in using archives for projects?
How did it work?
#AskAnArchivist Day was open to everyone—all you needed was a Twitter account. To participate, you just tweeted a question and included the hashtag #AskAnArchivist in your tweet. Questions were seen instantly by archivists around the country who were standing by to respond directly.
2014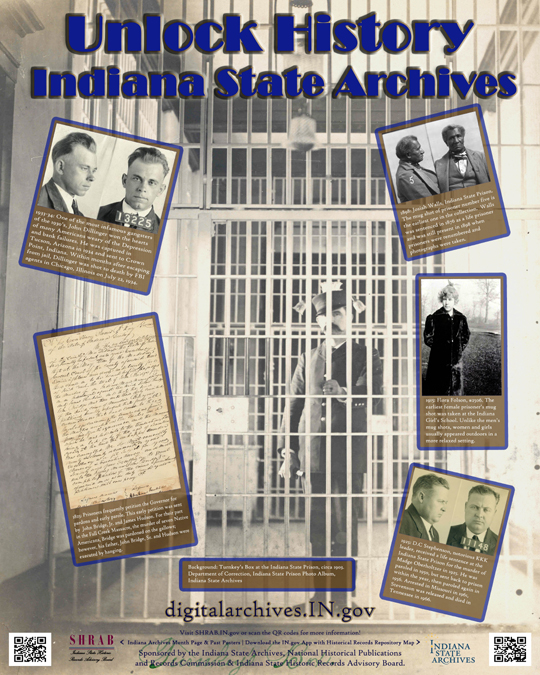 2013
2012
2011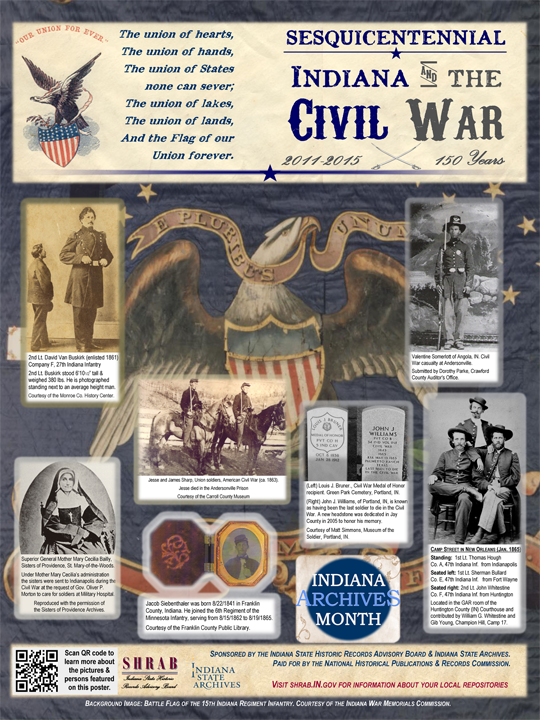 Local repositories from around Indiana contributed pictures for this year's offering, eight of which can be seen on the poster. We would like to offer our sincere thanks to the following repositories for their accepted submissions:
"2nd Lt. David Van Buskirk" - Monroe County History Center
"Superior General Mother Mary Cecilia Bailly" - Sisters of Providence, St. Mary-of-the-Woods
"Jesse and James Sharp" - Carroll County Museum
"Jacob Siebenthaler" - Franklin County Public Library
"Louis J. Bruner" and "John J. Williams" - Museum of the Soldier, Portland, Indiana
"Valentine Somerlott" - Dorothy Parke, Crawford County Auditor's Office
"Three Soldiers" - William G. Whitestine and Gib Young, Champion Hill, Camp 17
"Battle Flag of the 15th Indiana Regiment Infantry" - Indiana War Memorials Commission
The 2011 Archives Month poster is made possible by the Indiana State Historic Records Advisory Board (SHRAB), working in conjunction with the Indiana Archives and Records Administration from a grant made possible by the National Historical Publications and Records Commission.
2010
Indiana Events
October 8 - Celebrate Archives Month - Civil War Outreach and More - Society of Indiana Archivists
October 21 - The Meaning of Work - Schurz Library, Indiana University South Bend
October 23 - Indiana Genealogy and Local History Fair - Indiana State Library
Throughout October - Archives & Special Collections Month - Indiana University
2010 Poster & Credits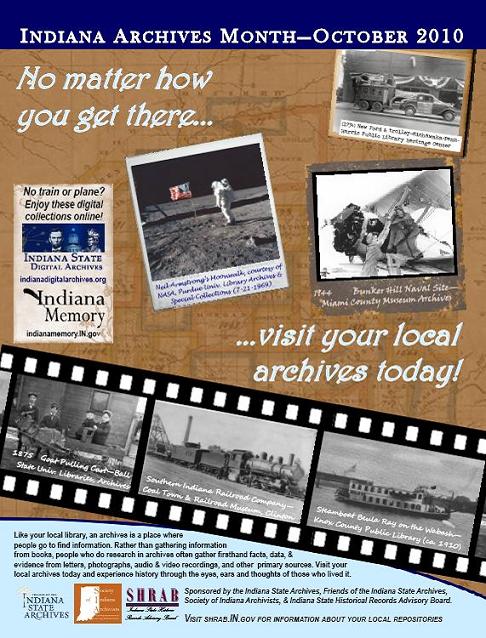 Poster Photo Credits:
"New Ford & Trolley" – Mishawaka-Penn-Harris Public Library Heritage Center
"Neil Armstrong's Moonwalk" – Purdue University Library Archives & Special Collections
"Bunker Hill Naval Site" – Miami County Museum Archives
"Goat Pulling Cart" – Ball State University Libraries, Archives
"Southern Indiana Railroad Company" – Coal Town & Railroad Museum
"Steamboat Beula Ray on the Wabash" – Knox County Public Library
More Information