About Us
Overview
The Indiana Archives and Records Administration (IARA) assists State and local governments in the cost-effective, efficient and secure management of governmental records, by providing services throughout the life cycle of records, including creation, use, storage, and disposition.
IARA is governed by IC 5-15-5.1 and works with county commissions of public records, governed by IC 5-15-6. The Oversight Committee on Public Records approves IARA Policies and promulgates administrative rules through Title 60 of the Indiana Administrative Code.
IARA personnel are eager to share knowledge within their areas of expertise. Contact arc@iara.in.gov if you would like to arrange a tour or inquire about a special presentation for a group..
IARA Divisions
State Archives
The Indiana State Archives exists to provide for the protection of, and access to, primary-source and historical documents, and those that contribute to Indiana's heritage.
Records Management
Records Management provides assistance in the management of public records to State and Local government agencies in Indiana; the Electronic Records Program assists all Indiana government entities with the challenges of using, preserving, and transferring records in digital formats.
Forms Management
The Forms Management Division provides tailored, cost-effective forms management solutions to State government, while providing a uniform, centralized repository for citizens and constituents.
State Imaging and Microfilm Laboratory
The State Imaging and Microfilm Laboratory provides cost-effective imaging and microfilming services to Indiana government pursuant to standards adopted by the State of Indiana.
State Records Center
​The Indiana State Records Center provides State government with secure storage, transport and destruction of inactive records.
Related Entities:
IARA History
The Archives and Records Administration (formerly the Commission on Public Records) was created by Public Law 1035, chapter 219, on 11 March 1935. The Indiana General Assembly expanded and modified the Administration's organization and responsibilities in 1961, 1971, 1979, 1983, and 2015.
The Administration became an independent state agency in 1979, and consists of: Forms Management, Records Management, State Records Center, State Archives, State Imaging and Microfilm Lab, and the Conservation Lab, thereby serving the entire life cycle of information and records. Together with the administrative staff, these divisions create, manage, distribute, and preserve the information of the State of Indiana through efficient and fiscally responsible policies and procedures.
The life of all information record keeping begins with a well-designed form (Forms Management) which after distribution and use becomes a record. This record is then destined, through a retention schedule (Records Management), for ultimate destruction or preservation. Depending on the retention schedule, the record can be stored temporarily and then destroyed (State Records Center), or it can be preserved permanently as an historic record (State Archives). Some important records are converted, digitized, or microfilmed (State Imaging and Microfilm Laboratory), or are restored and/or repaired (Conservation Lab).
The Oversight Committee on Public Records functions as the policy-making body for the Administration, and consists of the Governor, the Secretary of State, the State Examiner for the State Board of Accounts, the Director of the State Library, the Director of the Historical Bureau, the Director of the Archives and Records Administration, the Commissioner of the Department of Administration, the Public Access Counselor, and two lay members appointed by the Governor for four-year terms.
Since safeguarding public information is a vital function of government, the Administration's role is to reduce paperwork, preserve Indiana's history, and improve the efficient operation of state government.
Volunteer
Volunteer at the Indiana Archives
The volunteer experience at the Archives is rewarding and enjoyable.
Since the volunteer program began in 1991, volunteers have donated over 100,000 hours to the Indiana Archives! Volunteers have been the driving force behind the Indiana Digital Archives.
If you are interested in volunteering at the Indiana Archives, we offer a variety of projects from which to choose, flexible hours, an ability to volunteer from home with internet access or a friendly working environment, and free parking at the Archives. In person projects vary widely. Some involve data entry, but many do not require any computer expertise. There are several collections that need to be preserved by simply removing them from their acidic folders and boxes and placing them in acid free archival materials. To volunteer in person, call 317-591-5222 or email arc@iara.in.gov.
Virtual Volunteers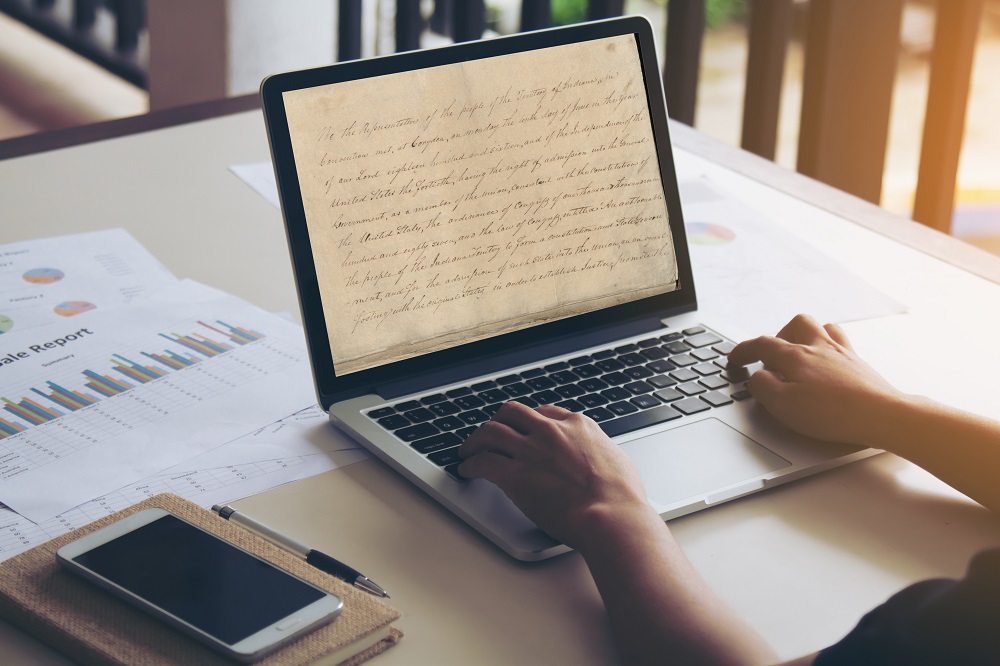 Help the Indiana Archives increase online access to historical content from the comfort of your home. Anyone with an internet connection will be able to help create searchable indexes by indexing records. Together, we can make Indiana history accessible to everyone. Visit our profile on Fromthepage.com to see our most recent virtual projects.
Donate
Help Support Indiana Transparency and History
The Indiana Archives and Records Administration acknowledges the great importance of gifts and donations to the State Archives' operations and to its future development. All donations to the Indiana Archives are tax deductible.
Donate online
​Donate online with Visa, MasterCard or Discover. The form is secure.

Donate via mail
Please fill out this form and send it with your check or money order to:
Indiana Archives and Records Administration
402 West Washington Street, Room W472
Indianapolis, IN 46204
Donations of Archival Material
As a government archives, the Indiana State Archives does not generally accept donations of non-governmental materials from the public. The Archives encourages patrons wishing to donate historical material to seek out a local repository, such as a county public library or historical society, for items of local interest. For items relevant to the history of the entire State, the Indiana Historical Society or Indiana State Museum may be appropriate repositories.