2023 State Career Development Conference Winners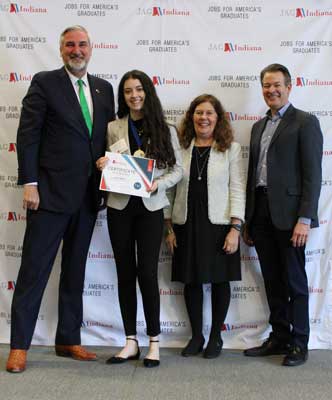 Neva Verbik of Avon High School was named the JAG Indiana State 2023 Outstanding Senior in March at Ivy Tech Community College in Indianapolis. She was honored with the award by Governor Eric Holcomb, Associate Chief of Service Delivery and Field Operations, Leslie Crist, and former DWD Commissioner David Adams. The State Outstanding Senior award is the most prestigious honor for a JAG Indiana student.
Nominate an Outstanding JAG Indiana Staff Member Today!!
JAG Indiana has the distinct pleasure of honoring our hardworking staff each year at our State Training Seminar, which takes place in the summer. Our awards ceremony for 2023 has taken place.
"Governor Holcomb has long committed that the state would lead by example and take concrete steps to shape the change necessary to remove barriers to access and opportunity for all Hoosiers. JAG represents a big part of that commitment.
JAG gives students guidance, direction and hope. JAG helps them overcome barriers, instill confidence and lift up their spirits. I'd personally like to thank JAG specialists and staff for the work that you do and say that you do it well.
Staff are receiving national recognition for being among the best, most effective programs in the country."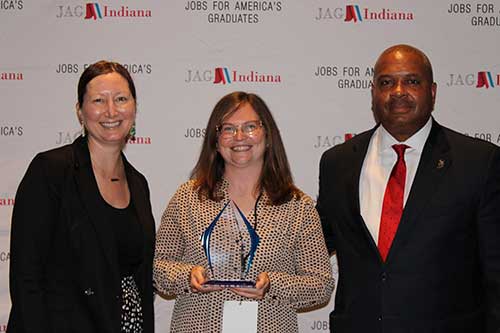 -Richard Paulk
Commissioner of the Indiana Department of Workforce Development, pictured honoring Whiteland High School JAG Specialist Elizabeth Moffett (center) who received the 2023 Glynn Hines Lifetime Achievement Award.
JAG CHAPTER COMMERCIALS
Every year as part of a Career Development Conference competition, JAG Indiana students create a short commercial intended to promote their school's chapter to their peers.
The JAG chapter with the winning commercial receives a financial award to be used within the classroom.