Article
Section
Publications
Most Frequently Requested
IDOL Quarterly Newsletter - INdiana Labor Insider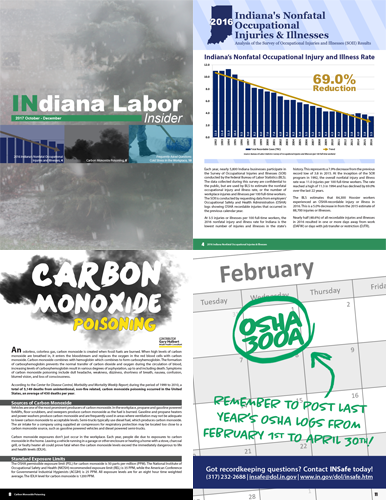 Read the current edition of the INdiana Labor Insider by clicking here!
Select the appropriate link below to read or review past editions:
INdiana Labor Insider IN Focus - Agriculture Safety
Indiana Department of Labor Videos
The videos below are presented in Windows Media Video (.wmv) format. Captioned and subtitled videos are now available on the Indiana Department of Labor YouTube Channel.
Occupational Safety and Health
Occupational Injury, Illness & Fatality Statistics
IN Review - Occupational Injury, Illness, and Fatality Study
Brochures, Forms & Posters
Presentations, Guides and Fact Sheets
Sample Safety Plans
Occupational Injury, Illness & Fatality Brochures by Industry and Demographic
Wage and Hour
Child Labor
Bureau of Mines
Annual Coal Reports
Mine Inspection Reports