Tier II Manager
News/Updates
Annual Tier II Reporting Webinar
IDHS is offering a virtual training for the Tier II Manager system at 1 p.m. Eastern on Dec. 7, 2022. The training will offer step-by-step instructions on how to use Tier II Manager and how to submit an annual Tier II (312) report, as well as cover EHS Facility Emergency Response Plan questions. Sign up for the webinar by emailing saratr2@dhs.in.gov.
Guidance for EHS Facility Emergency Response Plan Development Questions
The EHS Facility Emergency Response Plan Development questions are new to the 2023 Tier II reporting season. The questions were implemented as part of the LEPC Planning Module of Tier II Manager, with the specific purpose of capturing what types of hazmat emergency planning and preparedness that facilities have available. Please note that these questions are requested to be completed by facilities only if their on-site chemical inventory matches one of the following criteria:
The facility has an Extremely Hazardous Substance (EHS) chemical on-site that is at or over its Threshold Planning Quantity (TPQ).
The facility has a non-EHS chemical onsite where the maximum daily amount is above the Comprehensive Environmental Response, Compensation and Liability Act (CERCLA) reportable quantity.
The TPQ and reportable quantities for EHS and non-EHS chemicals are determined by the U.S. EPA and can be found in its Consolidated List of Lists.
Guidance on how to accurately answer these questions can be found in the EHS Facility Emergency Response Plan question checklist.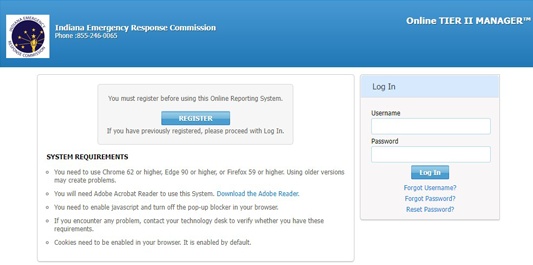 About Tier II Manager
Tier II Manager is an online hazmat reporting and emergency planning system used by the state of Indiana to collect and process annual Tier II reports from facilities (often referred to as EPCRA Section 312 reports). Additionally, facilities are required to submit incident reports through Tier II Manager after notifying the Indiana Department of Environmental Management (IDEM) 24-Hour Emergency Spill Line of a chemical release or spill.
Tier II Manager is also a tool used by Indiana fire departments, emergency managers and Local Emergency Planning Committees (LEPCs) to analyze hazardous chemical inventories stored by facilities in their own counties and plan for potential hazmat emergencies.
Please see the list of frequently asked questions below addressing Tier II Manager questions. If the answer cannot be found below, contact the SARA Title III Program at 317-234-9697 or saratr2@dhs.in.gov.
Guides
Facility User Frequently Asked Questions
Fire Department and Emergency Management Agency (EMA) Frequently Asked Questions