Fire Investigations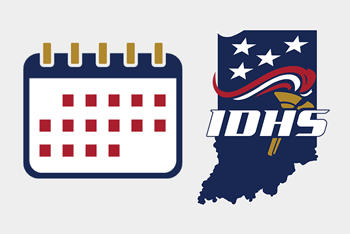 Schedule an Appointment
Please schedule an appointment online before you visit to conduct business with IDHS. No walk-ins will be accepted. Note: This system is not to be used for scheduling inspections.

About the Fire Investigations Section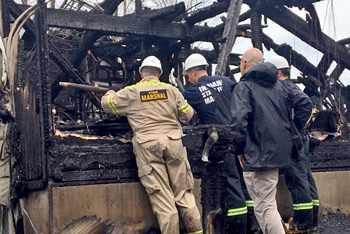 The Fire Investigations section is part of the Division of Fire and Building Safety of the Indiana Department of Homeland Security (IDHS). Division fire investigators are authorized by the Indiana State Fire Marshal to conduct investigations pursuant to Indiana codes 22-14-2-4 and 22-14-2-8. All investigators are certified in fire and explosion investigation through IDHS as well as other professional associations such as the International Association of Arson Investigators (IAAI) and the National Association of Fire Investigators (NAFI). They are sworn law enforcement officers and can exercise police powers, including the ability to make arrests, conduct searches or seizures of people or property, and carry firearms.
The Fire Investigations section annually investigates about 600 fires and explosions. The investigators diligently work each case utilizing practices and procedures outlined in the National Fire Protection Association (NFPA) 921 Guide for Fire and Explosion Investigations. The investigators are also required to be compliant with the NFPA 1033 Standard for Professional Qualifications for Fire Investigator. The section employs the latest technology and investigative techniques to determine the causes and circumstances of fires and explosions and to apprehend and prosecute those who commit arson.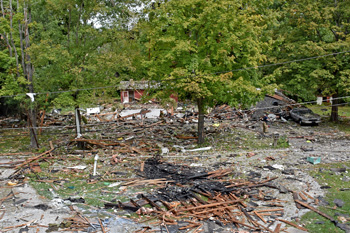 All fire departments in the State of Indiana are required to investigate and determine the causes and circumstances for each fire occurring in their territory, according to Indiana Code 36-8-17-7. The Fire Investigations section is a resource to fire departments, law enforcement agencies, the insurance industry and the public to assist with the investigations of fires and explosions that occur in the State of Indiana.
See the Fire Investigators page for investigator and K9 unit biographies.
Agencies only: Complete this form to report a fatal fire in Indiana.
Investigators
The section has 13 fire investigators. Each investigator is assigned a region of the state to cover; however, they can respond anywhere within the State of Indiana.
Services Offered
IDHS fire investigators work on fires and explosions that occur at houses, apartments and businesses. They also investigate automobile and watercraft fires and can also help with case reviews and joint scene examinations. The team utilizes a certified arson canine trained to detect accelerants at fire scenes and other dogs who can help find human remains.
Services provided by the investigators include the following:
Accelerant-detection canine
Cadaver-locating canines
Cellular data analysis
Evidence collection and handling
Expert-witness testimony
Fire and explosion origin and cause investigation
Interviews and interrogations
Scene documentation
Search and arrest warrants
Subpoena witnesses, books, documents or other evidence
Training
Investigation Report Requests
Contents of fire investigation files are withheld pursuant to Indiana Code 5-14-3-4 as law enforcement records and are only released through subpoena or to an insurance company pursuant to Indiana Code 27-2-13.
A "request for assistance" or "call log" are the only agency records which may be available for public disclosure. Requests for public records should be submitted via the Public Records Request Web Form.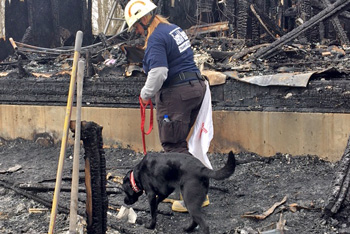 Fire Investigation Frequently Asked Questions
Residential Fire Fatalities Map
IDHS fire investigators are often called to assist local jurisdictions in suspicious residential fires where a person died. The map below tracks the number of people who have died in a residential fire in each Indiana county, whether IDHS performed an investigation or not.