EMS Week
EMS Week 2022 is May 15–21

Gov. Eric J. Holcomb proclaimed May 15–21, 2022, as EMS Week (download proclamation).
Hoosiers are encouraged to celebrate and honor the work of emergency medical service personnel throughout Indiana.
Recognizing EMS Personnel
Join the Campaign
Throughout EMS Week, IDHS social media platforms will be sharing stories of Indiana EMS teams. Follow IDHS on social media, use the hashtag #EMSWeek and share EMS stories all week!
By the Numbers: Indiana EMS in 2021
831
provider organizations
---
EMS Week Video Tributes
Watch the videos below from IDHS leadership and EMS staff members.
---
Stories From the Field
Indiana's EMS personnel rise to the challenge every single day. Here are just a few stories that show it.
Unused EMS Week submissions may be used for future content.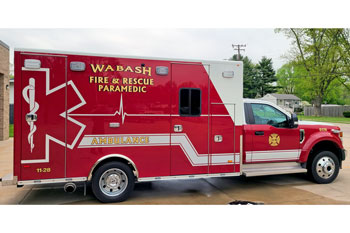 Wabash County
Wabash Fire Department, Wabash County Sheriff's Department, Urbana Fire Department
Rick Eviston, Colton Ringel, Jared Tackett, Scott Reese, Tyler Guenin, Dustin Lee
Wabash Fire Department was dispatched to a multi-vehicle accident just north of its normal response area due to the number of patients. Two off-duty members heard the calls for extra assistance (as first responders for a volunteer department in the area), responded from their homes and arrived prior to the ambulance arriving from the station. They encountered a 16-year-old boy who had been ejected from a vehicle and was laying on his side with decorticate posturing. The patient was assumed to be deceased due to ashen color and no radial pulses. One of the medics attempted to roll the boy onto his back to complete an assessment when the patient vomited. The medic then provided rescue breaths, and the patient began to exhibit minimal signs of responsiveness. He contacted the incoming ambulance to inform of the patient's condition and need for rapid sequence intubation and emergency transport to a trauma center (no air ambulance availability due to weather). The ambulance arrived, the patient was loaded and all members of the crew performed various procedures, including the intubation. Through the collaboration of this team, the boy survived and is doing well.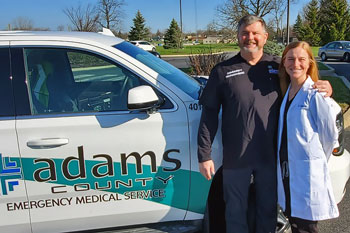 Adams County
Adams County EMS, Adams Health Network
Kevin Wellman, Dr. Katie Heimann
The Adams County EMS community paramedicine program was contacted about a high-risk and vulnerable Amish resident, who was pregnant with her eleventh child. She had stopped showing up for prenatal visits, so her doctor reached out to Adams County EMS for help. Together, the doctor and community paramedic visited the woman's home and were invited inside to discuss. She and her husband had decided not to continue with prenatal visits because she felt fine, like she had for her previous pregnancies, and they would save money by skipping the prenatal visits. The woman agreed to an exam by her doctor, and although she and the baby were doing well, the doctor remained concerned that a natural delivery would be fatal for her due to a previously diagnosed cardiac condition that required coronary artery bypass graft surgery when she had her tenth child. As a result of the visit, the mother once again began her prenatal visits, and a few weeks later a successful C-section was performed, with a healthy baby boy and mother. Both she and her husband were very appreciative and grateful.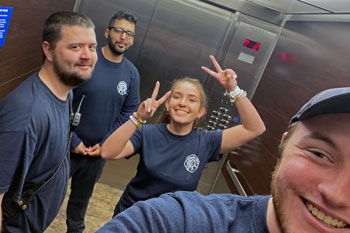 Clark County
New Chapel EMS, Jeffersonville Police Department
Lt. Alex Johnson, Luis Gonzalez, Zach Simms, Danielle Zell
This spring, New Chapel EMS crews from two locations were dispatched to a Jeffersonville residence for a woman possibly in labor. Upon arrival, a breech situation was identified, which required the immediate delivery of premature twins at just 29 weeks. Shortly after delivery, one of the babies did not have a pulse and was not breathing. Jeffersonville police officers were able to make it to the scene and escorted the EMS units to the hospital. This allowed clinical staff from New Chapel EMS to solely focus on providing critical care and resuscitative efforts. Because of the quick action of these EMS crew members, the mother and both newborns were in stable condition when the crew cleared from the hospital that evening. Within 24 hours the mother was discharged from the hospital and both newborns were transferred to a children's hospital in Louisville for further supportive care, and they continue to improve with a positive prognosis.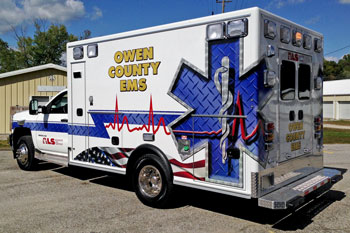 Owen County
Owen County EMS, Franklin Township Fire Department
Tabetha Brewer, Matt Lamoureux, Nathan Cross, Brandon Felton
Owen County EMS was dispatched for a 5-year-old girl cut by a lawnmower. On the way to the scene, dispatch informed EMS that the patient's intestines were exposed, so EMS requested an air transport due to the severity of injuries. Multiple air transports declined due to weather. Franklin Township Fire Department arrived first and applied pressure to the wound. Owen County EMS arrived and carried the girl to a stretcher. Her intestines were exposed and contained environmental debris, but the hemorrhaging was controlled with the firefighters' bandage. The girl was quickly loaded and transported to the nearest trauma facility. Vital signs were continuously monitored and treatments administered throughout transport. She was not expected to survive as she was transferred between facilities, but she made it and then spent weeks in intensive care. She is now recovering well. Read more at the Riley Hospital for Children website.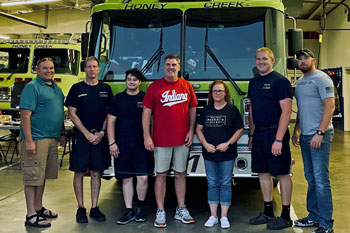 Vigo County
Honey Creek Fire Department, Trans Care Ambulance
Bill Behnke, Zach Mount, Greg Slaton, Kevin Murphy
In summer 2021, Honey Creek Fire Department was dispatched with Trans Care Ambulance on a possible cardiac arrest. When the crew arrived on scene, they found the patient's wife performing CPR. Crew members quickly took over and began BLS interventions. They placed the patient on the floor and continued manual CPR, as some members of the crew readied the LUCAS Compression Device. The device was placed on the patient and began to do compressions on him. Crews worked together as a team, working with Trans Care Ambulance for 30 minutes. The patient regained a pulse and was transported to a local hospital. A month after his cardiac event, the patient came to the firehouse with his wife and thanked everyone that helped him, with a dinner.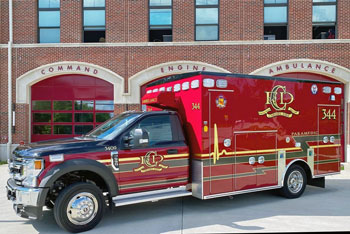 Hamilton County
Carmel Fire Department
Brent Schnepp, Arielle Morgan, James Butler, Jordan Cox, Jeff Grimes, William Idlewine, Matthew Keinsley, Meg Soultz, Nathan Thomas
This team of firefighters and police officers who are paramedics responded to a 4-year-old girl experiencing a sudden cardiac arrest in spring 2021. Once on scene, the crew found the family doing CPR on the child. In a short five minutes, the crew members were able to shock the girl twice and perform other interventions to ultimately have the girl regain a pulse. They delivered her to the ER shortly after, and she made a full recovery. The girl was diagnosed with a rare cardiac abnormality. After this run, the lead paramedic taught CPR and AED usage to the girl's family and neighbors in case she has another cardiac event. There are also plans to teach CPR and AED usage to her school teachers and staff. Watch this Carmel Fire Department video to hear the girl's family tell her story and see a Carmel firefighter give a demonstration of hands-only CPR, or you can read more at the Current website.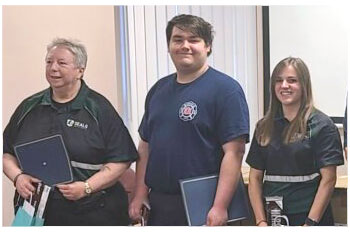 Johnson County
Seals Ambulance, Franklin Fire Department, Franklin Police Department
Denise Anderson, Ethan Brooks, Miranda Jansen
In spring 2021, a masseuse was working when she experienced an ST-elevation myocardial infarction (STEMI) and went into sudden cardiac arrest. A coordinated response by Seals Ambulance EMS personnel, Franklin Fire Department first responders, Franklin Police Department and the hospital emergency department combined for a positive outcome for the patient, who was able to recover and thank the first responders who saved her life. On April 11, 2022, each member of the response team received a Cardiac Life Save Award at the Franklin Fire Department. The event gave the patient the opportunity to meet and thank those involved in saving her life and for the response team to see the concrete results of their efforts, which often is not known after delivering a patient to a hospital.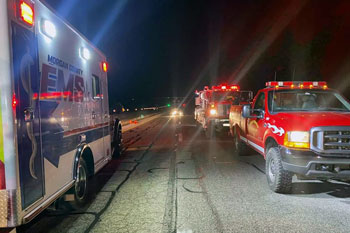 Morgan County
Green Township Fire Rescue, Morgan County EMS, IU Lifeline
Capt. Isaac Schultheis, Lt. Ethan Hart, Geoffrey May, Steven Wappes, Brandon Shireman, Tristan Schenck
Green Township Fire Department was dispatched with Morgan County EMS to State Road 37 north of Martinsville for a motor vehicle accident with entrapment in the early morning hours in winter 2021. The first-arriving fire apparatus and ambulance arrived to find a two-vehicle accident with one of the drivers entrapped and semi-conscious. The quick actions of the crews led to an assessment, extrication and patient packaging completed within five minutes of arrival. The driver was loaded into the ambulance for further treatment. The second-arriving fire crews set up a landing zone where an IU Lifeline helicopter landed and transported the patient in stable condition. The crews completed tasks quickly to stabilize the patient and remove the person from the vehicle, reducing further injuries and the delay of care.
---
Indiana EMS Association Awards
The following individuals and organizations were recognized at the 2022 annual Indiana EMS Association Golden Siren Awards Banquet earlier this month.
Dispatcher of the Year

Arin Denton

Paramedic of the Year

Barry VanCamp

EMT of the Year

Chelsey Childers

Educator of the Year

Ben Masten

Golden Siren Award

Patti Crisler, Hugh Garner*, Emery Garwick, David Kelley, Tony Pagano
*Awarded posthumously

Legislator of the Year Award

Rep. Mike Andrade (District 12),
Rep. Hal Slager (District 15)

Legislative Appreciation Award

Kim Godden, Nate Metz, Gary Miller

Appreciation Award

George Schulp

Legislative Services Award

Amerimed Ambulance, Global Medical Response, Paramedic Logistics of Indiana, Phoenix Paramedic Solutions,
Spirit Medical Transportation, STAR Ambulance, Superior Ambulance, Three Rivers Ambulance Authority

Amerimed Ambulance, Global Medical Response, Paramedic Logistics of Indiana, Phoenix Paramedic Solutions, Spirit Medical Transportation, STAR Ambulance, Superior Ambulance, Three Rivers Ambulance Authority
---
Dive Into EMS
Take a deeper look at the world of EMS.
Dive Into EMS
Take a deeper look at the world of EMS.
Mobile Integrated Health

Connect to news and resources about the growing field of community paramedicine in Indiana

Mobile Integrated Health

Connect to news and resources about
the growing field of community paramedicine

Stop the Bleed

Know how to recognize and respond to life-threatening bleeding during emergencies

Stop the Bleed

Know how to recognize and respond to
life-threatening bleeding during emergencies

Hands-on Education

Check out the Mobile Sim Lab, a free training resource for EMS and fire instructors

Hands-on Education

Check out the Mobile Sim Lab, a free
training resource for EMS and fire instructors

Indiana EMS for Children

Discover the work of iEMSC, which focuses on improving emergency care for children in the hospital and EMS systems

Indiana EMS for Children

Discover the work of iEMSC, which focuses on
improving emergency care for children in
the hospital and EMS systems