EMS Mobile Simulation Laboratory

Schedule the Sim Lab
The IDHS Mobile Sim Lab is available to train EMS and fire personnel around Indiana at no cost. Learn more about the resources the lab has to offer by reading more below or downloading the new Sim Lab flyer.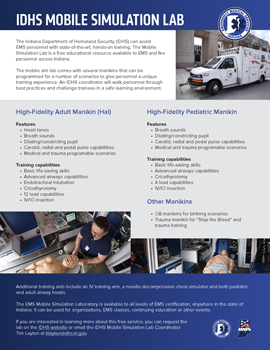 About the EMS Mobile Simulation Laboratory
The Mobile Simulation Lab is a free educational resource available to EMS and fire personnel across Indiana, and it is considered one of the most immersive EMS training tools in the state. It is a repurposed ambulance designed to simulate high-fidelity EMS simulations and has provided free training to first responder personnel for more than 10 years. High-fidelity simulation provides instructors with the ability to expose students and seasoned EMS personnel to real-world situations in a safe environment.
The program has multiple human patient simulators. "HAL" is the primary human patient simulator manikin used. It is modeled to resemble a 30- to 40-year-old male and is capable of talking to trainees and receiving common EMS invasive procedures, such as intubation, IV and IO accessibility, needle and surgical cricothyrotomy, and defib and needle decompression. It can be customized to create scenarios trainees need to practice the most.
Other manikins available include the "Trauma HAL" simulation for trauma injuries (including Stop the Bleed training) and an OB/GYN birthing simulation manikin "Noelle." Additional training aids include an IV training arm, a needle decompression chest simulator, and both pediatric and adult airway heads.
Requesting the Sim Lab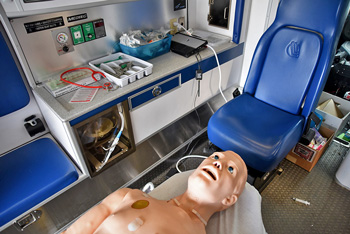 The Sim Lab is available during standard business hours, and it may also be available weeknights or weekends, subject to request approval. Contact esimlab@dhs.in.gov to request the simulation lab.
The EMS Mobile Simulation Laboratory is available to all levels of EMS certification, anywhere in the state of Indiana. It can be used for organizations, EMS classes, continuing education or other events.
An electronic copy of the requesting agency's protocols would be very helpful in developing scenarios as medications and permitted procedures vary all over the state.
The simulation technician will contact the requestor to confirm the dates and discuss simulation options.
Training Efficacy
Our goal is to provide the best EMS simulation training possible. To improve our training, participants are encouraged to email esimlab@dhs.in.gov with feedback.