EMA Appreciation Week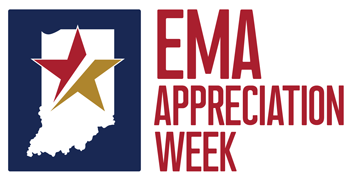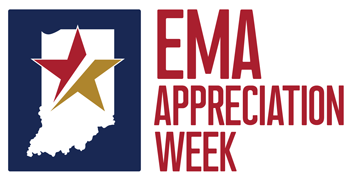 Counties throughout Indiana have emergency management offices that take steps to reduce their communities' vulnerability to hazards and to help cope with disasters. These Emergency Management Agencies (EMAs) work with other public safety partners and organizations to prepare for, mitigate, respond to and recover from emergencies. Indiana recognizes the efforts and accomplishments of all its dedicated emergency managers statewide and invites Hoosiers to join in honoring them during EMA Appreciation Week (Feb. 19-25, 2023).
Indiana's Emergency Backbone
Gov. Eric J. Holcomb has issued a proclamation declaring EMA Appreciation Week each year since 2020. EMAs are a vital public service to Indiana communities, and they are part of the first line of response to natural and man-made disasters. Emergency managers help create disaster response plans, organize trainings that include first responders and other community partners to practice response plans, draft plans that help minimize the impact of disasters, work with state and federal agencies on assistive programs and find the most effective methods of disaster recovery.
FEMA Region 5 Regional Administrator Thomas Sivak acknowledged the ongoing collaboration between FEMA and Indiana's EMAs.
"Our FEMA team is grateful for the knowledge and trusted partnership of local first responders in Indiana — and across this nation — before, during and after disasters. One of my first jobs was as a local emergency manager in Indiana, so I know firsthand these professionals represent highly skilled, trained personnel who dedicate themselves to saving lives and protecting the communities they also call home. Their commitment to being the help people need when they need it the most should be recognized not just this week, but every day," said Sivak, who was the Hamilton County EMA director from 2012 to 2015.
Read below for a few ways these tireless, highly-trained professionals have been serving over the past year.

Mary Moran, Director of Emergency Management and Preparedness
How Will You Say Thanks?
EMAs work behind the scenes to prepare for a variety of disasters that could affect you. Here are ideas to show them your appreciation this year:
EMAs in Action
EMA staff members work daily to plan, train and practice responding to emergency situations. They also assist other first responders to prepare and respond to emergencies regularly. Read below for just a few examples from the past year.
Cass County: Filling the Gaps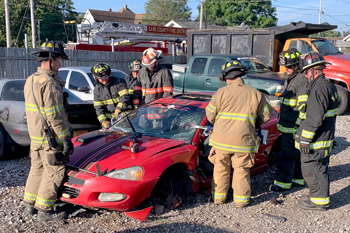 Cass County EMA went above and beyond during the past year to support local fire departments. Because it is not close to a regional training center, Cass County EMA sought out donations from community partners to support local training for area first responders. Their efforts brought in more than $15,000. The EMA delivered Instructor I and II, NFA Incident Safety Officer and Hazmat Awareness and Ops at no cost to local departments. The agency is in the middle of a Hazmat tech course also supported by local industry.
Elkhart County: Always On Call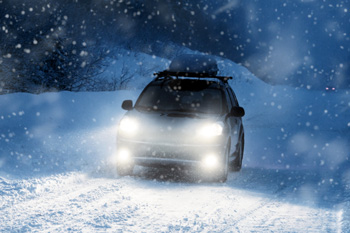 Elkhart County EMA has a motto: "What do you need? How can we help?" Since the day EMA Director Jennifer Tobey started, she has always shared her cell phone number with everyone. If she and her staff are unsure of an answer, they commit to finding an answer. Case in point: On Christmas morning 2022 while at home, Tobey took a phone call from a man from Pennsylvania who said he had been given her name as someone who could help him. He was traveling home to Wisconsin and wanted to travel along the northern part of Indiana, but he did not know what counties were open or what the road conditions were. She discussed the county travel advisory map and advised him to trust state roads but avoid back roads. He thanked her and hung up. Tobey says this is what emergency management is all about.
Kosciusko County: Bringing Groups Together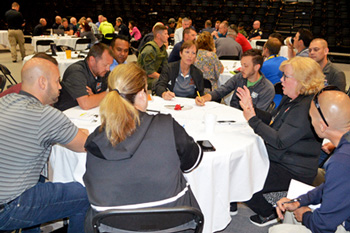 Kosciusko County EMA planned and facilitated a county-wide school active shooter workshop that brought together — for the first time in the county's history — school staff from every school system and response personnel from every agency that would respond to a school shooting (law enforcement, fire and EMS). More than 100 attended during the eight-hour facilitated discussion based on the DHS K-12 High School Active Shooter Specific material (modified to ensure a more local feel). Feedback was positive and a cross-jurisdictional work group is getting close to completing a "Kosciusko County Active Assailant" policy.
Monroe County: Environmental Response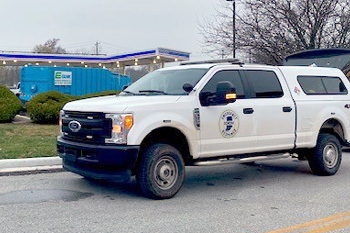 Monroe County EMA engages with its local EMA advisory board, Indiana University, hospitals, utilities and others. This came in handy this past year when some gasoline tanks gave out, leaching gasoline into waterways and sewers. EMA Director Jamie Niebel, with her background as a volunteer firefighter, was able to assess the situation and know exactly how to assist. The EMA partnered with the state (IDHS and IDEM) and local fire, law enforcement and utilities to complete a smooth environmental response.
Lawrence County: Ready for Anything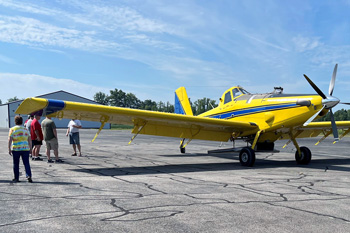 Lawrence County EMA Director Valerie Luchauer is a master of exercise, thinking of new ways to exercise her community and plan for serious situations. She put on a Local Emergency Planning Committee (LEPC) exercise this past year that dealt with a hazmat situation and a crop duster. This full-scale exercise involved a local crop duster that flew his plane in and talked with the group about the hazards associated with chemical situations. Luchauer saw this as a way to exercise her local partners to gain awareness about the crop-dusting chemicals and how to assist anyone affected.
Knox County: Mobile Operations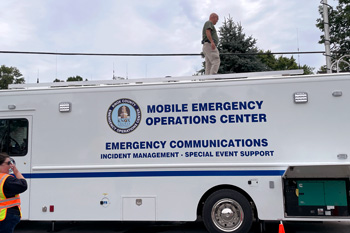 Knox County EMA bought a Mobile Emergency Operations Center (EOC) in 2020, and since then it has been used in a vast array of missions, exercises and events. It was a key component during 22 special events in 2021 and 2022, consisting of fairs, festivals, 5K runs and more to provide communication, share preplanned incident plans and act as a mini dispatch center with on-scene fire and EMS. In 2022, the EOC was deployed to a large multi-agency structure fire in Vincennes and for the house explosion in Evansville. EMA staff also used the EOC while spending 16 hours in May doing damage assessment in and around Decker following a tornado and straight-line winds.
Vanderburgh County: On the Scene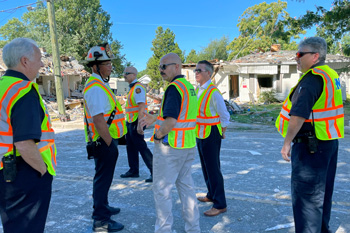 Vanderburgh County EMA Director Cliff Weaver and Deputy Director Nick Adams responded right away when a house exploded in August in Evansville. Adams was in the area when the explosion happened and was one of the first to respond to the scene, and Weaver shifted from storm damage assessment to the explosion site with a drone to help. They continued working in tandem with local, state and federal agencies for several days through a unified incident command system to help facilitate rescue, recovery, scene safety, evidence preservation and damage assessment of the area.