Continuity, Recovery and Resilience Planning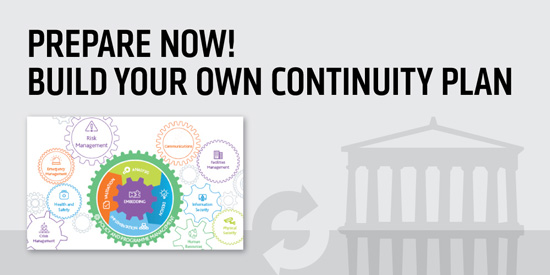 About Continuity, Recovery and Resilience Planning
Continuity, Recovery and Resilience Planning is responsible for all state planning development and maintenance services related to the following emergency management areas:
State Emergency Operations Plan (EOP) Support-Specific Plans:

State of Indiana Continuity of Government Plan and Annexes:

Executive Branch
Judicial Branch
Legislative Branch

State of Indiana Continuity of Operations Plan for all 129 state agencies
State Recovery Base Plan and six Recovery Support Functions (RSFs):

Community Planning and Capacity Building (CPCB)
Economic
Health and Social Services
Infrastructure Systems
Natural and Cultural Resources

State Resilience Planning
Continuity is an important element of preparedness and an integral part of each core capability across the five mission areas of protection, prevention, mitigation, response and recovery within the National Preparedness System. Because incidents may affect an organization or government's ability to provide assets, assistance and services, continuity planning and operations are an inherent component of each the previously mentioned core capabilities and the coordinating structures that provide them. Enduring constitutional government, continuity of government and continuity of operations is dependent upon the foundation of preparedness built by each and every individual and community.
No level of government can perform essential functions and provide critical services without the support of the rest of the community. Private sector entities, critical infrastructure, non-governmental organizations, communities, individuals and families all play a vital role.
Resilience
Enhanced organizational and community resilience is important for managing threats to essential business functions today and in the future. Resilience is the ability of core functions to rapidly adapt and respond to changes, disruptions or threats. Continuity resilience must encompass business, as well as information technology, operations and recognize the importance of partnerships and interrelationships. It can be thought of as spanning six discrete layers:
Strategic planning and procedures
Organization/community (people)
Core business processes
Communications and information technology (systems/applications)
Essential/vital records (data/records management)
Facilities and security
This layered approach is scalable and applicable to individual organizations and communities as a whole. Continuity cannot occur without the commitment and dedication of many partners who play integral roles in providing critical business functions and vital services throughout Indiana.
As part of each organization's continuity planning, it is critical that each organization clearly identify its partners, and in particular, those supplies, products and information it receives from partners that are vital to the organization's ability to accomplish its essential business functions.
Resources
State Continuity Program Guidance

Continuity planning facilitates the performance of executive branch essential functions during all-hazards emergencies or other situations that may disrupt normal operations. The ultimate goal of continuity planning is to ensure that the State of Indiana is able to continue its vital governmental services and operations under all conditions. For this to take place, state businesses or agencies must have plans in place to carry out their departmental essential functions without interruption.

Continuity Planning

General Continuity

Business Continuity

Infectious Disease Continuity