Building Plan Review Process
Overviews
The submission of an application starts an automatic 10-business-day clock. Within those 10 business days, IDHS will respond to the application with one of: (1) a notice of Construction Design Release, (2) a notice of incomplete filing or (3) a notice that the project has been selected for a detailed review. Before that response, if you choose to upload additional documents, please be aware that will restart the 10-day period. If your project is selected for a detailed review, Indiana law allows IDHS an additional 20 days to complete that process.
Consequently, it is in your interest to provide all your latest, finished materials at the time you file your project initially. Please do not file an incomplete set of documents and use the 10-day period to complete and upload your work. If you do so, each upload will send your project back to the start of the line.
Note: The time frames described above apply only to the Building Plan Review Section's processes and do not include the time spent waiting for the submitter's response(s). The actual length of time between submission of an application and issuance of a design release will depend on the completeness and code-compliance of the project submitted.
Fee Schedule

Note: Find the fee schedule listed in Article 12, Rule 3, starting on page 5.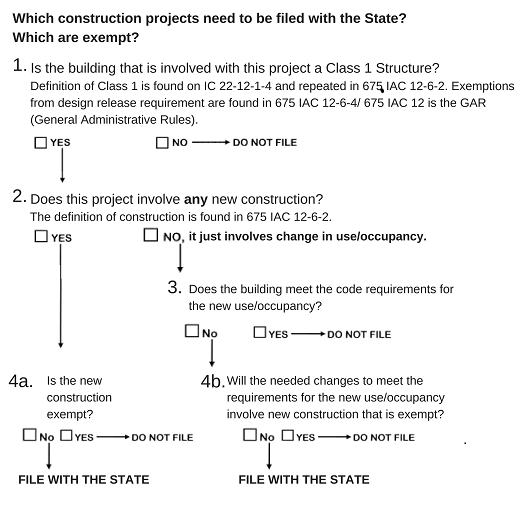 Do You Need to File?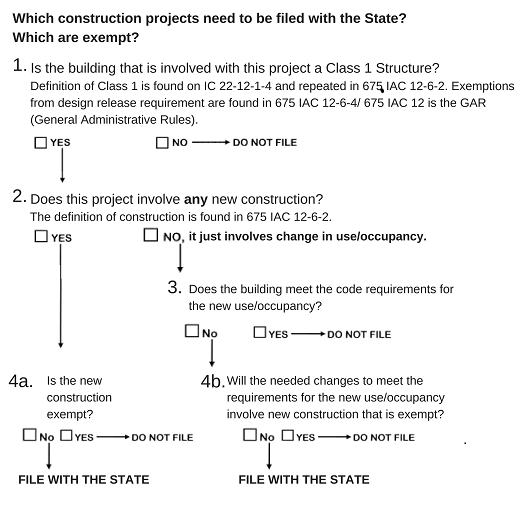 To determine if your project may be exempt from filing with the state, please send an email to planreview@dhs.in.gov. Give a detailed description of work to be performed as well as city and county where the work will take place.
The decision chart here is intended to be an aid in determining whether Indiana law requires you to file your project with the state of Indiana. As always, IDHS recommends you contact a construction design professional to ensure compliance with all Indiana laws.
If one scope is required to be filed, then all scopes must be filed.
All work must comply with all applicable codes whether or not it is required to be filed.
All work, including that exempted from filing with the state, may require local permits.
Definition of a Class 1 Structure
The definition of a Class 1 structure is found in Indiana Code 22-12-1-4 and repeated in 675 IAC 12-6-2. Exemptions from design release requirement are found in 675 IAC 12-6-4. For more information on the General Administrative Rules (GAR) and amendments for all applicable state building codes, visit the Rules of the Indiana Fire Prevention and Building Safety Commission page.
A Class 1 structure is any structure that is used or occupied by:
The public
Employees
Three or more tenants
Site improvement that affects persons with disabilities
Storage facilities, tanks and dispensing equipment for flammable and combustible liquids or gases
Note: In general, supportive living facilities are considered Class 1 structures. For conditions that must be met for a supportive living facility to be considered a Class 2 structure, review the Classification of Supportive Living Facilities guidance. Buildings used only for an agricultural purpose on the land where they are located and not used for retail trade are not Class 1 structures. Vehicular bridges are not Class 1 structures.
Definition of Construction
The definition of construction is found in 675 IAC 12-6-2.
Interactive Step-By-Step: To File or Not To File
Select the following button for a step-by-step walk-through of whether you need to file your project with the state.
Submittal Checklists
Please use the following checklists as guides to help with completing the following submittals.
Selected Projects Guidance