Agency Overview
About the Indiana Department of Homeland Security
The Indiana Department of Homeland Security (IDHS) leads Indiana's emergency planning and operations, first responder training and fire and building safety. The Indiana State Fire Marshal leads the Division of Fire and Building Safety (within IDHS), which oversees the enforcement of building codes and includes a fire investigations unit. The agency certifies and trains thousands of first responders and also hosts state-level exercises each year. IDHS also supports the state Emergency Operations Center (EOC), which leads response and coordination efforts for large-magnitude incidents.
IDHS serves as a federal facilitator for funding to support emergency management and grant funding to protect from risks; however, the agency functions separately from the U.S. Department of Homeland Security. IDHS is a state-level agency and does not have any direct connection or authority related to terrorism prevention, immigration and citizenship, international child adoption, visas and passports or other national-level issues. Questions about such federal responsibilities should be directed to the U.S. Department of Homeland Security.
The IDHS Way
At IDHS, employees are dedicated to serving Hoosiers and supporting the public safety community. This dedication to service starts with a commitment to the mission of the agency and to the passionate staff doing the job every day. IDHS employees rely on three core values to perform their duties, and these values embody every function of the agency, from certifying the safety of structures to training first responders and preparing Indiana for any and all natural or man-made disasters.
This is The IDHS Way.
Service: We believe public service is a calling and the highest honor. We will safeguard the people and property of the State of Indiana with distinction.
Integrity: We are committed to the highest standards of character and accountability. We will strive toward the right choice rather than the easy one.
Respect: We regard our staff with the highest dignity to ensure the same is delivered to the public.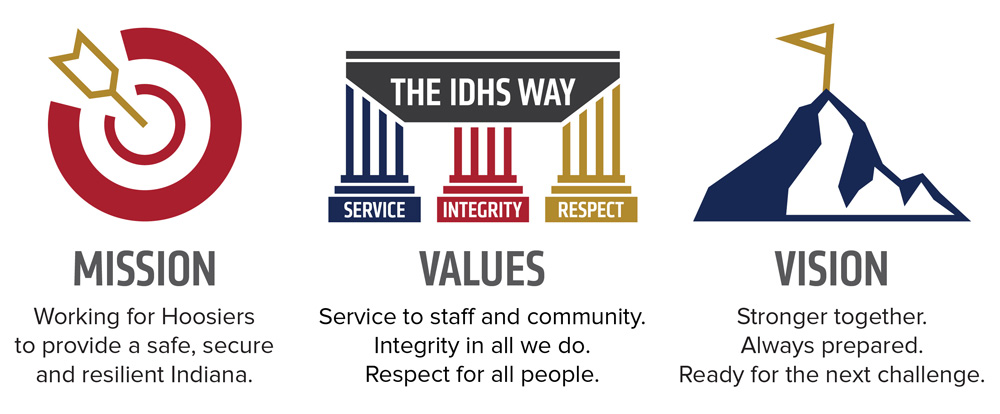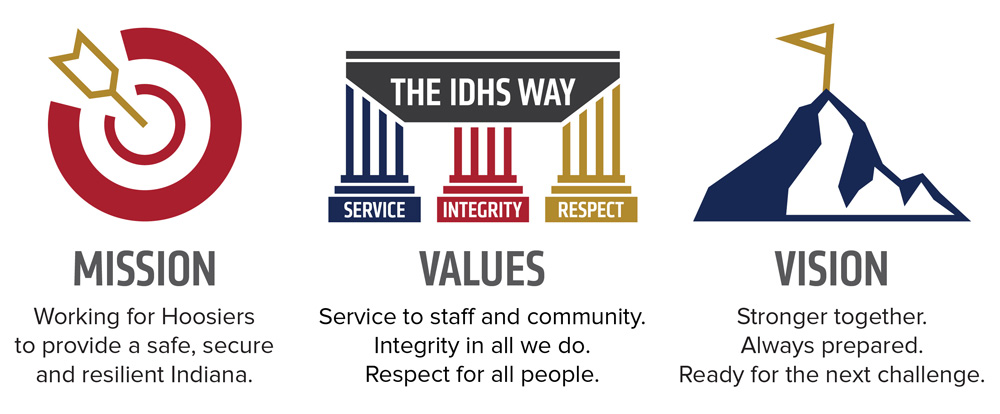 Organization
IDHS is led by an executive director, who is appointed by the governor. The director guides an executive management team, which leads and coordinates the agency and its divisions to focus on public safety, planning and training. IDHS consists of four administrative and support offices (general counsel, finance and administration, information technology, public affairs) and the operational divisions below:
Emergency Management and Preparedness: The primary role of this division is to support first responders and their communities as they prepare for and respond to disasters or large-scale emergencies. The division also works closely with state and local responders while guiding Indiana's all-hazards emergency preparedness. This includes the development of emergency management plans and exercises to practice those plans. Division staff guide and assist local governments in assessing specific risks to their communities and build individualized initiatives to fill the gaps identified.
Each county has its own Emergency Management Agency (EMA) that responds to local disasters. When a response overwhelms the capabilities of local officials or an EMA is in need of statewide resources or coordination, the county can request support and assistance from IDHS. The Director of Emergency Management leads this division and serves as the state liaison to the Federal Emergency Management Agency (FEMA).
In addition to managing a state-of-the-art Emergency Operations Center (EOC) to coordinate large-scale responses, the division directs mitigation and resiliency efforts to help communities protect and prevent disasters. When disaster strikes, the division is key to helping communities become whole again.
Fire and Building Safety: The Indiana State Fire Marshal serves as the director of the Division of Fire and Building Safety. Appointed by the governor, the fire marshal directly oversees the branches of boilers and pressure vessels, code enforcement, elevators and amusement rides, emergency medical services, fire certification, fire investigations, hazardous materials/radiation/CBRNE and training. Within this area is the Indiana Fire and Public Safety Academy, which provides public safety education, training and advanced studies to the state's first responders to ensure responders of all disciplines are well-prepared.
The Indiana State Building Commissioner, also appointed by the governor, oversees this division's branches of building plan review and code services.
IDHS issues permits and certifications for the division's regulated areas through the online Public Safety Portal.
Grants and Affiliated Boards
As the federal designee for federal grant funding for terrorism prevention and emergency management, IDHS coordinates the distribution of funding to support the needs of counties and other local government entities. In addition, the grants management section guides and coordinates the Indiana Secured School Safety Grant Program, which has distributed more than $133 million in state-sponsored school safety funding — a key element to Indiana continuing to be a leader in school safety innovations and efforts.
Additionally, there are several boards, commissions and a foundation affiliated with IDHS:
Board of Firefighting Personnel Standards and Education
Emergency Medical Services Commission
Fire Prevention and Building Safety Commission
Homeland Security Foundation
Indiana Emergency Response Commission
Secured School Safety Board
Senior Advisory Committee
History
IDHS was created in 2005 by the state legislature through the combination of several existing agencies aimed at emergency management, domestic security and public safety. The new agency was tasked with administering federal and state homeland security grants statewide, developing a strategic plan for preparing and responding to emergencies, coordinating emergency and disaster mitigation, preparedness, response and recovery efforts, and developing a plan to protect state and public assets from disasters and attacks.