An estimated 1 million Americans are blind, and another 3.2 million have visual impairments. When Tony Blair lost his sight to an aggressive form of glaucoma, he and his wife, Connie Blair, had to learn how to adapt to a new lifestyle – but that turned out to be more difficult than he could have expected – and not just because he no longer had his vision.
Mr. and Mrs. Blair underwent extensive training to re-learn how to function in their everyday lives. But when they returned home to Gary, Indiana, they found that they did not have access to many of the resources that they would need. Even more so, they felt a disconnect and yearned for a community who understood and shared their experiences. Instead of relocating or accepting the lack of resources, the Blairs decided to create their own. They then founded The Blind Social Center in 2014 in the hopes of finding comradery and enhancing the quality of life for others with vision impairments in their community.
The mission of the Blind Social Center is to enrich and stimulate the lives of the blind and visually impaired community. The vision of the Blind Center is to shed light on blindness through socializing and training the vision-impaired to achieve their economic, educational, physical, and personal goals. Patrons of The Blind Social Center learn Braille, keyboard/computer training, iPad training, personal management, homemaking, nutrition education, fitness training, and art. Above all, the patrons are welcomed into an inclusive community they'd been missing before.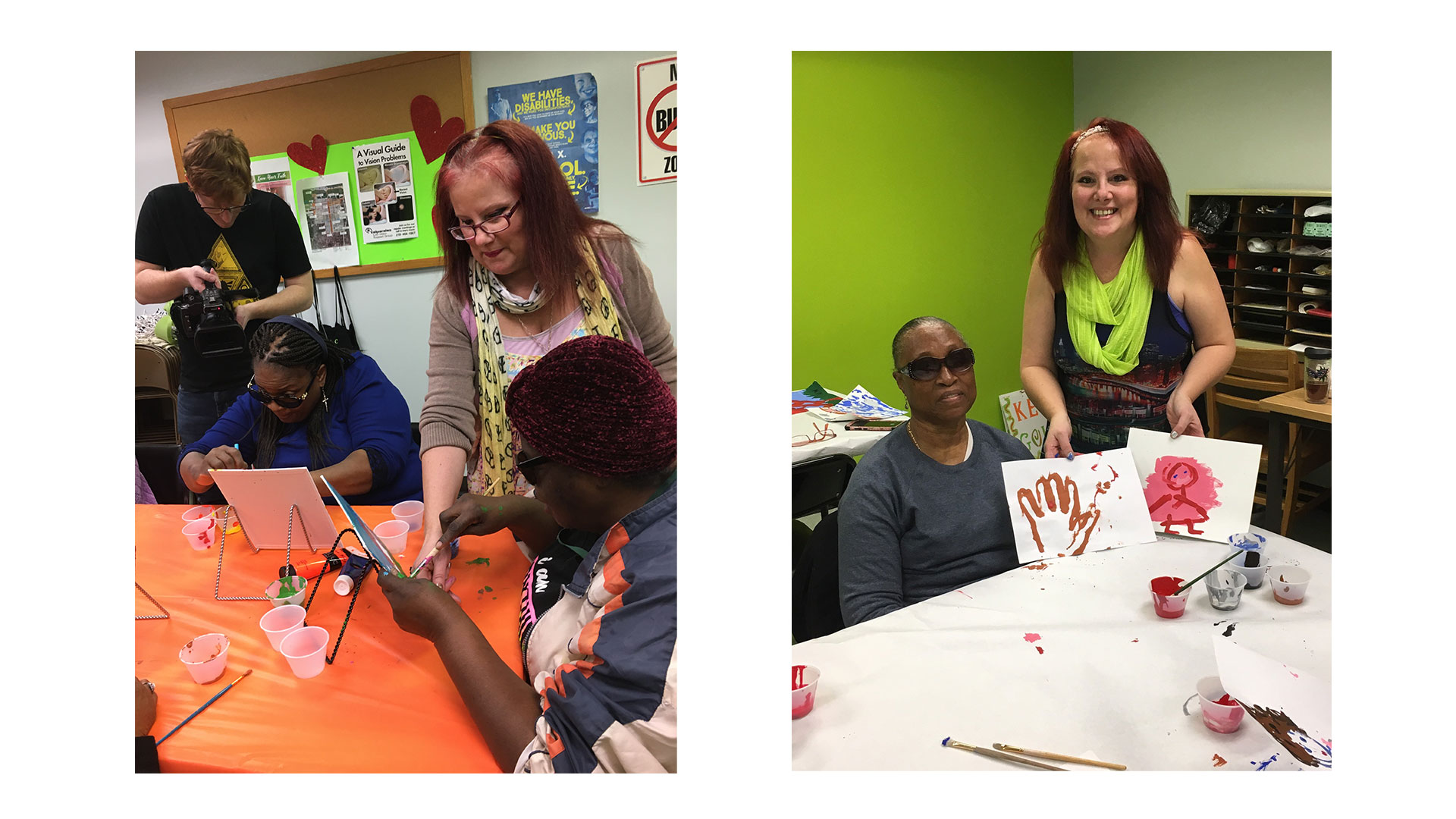 The arts program at The Blind Social Center took off after a round table discussion revealed that patrons had a desire for different experiences, such as painting and jewelry making. With support from The Legacy Foundation, The Blind Social Center launched an eight-week course for the patrons where they created art that accommodated their new view of life.
Led by artist Georgia Fox, these individuals were guided through a process where they learned about the kind of art they would be creating, which broke down barriers for those who were unsure. They then painted using raised art technology, which allowed them to feel what they were painting. They deepened their understanding of how to use texture to envision art.
Following this eight-week program, The Blind Social Center was scheduled to host a gallery in April to display their artwork. The gallery has been postponed due to the coronavirus outbreak.
"These paintings come from their minds. People always say, 'I can do that with my eyes closed.' But can you? A person who doesn't have their sight can, always," said Mrs. Blair.
The Blind Social Center has helped people with vision impairments build confidence and gain a new perspective on their lives. "We help our patrons understand that just because they lose their sight, their life isn't over," stated Mrs. Blair. "In fact, it's just the beginning, because now they learn how to see things differently."
---
Published 8/4/2020