eCivis Login Guidance
Objective: Agencies understand how to login to the eCivis live/ "production" environment.
Please see the Troubleshooting Notes section below if you have issues with Steps 1-4.
1. Navigate to eCivis Grants Network at https://gn.ecivis.com/GO/gn_home.
2. Enter the Agency eCivis user's State of Indiana email address in the "Username" field & select Next.
3. Agency eCivis users may proceed to authentication via Access Indiana. Complete those prompts, if applicable. (Presence on the State of Indiana network or "VPN" may affect this.)
4. An Agency eCivis user's Grants Network home page should appear.
---
IMPORTANT:
If not initially directed to the "My Account Information" page, all Agency eCivis users must navigate to the "Administration" tab & "My Account" to complete all required items (marked with *), & select one or more check boxes from the User Profile section.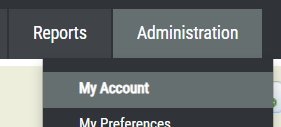 Completing this page ensures eCivis functionality, moving forward.
---
Troubleshooting Notes
Internet Browser:
If Password Manager is utilized, a password may be auto-populated following Step 2.
Select & delete the incorrect password characters.
Username*:
The email address belonging to a State of Indiana employee (or "Agency eCivis user").
*Not any "Indiana##" Usernames previously used in a Demo environment.
The domain information following the "@" symbol is case sensitive, i.e. abbreviations for any agency or "Indiana" cannot be capitalized.
Correct example for user "State Employee": semployee@sba.in.gov
User not recognized:
State of Indiana Agency eCivis users were entered into eCivis' live environment based on New User Forms submitted to SBA by each agency's implementation team.
Still experiencing issues? Submit a request to the SBA Grants Management Team on the Contact page.