2017 Indiana Medicaid Data Challenge
On Saturday, October 21st, 2017, MPH co-hosted the Indiana Medicaid Data Challenge. We are very thankful to our partners; FSSA, the Indiana Chapter of HIMSS, the Regenstrief Institute, and KSM Consulting for making this event a success. More than 20 teams and 150 people participated in the event. To see some of the impactful visualizations and analysis that were done, click here.
Gaining New Insight
FSSA operates six care divisions, including the Office of Medicaid Policy and Planning, and accumulates the service-related data about members, providers, and claims into an enterprise data warehouse.
Members (beneficiaries/recipients): This data includes age, gender, location, and race/ethnicity.
Providers: This data includes name and address, National Provider Identifier (NPI), specialties, and practice type.
Claims: This data includes prescriptions, cost, and diagnosis.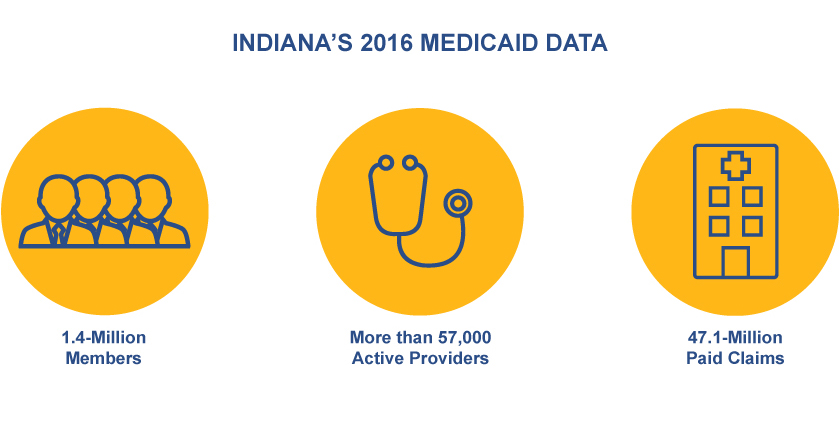 Delivering Actionable Data
The public release of Medicaid data converges two important paths:
Understanding how organizations and end users will use the data.
Working to release HIPAA-compliant, de-identified data publicly that is helpful and relevant.
Understanding how the data can be used and developing specific use cases with partners drove the preparation of meaningful, actionable data sets that both meet security requirements and fill a previously-unmet need.
Driving Better Outcomes
Collaboration and communication between FSSA, MPH, and participating organizations will result in continuous improvement of the data. More important to citizens, this effort will lead to improvements in Medicaid services across the state. Providing organizations outside of state government with the opportunity for deeper analysis opens the door to solutions and improvements throughout delivery of healthcare in Indiana and beyond.