TALKING BOOK & BRAILLE LIBRARY
To increase the text size, hold down the "Ctrl" key and press the "+" sign.
The Indiana Talking Book and Braille Library (TBBL) provides free library service to residents of Indiana who cannot use standard printed materials due to a visual, physical, or reading disability.
Patrons may borrow braille books, digital audio books, large print books, audio magazines, and special playback equipment from the library; materials will be mailed directly to patrons' homes using "free matter for the blind". Braille and audio books are also available to download from BARD.
Contact Information
317-232-3684 Local Telephone
1-800-622-4970 Toll-Free Telephone
317-232-3728 Fax
tbbl@library.in.gov
Mailing Address:
Indiana Talking Books & Braille Library
140 N. Senate Avenue
Indianapolis, IN 46204
Hours:
Monday - Friday, 8:00 a.m. - 4:30 p.m.
Getting Started
Resources and Services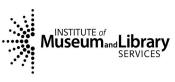 This project was made possible in part by the Institute of Museum and Library Services
TBBL AF 8-24-2023