Help Tell the Lewis & Clark Story
Buy a Lewis and Clark License Plate to Help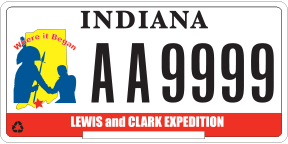 The only source of funding for the work of the Indiana Lewis and Clark Expedition Commission comes from proceeds of the specialty Lewis and Clark license plate. No tax dollars are appropriated to the Commission, and it functions completely with volunteers.
Your purchase or renewal of a Lewis and Clark license plate is an important contribution to ongoing efforts to educate the public about Lewis and Clark in Indiana. Money from license plate proceeds has been used to provide resources to teachers who use the Lewis and Clark story to teach many subjects ranging from science to social studies. The funds have also helped produce films reenacting key events in the Expedition and support events that commemorate Indiana's connection to the Lewis and Clark Expedition.
Indiana residents may purchase Lewis and Clark license plates for their vehicles by visiting the Bureau of Motor Vehicles (BMV) web site or visiting a local BMV office. A $25.00 group fee for each plate is contributed to the Expedition Commission.