Welcome
The Indiana School for the Blind and Visually Impaired (ISBVI) educates and invests in many children that, due to blindness/low vision or blindness/low vision and additional handicapping conditions, other schools cannot or have difficulty serving. Through its outreach initiatives, ISBVI provides services to children and young adults throughout the state who are blind or have low vision who are not enrolled at the School.
Accessibility:
If you are having difficulty accessing information on our website due to a disability, please click here to go to our contact page and send a message to the Superintendent's Office.
---
Latest News
ISBVI Holiday Open House and Plant Sale
The ISBVI Greenhouse will hold its annual Holiday Open House and Plant Sale on:
Thursday and Friday, December 1 & 2
Noon to 5:00pm
Saturday, December 3
9:00am to 4:00pm
---
ISBVI Annual Holiday Tree Sale & Family Event
Celebrate the holiday season with us on Saturday, December 3, 2022. Some of the day's events include:
Christmas Tree and Wreath Sale
Holiday Plant Sale
Made-to-order Breakfast
Visit from Santa Claus
Instrumental Holiday Music and Caroling, and more!
Click here to download and print out a copy of this Event Flyer.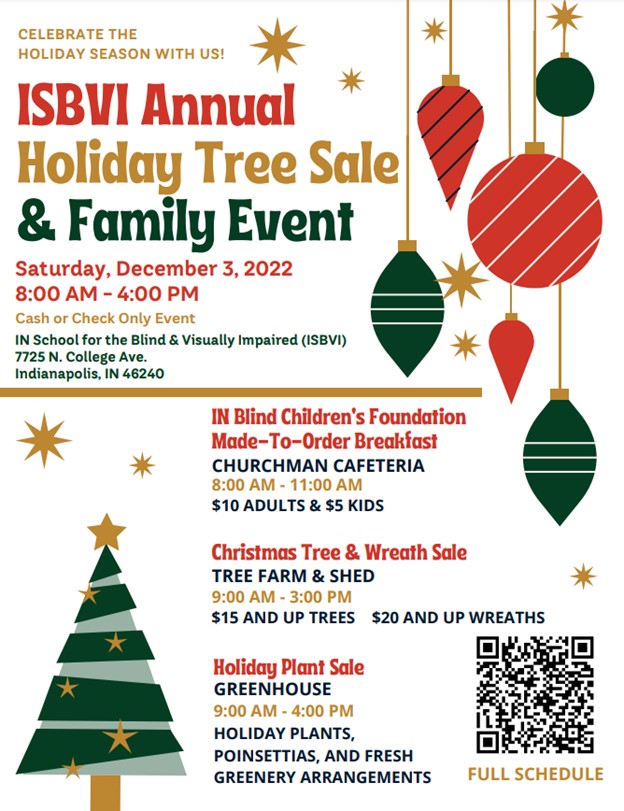 ---
2023 - 2024 School Calendar
The ISBVI Board has approved the following calendar for the 2023 - 2024 school year.
---
NCASB Track and Field Conference
ISBVI hosted 10 schools for the NCASB Track and Field Conference the weekend of September 30. The ISBVI Rockets girl's team placed 2nd and the boy's team placed 5th. Great job to all participating teams!
---
COVID Protocol
ISBVI has made the wearing of masks optional and is following the current CDC recommendations for masking, quarantining and social distancing. Please see the school's current COVID Protocol for more details.
---