Main Content
Splitting Storage and Backups Costs
Changes in Server Backup Schedule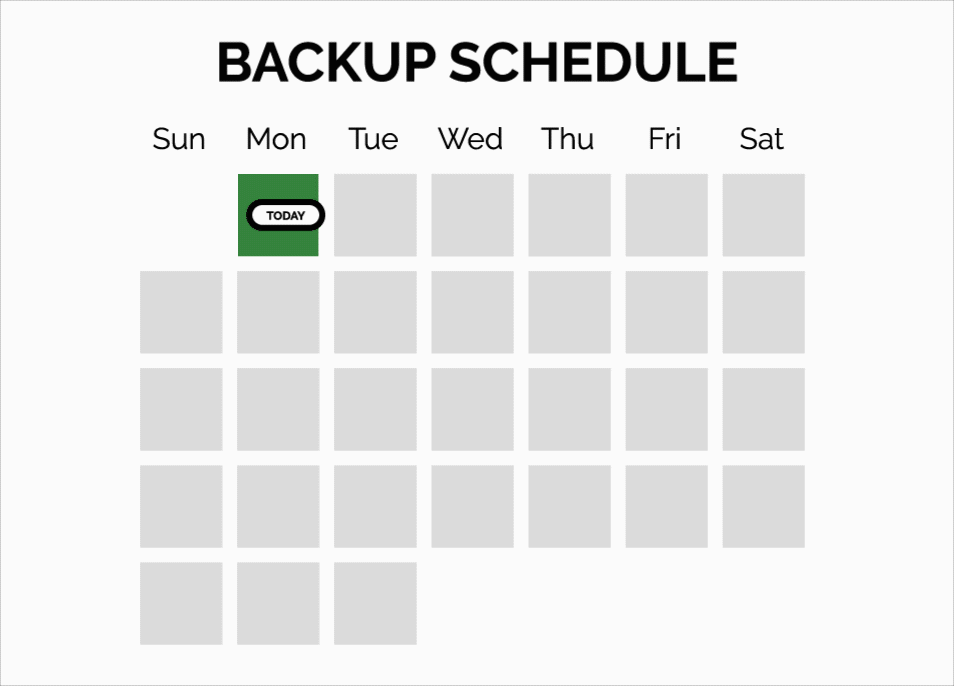 IOT has changed its backup frequency for servers hosted in the IOT datacenter, going to a new schedule, which will still provide broad data protection and reduce costs compared to the old backup schedule.
In the past, IOT kept daily backups for 30 days, quarterly backups for 1 year and end of year backups for 3 years. The new schedule is an eleven-cycle backup rotation. These eleven cycles will consist of seven days of daily full backups along with four weeks of weekly full backups. The reality is, nearly all continuity restore requests happen within one day and all have fallen within a 28 day period.
This schedule has not been applied to the current Isilon (share and home folders) and has no effect on email that is hosted in Office365.
IOT is responsible for recovery and data protection of systems in the case of an accidental deletion or a disaster. However, data protection is not record retention and agencies should not rely on IOT to maintain backup copies of data for a retention request. If an agency is required by law or rule to maintain data, it is incumbent on them to preserve an active copy in storage.
IOT has realigned a few of its products to be under the governance of one team, this team is focused on your needs of exchanging data between systems, other agencies and those external to the state. Effective July 1, Secure FTP, Managed File Transfer, and BizTalk will be managed by the IOT Data Exchange Team.
As a valued consumer of data exchange services you know how much business value these systems provide and yet, until now, excluding SFTP, you have not been charged for any of the costs associated with the delivery of these products and the corresponding value. After analysis through this budget cycle, and to support ongoing software and infrastructure costs, there will be a nominal per month charge for ongoing usage of Data Exchange Services. For SFTP users, to reduce downtime and ensure the service properly works, IOT is requiring test environments for all connections.
Please note that this nominal charge includes the licensing and operations support that you have enjoyed to date for existing integrations, but NOT the development of new integrations. Based on the assessed level of effort, there could be a charge for the development of new integrations according to the rate table below.  
| Service/Resource | Rate |
| --- | --- |
| BizTalk Services | $750 per month |
| Managed File Transfer (MFT) | $575 per month |
| Secure FTP (SFTP) | $35 per environment (QA/Prod), per folder, per month |
| PSC Project Manager | $110 per hour |
| BizTalk Developer | $125 per hour |
| MFT Analyst | $110 per hour |
To best meet the needs of customers and due to the growing demand of services, IOT is making some small changes to how tickets and projects are handled. In some instances, such as office moves and server requests, multiple IOT teams are involved in delivering a solution. In an effort to provide more consistent project management concepts, effective July 1, IOT is utilizing its Project Success Center to manage these of requests.
How does this affect me?
- If your agency needs IOT to help establish a new remote location or move to a different remote location, the request should be made through the Project Request Form.
-Tickets that get directed to the Solution Delivery Team will be evaluated on intake. Some of these ticket requests are actually projects and the customer is going to be asked to complete a Project Request Form.
Why is IOT making this change?
- These changes will result in a more consistent delivery of our services and allow technical staff to focus on delivery and the Project Success Center to handle the necessary coordination. The Project Success Center, following standard project management techniques, has processes in place to ensure that projects are more effectively managed.
What makes something a project?
Some examples of a project are; if there is a software upgrade, new processes being deployed, or launching a new application. Examples of items that would not be a project are; small proofs of concept or adding a new web server to an existing server farm. POC would be small and not a project – add a new web server to the existing web farm is a normal ticket.
Historically, IOT has bundled storage and backup costs in the same product. Beginning this year, to more closely follow industry standards and provide additional clarity, IOT has separated out backups from the traditional storage product. In the aggregate, this drives down overall state costs by $111,000. The storage rate went from $0.82 to $0.50 and a backup rate was established at $0.21 backup - totaling $0.71 for the same amount of storage. Much of these savings are derived from now equitably charging backups on physical servers that had large storage needs.
As was IOT policy, personal drives and shared folders were not charged for backups; that will also be changing. Users are still granted 10GB each as well as 1GB for each employee for shared drives. Any overages on both of these types of storage will still be charged the standard $0.25 rate, but there will be an additional rate for overage backups of $0.21 per GB – totaling $0.46. To help offset these costs, IOT will be commencing a project to move people's home drives to OneDrive, which comes with 1 terabyte of space, which will eliminate much of these problems and save agencies money. Shared drives will remain where they are for now.