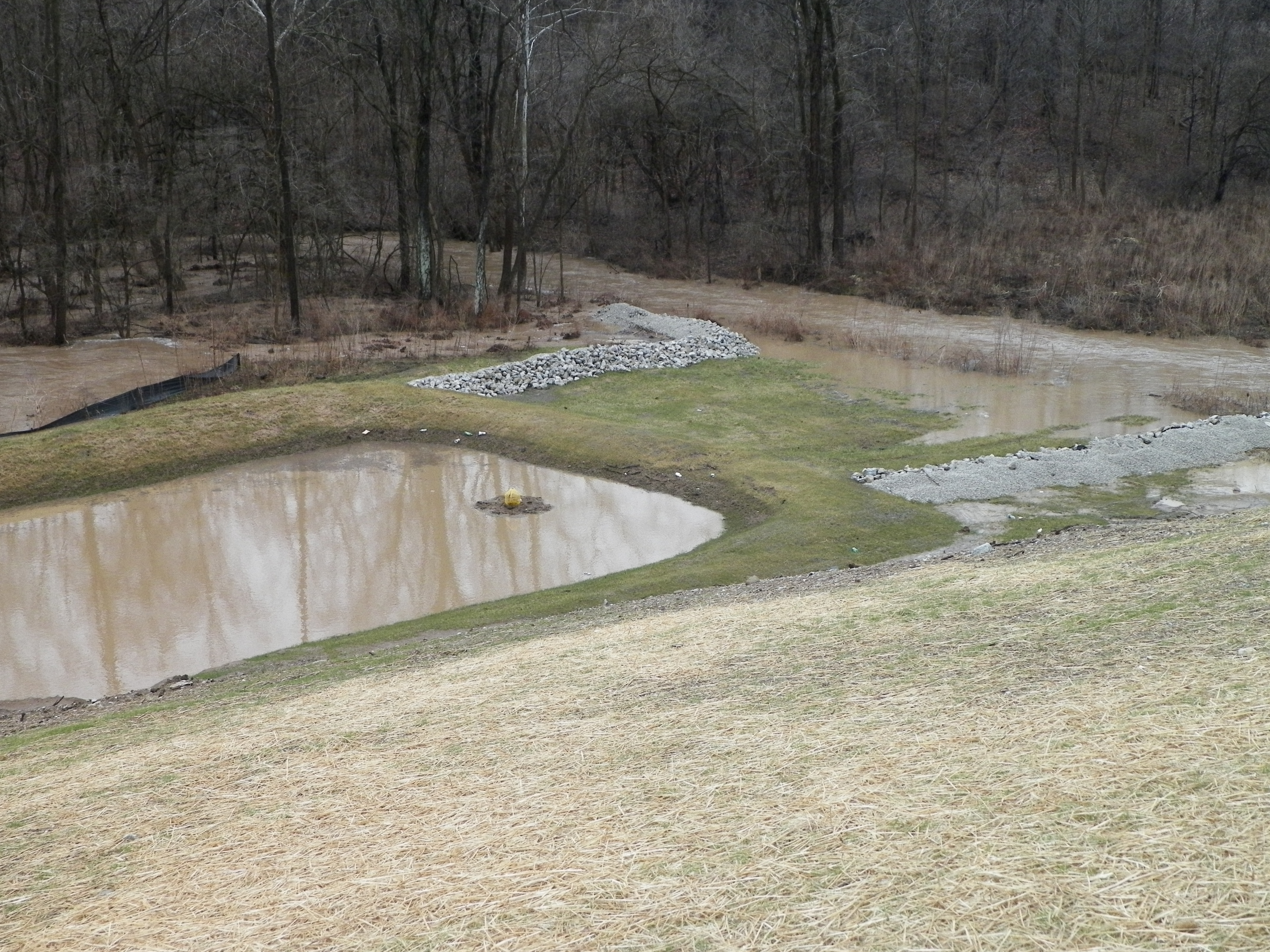 Water pollution degrades surface waters making them unsafe for drinking, fishing, swimming, and other activities.
Storm water is water from rain or melting snow. It flows from rooftops, over paved streets, sidewalks and parking lots, across bare soil and lawns and into storm drains and streams. As it flows, runoff collects and transports litter, soil, pet waste, road salt and sand, pesticides, fertilizer, oil and grease, soaps and detergents, and a host of other pollutants. Storm water drains directly into nearby creeks, streams and rivers without receiving treatment at a wastewater treatment plant.
Storm water runoff is major contributor to water pollution nationwide and one of the great challenges of pollution control.
Untreated runoff degrades waterways. It affects water quality and the environment and reduces how much we can use streams, rivers and lakes for fishing, swimming and as a source for drinking water. Litter and sediment can also reduce storm drain and stream capacity, which contributes to flooding.
Day-to-day activities are major causes of storm water pollution:
Litter tossed out of vehicles or from uncovered truck loads
Used oil, paint, or chemicals poured down storm drains
Improper disposal of pet waste and poorly maintained septic tanks
Over-fertilizing of lawns and gardens
Cleaning tools outdoors
Public actions make a huge impact. Learn how you can reduce storm water pollution today and protect our environment now and for the future.
Public Notices
The Indiana Department of Transportation (INDOT), located at 100 N. Senate Ave, Indianapolis, IN. 46204, intends to discharge stormwater from interstate highways, U.S. Routes and state roads into watersheds located in the State of Indiana, and is submitting a Notice of Intent to notify the Indiana Department of Environmental Management of INDOT's intent to comply with the requirements of the MS4 General Permit to discharge stormwater run-off. For further information please address Shawn Slaymon, MS4 Coordinator at stormwater@indot.in.gov or 855-INDOT4U (463-6848). The draft NOI is available here.
Post-construction Stormwater Management
Design Memorandum 22-22 Post-construction Stormwater Management
Post-Construction Stormwater Measure Guidance 10-14-2022
Resources
Maintenance Plan Templates
Technical Resources
INDOT storm water technical resources provide specifications, guidelines and parameters for best management practices in reducing storm water runoff pollution in agency operations, and in road and facility construction and maintenance.
See Something, Smell Something, Say Something

Help INDOT and the INDOT Storm Water team find pollution in our right-of-way so that dangerous, and toxic, discharges can be cleaned up. By helping identify pollution in pipes, ditches, on the side of the roadway, drains, or anywhere in INDOT right-of-way, INDOT can improve the safety for our traveling public and for our employees at worksites as well as clean up our streams. To report an issue please visit the INDOT customer service center.
INDOT Construction Storm Water Management Training
The 2021 Stormwater Training introduces participants to Erosion and Sediment Control practices in lieu of linear construction Stormwater topics over the course of 18 online modules. The new training features an at-their-own pace interactive training highlighting where an individual can fit the entire training around their own work and/or personal schedules. As participants navigate through the online modules, various interactive activities and informational material will provide a chance for the viewer to experience real site situations. The modules cover a variety of topics breaking down best practices to use for following compliance and permit requirements.
For current information about the course, registration, renewals, and active status please visit the training course information page here.
MS4 Partnership Mapping Tool and Contacts
INDOT's MS4 Partnership Mapping Tool is Indiana's interactive electronic map tool that can be used to explore and view MS4 boundaries adjacent to INDOT roadways for urban areas, surface waters, day lighted conveyances, impaired waters, and other data. The MS4 Partnership Mapping Tool is evolving as more data is gathered through the cooperation and partnerships of Indiana's MS4s. Information provided in this mapping tool is not to be used for project development purposes due to accuracy concerns.
Supplemental Resources
SWQMP Annual Report
INDOT Links
Related Links