Steven D Guthrie Master Instructor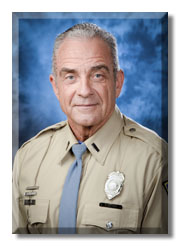 ... served twenty-four and half (24½) years with the Anderson Police Department prior to joining the staff at the Indiana Law Enforcement Academy in April of 2003. While with the Anderson Police Department, Lieutenant Guthrie worked in patrol for ten (10) years, served as Training Coordinator for eight (8) years, and was promoted to Assistant Chief in 1997 and served six and half (6½) years before retiring.

Lieutenant Guthrie was also on the Anderson Police Department's SWAT Team for twelve (12) years, a Firearms Instructor for fourteen (14) years, and was one of the department's Physical Fitness and Wellness Instructors.
A graduate of the fifty-third (53rd) Basic Session of the Indiana Law Enforcement Academy, Lieutenant Guthrie holds certification as an instructor in Firearms, Physical Fitness Specialist from Ohio Peace Officer Training Academy and the Cooper's Institute, PPCT Defensive Tactics, Survival Tactics, Blauer Tactical System (S.P.E.A.R.), Krav Maga, Rape Aggression Defense (RAD), Ethics Train-the-Trainer, and EMT-Basic. Lieutenant Guthrie also earned a Bachelor's degree in Criminal Justice from Columbia Southern University.

Lieutenant Guthrie's primary duties include instructing Police Ethics, Physical Tactics, Use-of-Force, Ethics and Stress to Jail Officers. Lieutenant Guthrie is also the Assistant OIC of the Physical Fitness Assessment for the Basic Course, the OIC for the Police Chief Executive Program, along with serving as the Assistant Basic Course Commander.