Randy Aspenson - Staff Instructor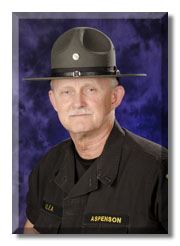 Randy Aspenson served twenty four years with the Columbus Police Department prior to joining the Indiana Law Enforcement Academy in November 2010. During his career with the Columbus Police Department LT. Aspenson held various positions to include Patrol, Narcotics Detective, Criminal Investigations Detective, shift supervisor, and Captain in both Uniform and Detective Divisions. LT. Aspenson spent five years as the initial entry member of the SWAT Team and later served as the SWAT Team Commander.
LT. Aspenson graduated from the seventieth session of the Indiana Law Enforcement Academy and holds certifications as a Generalist Instructor, STOPS Instructor, Glock Armorer and AR-15 Armorer. LT. Aspenson's primary responsibility at the ILEA is lead instructor for the STOPS program, Drill Instructor, Active Shooter, Interviewing and Interrogation, and Instructor Development.
Prior to his Law Enforcement career LT. Aspenson served four years in the United States Marine Corps with the 31st Marine Amphibious Unit.