300 Meter Run
Protocol for 300 Meter Run
Purpose
This is a measure of anaerobic power.
Equipment
400 meter running track, or any measured 300 meter flat surface
with sufficient distance to slow to a stop.
Procedure
1. Warm up and stretching should precede testing.
2. Participant runs 300 meters at maximal level of effort. Time used to complete distance is recorded.
3. Participant should walk for 3 - 5 minutes immediately following test to cool down. This is an important safety practice.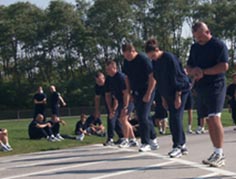 How To Prepare For The
300 Meter Run
To prepare for this component, it is a good idea to do interval training. The first step is to time yourself for an all-out effort at 110 yards. This is called your initial time, or IT. The second step is to divide your IT by .80 to get your training time. Then follow the schedule below.
| Weeks | Distance | Reps | Training Time | Rest Time | Frequency |
| --- | --- | --- | --- | --- | --- |
| 1 & 2 | 110 yards | 10 | IT ÷ .80 | 2 min. | 1/week |
| 3 & 4 | 110 yards | 10 | IT ÷ .80 minus 2-3 seconds | 2 min. | 1/week |
| 5 &6 | 110 yards | 10 | IT ÷ .80 minus 5-6 seconds | 2 min. | 1/week |
| 7 & 8 | 220 yards | 8 | IT ÷ .80 x 2 | 2 min. | 1/week |
| 9 & 10 | 220 yards | 8 | IT ÷ .80 x 2 minus 4 seconds | 2 min. | 2/week |