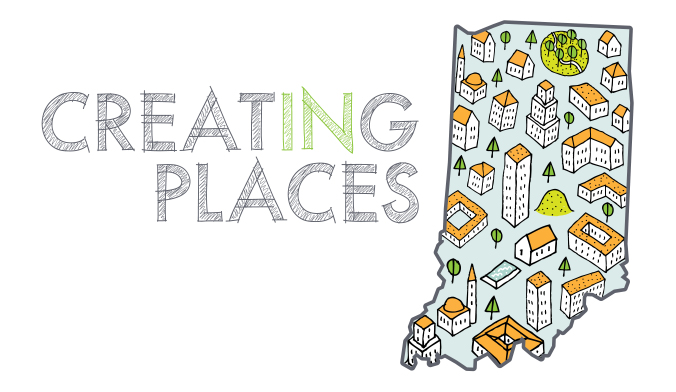 The Indiana Housing and Community Development Authority (IHCDA) in conjunction with Patronicity facilitates the "CreatINg Places" program, CreatINg Places employs a donation and reward-based method of crowdfunding called "crowdgranting". Through this crowdgranting model, citizens actively support projects and activities through web-based donations which, if the fundraising goal is reached within a set time, are matched by IHCDA.
CreatINg Places aims to generate the public's involvement in the selection of creative improvements within their own communities, provide funding to see the project through completion, and instill community pride.
Placemaking 101
CreatINg Livable Communities
My Community My Vision
Eligible Applicants and Projects
The CreatINg Places program is available to projects located in Indiana communities or neighborhoods which contain a traditional downtown or traditional neighborhood commercial node. Non-profit entities (with 501c3 or 501c4 status) and Local Units of Government are eligible to apply.
Projects may include but are not limited to:
Streetscape beautification & walkability projects
Playgrounds (preferences for inclusive and accessible spaces with clear signage about public use)
Public plaza development/activation
Access to public amenities (river walks, canoe livery/launches, pier enhancements, etc.)
Farmer's markets, community kitchens, maker's and incubator spaces, or other pop-up retail)
Park creation or improvements
Bike & pedestrian pathways
Community theater rehabilitation (community or non-profit)
Public space enhancements (wayfinding signage, public Wi-Fi, local branding, interactive educational components, etc.)
Event implementation
Other projects that activate public space or a community place may be proposed and considered on a case-by-case basis
Grant Dollars
Eligible projects must have a minimum total development cost of $10,000, where the recipient will receive $5,000 in IHCDA matching funds should they successfully raise $5,000 through Patronicity.com. IHCDA will provide matching grant funds up to $50,000 per project.
Program Guidelines
Click here for more information - updated January 18, 2023
Contact
For more information about CreatINg Places, please email Meagan Heber at mheber@ihcda.in.gov or Bridget Anderson at Bridget@patronicity.com.