The Indiana Supportive Housing Institute is an important element of the Indiana Permanent Supportive Housing Initiative (IPSHI), which was launched by the Indiana Housing and Community Development Authority (IHCDA) and the Corporation for Supportive Housing (CSH) in 2008 to further the strategy to end long-term and recurring homelessness. The focus is on funding lasting solutions instead of stop-gap programs. Since the initiative began, seven classes of teams have graduated, resulting in over 1,400 permanent supportive housing units added or under development in the state. This has helped to contribute to a significant (38%) reduction in chronic homelessness in Indiana.
Aaccess a list of supportive housing projects in Indiana. (updated November 25, 2019)
Access a map of the supportive housing projects in Indiana. (updated July 6, 2018)
2020 Indiana Supportive Housing Institute
IHCDA is pleased to announce that it is once again partnering with CSH to offer the 2020 Indiana Supportive Housing Institute ("2020 Institute"). Participants in the 2020 Institute will design supportive housing to serve households experiencing homelessness referred from the local Coordinated Entry system.
CSH has released a Request for Proposals ("RFP") for teams interested in participating in the 2020 Institute. Responses must be submitted in accordance with the requirements of the RFP by Monday, November 25, 2019 by 5:00 p.m. Eastern Time. Responses must be submitted to Indiana.Institute@csh.org.
Click here for the RFP Cover Sheet
Orientation Webinar
CSH and IHCDA will provide an orientation webinar for prospective respondents to the RFP on October 23, 2019 from 11:00-12:00 p.m. Eastern Time. No registration is required. At the time of the webinar, log-in using this link. The meeting number (access code) is 735 939 178. Join by phone at 1-415-655-0002.
Questions
General questions about this notice can be directed to Zach Gross (zagross@ihcda.in.gov).
Specific questions about the RFP requirements and application process should be directed in writing to Indiana.Institute@csh.org.
Indianapolis Integrated Supportive Housing Initiative
On July 31, 2017, we launched the Indianapolis Integrated Supportive Housing Initiative, a collaborative effort with the City of Indianapolis to create approximately 500 rental units, 25% of which will be designated as integrated supportive housing to provide housing and supportive services for persons experiencing homelessness.
IHCDA released two Requests for Qualifications ("RFQ"s) for this Initiative (below). Responses to the RFQs were due August 18, 2017.
On September 7, 2017 we announced the four developers and one community based development organization participating.
Resources
Click here for the Request for Qualifications (RFQ) for the Community Based Development Organization
Click here for the Request for Qualifications (RFQ) for Developers
Click here to access a Frequently Asked Questions (FAQ) about the initiative. (updated August 9, 2017).
Click here to access the PowerPoint presentation from the August 4, 2017 informational webinar.
Questions about the Indianapolis Integrated Supportive Housing Initiative should be directed to Matt Rayburn, Deputy Executive Director and Chief Real Estate Development Officer, via mrayburn@ihcda.in.gov or 317-233-9564.
The Institute Building Blocks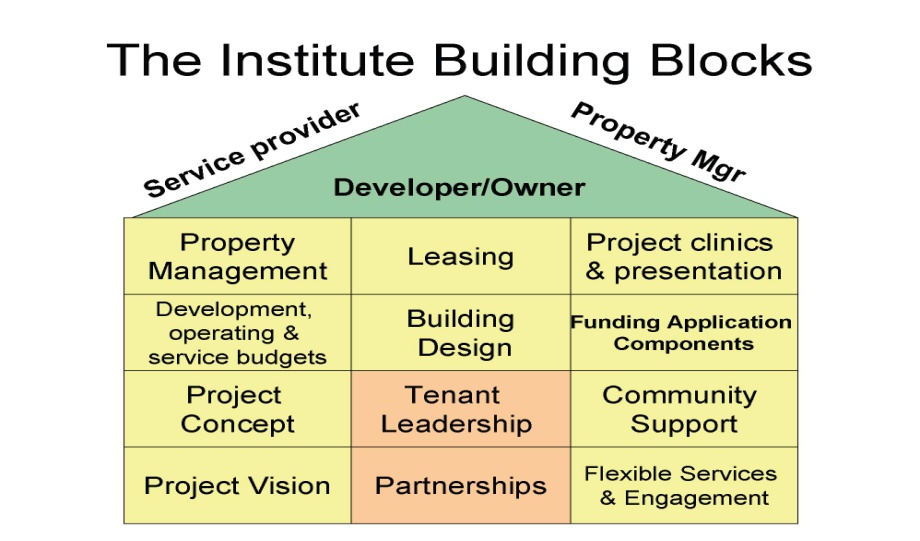 The Institute helps supportive housing partners learn how to navigate the complex process of developing housing with supportive services to prevent and end homelessness. The process is intended to reduce the time it takes to obtain funding for supportive housing by improving the planning and development process.
Institute Benefits
Upon completion, participants in the Institute will have:
A detailed, individualized supportive housing plan that includes supportive service and delivery strategies that can be used to apply for funding from multiple sources;
The opportunity to apply for early pre-development financing through CSH Pre-development Initiation Loans to use on supportive housing projects planned through the Institute;
Improved skills to operate existing supportive housing and develop new projects serving people who experience multiple barriers to housing;
A strong, effective development, property management and service team that leverages the strengths of each team member and has clearly defined roles and responsibilities;
A powerful network of peers and experts to assist in project development and to trouble-shoot problems;
Post-Institute technical assistance from CSH to be defined through a shared Memorandum of Understanding (MOU; and
Access to non-competitive capital funding from IHCDA*.