Main Content
Article
Brownfields Redevelopment Success Stories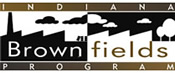 The following are summaries of some of the successful brownfield projects that have been achieved using state and/or federal assistance, including grants and loans, as well as Comfort and Site Status Letters.
Bloomington
Columbus
Elkhart
Fort Wayne
Hammond
Indianapolis
Jeffersonville
Kokomo
Ligonier
New Albany
Richmond
South Bend
Terre Haute
Wabash
Winona Lake
Submit a Brownfield Success Story
The Program is always looking to highlight successful local redevelopment projects. Stakeholders can learn from each other, so share your stories and allow the Program to be a vehicle on that road to success!! To submit a brownfield success story, please contact
Michele Oertel at moertel@ifa.in.gov.