Article
Section
Orr Plaza Construction FAQ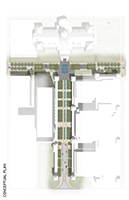 Why is this work being done?
The renovations to Orr Plaza and Senate Avenue are to commemorate the State's Bicentennial Celebration which takes place in 2016. An overview of this project can be found at: http://www.in.gov/ibc/2342.htm
How did this project come about?
The concept of a commemorative space at the Indiana Government Center was originally conceived as "Centennial Plaza" in 1913. The current project was adopted by Governor Pence and the Indiana Bicentennial Commission as a Bicentennial Signature project.
Will there be any additional changes coming to Orr Plaza?
Yes. Construction on Orr Plaza and Senate Avenue will continue through September 2016. Additional changes to traffic patterns and parking access can be expected. IDOA will ensure changes are communicated in advance.
Will changes to Orr Plaza affect employee accessibility to the Government Center buildings?
No. Work to Orr Plaza and Senate Avenue will not impact employee entrances into the Government Center buildings. Employee and public access entrances will not change once the construction is complete. There will be no changes to the operations of the buildings as a part of the construction.
How will the changes affect future events in Orr Plaza, such as the weekly Statehouse Market?
During construction, events such as the Statehouse Market will be relocated around the Government Center complex. After the project is completed in October 2016, the Statehouse Market will utilize the renovated spaces. The new design for Orr Plaza and Senate Avenue will improve the experience for events like the Statehouse Market.
When will Orr Plaza reopen for vehicular traffic?
The renovations to Orr Plaza and Senate Avenue will permanently change the traffic patterns for Orr Plaza. The majority of Orr Plaza and Senate Avenue will be converted into pedestrian spaces that will include new seating spaces, additional landscaping and trees, water features and artwork. This work is part of the State's celebration of our State's Bicentennial in 2016.
Do you have the cost?
The design and construction of Bicentennial Plaza is estimated to cost $6.3 million.
Who will use it besides state employees?
Bicentennial Plaza will be a public space that can be used by the citizens of Indiana. It is intended to be an engaging space where the public can reflect on Indiana's past and contemplate its future. It will have representative elements of the Torch, a water feature and an artistic interpretation of a living time capsule representing the people of Indiana. The Plaza is intended to be a physical legacy of the State's Bicentennial celebration and also serves to enhance the Statehouse and government campus.
Will it benefit visitors/school children traveling from around the state?
Yes. Visitors and school groups alike will be able to enjoy the space and the park-like setting of the Plaza. Since traffic will no longer flow through the government campus, the space will be safer for pedestrians and the public visiting the campus, while still providing functional outdoor space for use by employees and visitors on a daily basis.
Is this project tied to security?
There is no doubt that the improvements from Bicentennial Plaza will create a safer and a more pedestrian focused space in the heart of the government campus; however, security improvements are not the focus of the project.
Where should media vehicles park instead of the plaza?
If you plan to have media trucks on campus, please coordinate with IDOA Parking Services when possible. This notification will help IDOA ensure that all parties are working together to accommodate media needs and the needs of the construction team. If there are specific questions on where media trucks should park, please send them to parkingservices@idoa.in.gov or call 317-234-8453.
Will there be a designated drop-off area for daycare attendees, employees and IndyGo door-to-door services?
A drop off and pick up area will remain on the west end of Orr Plaza. Vehicles will enter from West Street and exit to West Street via a newly constructed turnaround. A drop-off and pick-up area is available on Senate Avenue from Ohio Street for employees that need closer access to the Statehouse. Signage has been installed in these new turnaround and drop-off areas.
Will emergency services still be able to access the Government Center buildings?
Yes. Emergency services will still have access to the Government Center buildings. Indiana State Police and Indiana Department of Administration will be able to open the pedestrian spaces of Orr Plaza and Senate Avenue to emergency vehicles.
Can you provide additional detail about the plaza? Is there a model or sketch of what it will look like?
Additional details of this project can be found at http://www.in.gov/ibc/2342.htm.
Where can I send additional questions and concerns?
Additional questions and concerns can be sent to: idoa2016@idoa.in.gov.