Article
Section
Hoosier Water Guardian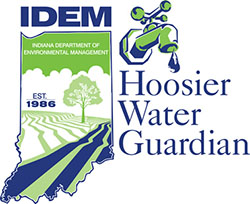 This program is voluntary for communities that have an approved Phase I Wellhead Protection Plan. A community must answer 10 questions and submit their answers to IDEM for review. Based upon a set of evaluation criteria, IDEM staff evaluate their responses to determine qualification for the Hoosier Water Guardian Award.
There are three levels of recognition:
Hoosier Water Guardian Award
Hoosier Water Guardian Award with Distinction, and
Hoosier Water Guardian Award for Outstanding Commitment
(The Hoosier Water Guardian is an optional program administered by IDEM. Applying for and/or receiving an award does not replace the need to submit a Phase II Wellhead Protection Plan. This program is strictly voluntary and is designed to recognize those communities who go above and beyond the minimum requirements to ensure that their residents are provided with the safest and cleanest drinking water possible.)
Benefits of participation include:
Recognition:

The Hoosier Water Guardian program recognizes those communities who go above and beyond the minimum state standards for source water and wellhead protection.

Evaluation and Feedback:

The Hoosier Water Guardian review can be done annually rather than every 5, 7 or 10 years, as required in the state's wellhead protection rules. Depending upon the amount of steps taken, the implementation of innovative strategies, and the application of their plans, a community will be evaluated for one of three awards. Any community that goes through the process of evaluating their progress and submits documentation will be recognized.

Participation:

Communities will have the ability to stay involved and work on protecting their source water. Constant vigilance and improvements are needed to ensure a safe supply at the source.

Partnerships:

Many organizations such as the Indiana Section of the American Water Works Association, local watershed groups, solid waste management districts, and Indiana Department of Natural Resources programs Hoosier River Watch and Project Wet are ready to collaborate with communities.

Networking:

Sharing ideas and techniques for outreach events, educational programs, workshops, and other implementation strategies can help ease the burden on volunteers and maximize efforts.
How to Participate:
Download the application form from the IDEM Forms page. Mail the completed form with applicable documentation, photos and updated plans to:
Indiana Department of Environmental Management
100 North Senate Avenue, MC 66-33-2, Rm 045
Indianapolis, IN 46204-2251