Indiana Government Center - North
100 North Senate Avenue, Room N103
Indianapolis, Indiana 46204-2211
ICRC Email - icrc@crc.in.gov
Letter from Former President Bill Clinton.
Mission Statement
The mission of the ICRC Hate Crimes Task Force's is to educate the public regarding the nature and extent of hate crimes and bias incidents that have occurred in the State of Indiana. This is achieved by establishing and maintaining a Statewide Reporting Network and by conducting community outreach programs. The ICRC Hate Crimes Task Force is a staff committee.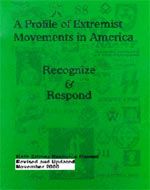 "A PROFILE OF EXTREMIST MOVEMENTS IN AMERICA -- RECOGNIZE & RESPOND"