Main Content
Indiana Government Center - North
100 North Senate Avenue, Room N103
Indianapolis, Indiana 46204-2211
ICRC Email - icrc@crc.in.gov
Letter from Former President Bill Clinton.
Mission Statement
The mission of the ICRC Hate Crimes Task Force's is to educate the public regarding the nature and extent of hate crimes and bias incidents that have occurred in the State of Indiana. This is achieved by establishing and maintaining a Statewide Reporting Network and by conducting community outreach programs. The ICRC Hate Crimes Task Force is a staff committee.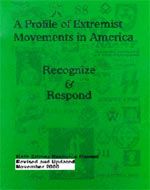 "A PROFILE OF EXTREMIST MOVEMENTS IN AMERICA -- RECOGNIZE & RESPOND"
Hate Crimes
To report a hate crime call The Indiana Civil Rights Commission at: 317-232-2600, Toll Free 1-800-628-2909, TDD 1-800-743-3333, Fax 317-232-2680, email drichmond @crc.in.gov or the Indiana State Police 317-232-8983 by mail or fax so those incidents may be recorded.
Hate Crimes Reporting Network
The Indiana Hate Crimes Reporting Network was developed by the ICRC Hate Crimes Task Force. The purpose of the Network is to gather statistical information regarding "hate crimes" and "bias incidents" in the State of Indiana. The statistical information is gathered by law enforcement agencies, prosecutors and community based organizations.
Definition of a Hate Crime
This year the Indiana General Assembly passed bias crime reporting legislation that defines a bias crime as follows: "an offense in which the person who committed the offense knowingly or intentionally: (a) selected the person who was injured; or (b) damaged or otherwise affected property by the offense because of the color, creed, disability, national origin, race, religion, or sexual orientation of the injured person or of the owner or occupant of the affected property was associated with any other recognizable group or affiliation." (Section 1. IC 5-2-5-1; House Enrolled Act No. 1011, Effective July 1, 2000; emphasis added)
For purposes of its data collection, the FBI defines a hate crime as: "a criminal offense committed against a person or property which is motivated, in whole or in part, by the offender's bias against the victim's race, religion, disability, ethnic origin, national origin, or sexual-orientation." Even if the offender was mistaken in his/her perception that the victim was a member of the group, the offense is still considered a hate crime because the offender was motivated by bias against the person or group.