Business Records
Incorporation Records
Inactive Corporations packets & indexes
The Archives holds several accessions of records from inactive corporations, spanning from 1851 to the 1980s. Most of these are included in the Index and may be searched using either the keyword or organization name field. Corporation packets typically include the Articles of Incorporation, annual reports, and notice of dissolution of the company. These records track the officers of the company, their stated purpose, and a general overview of their financial situation.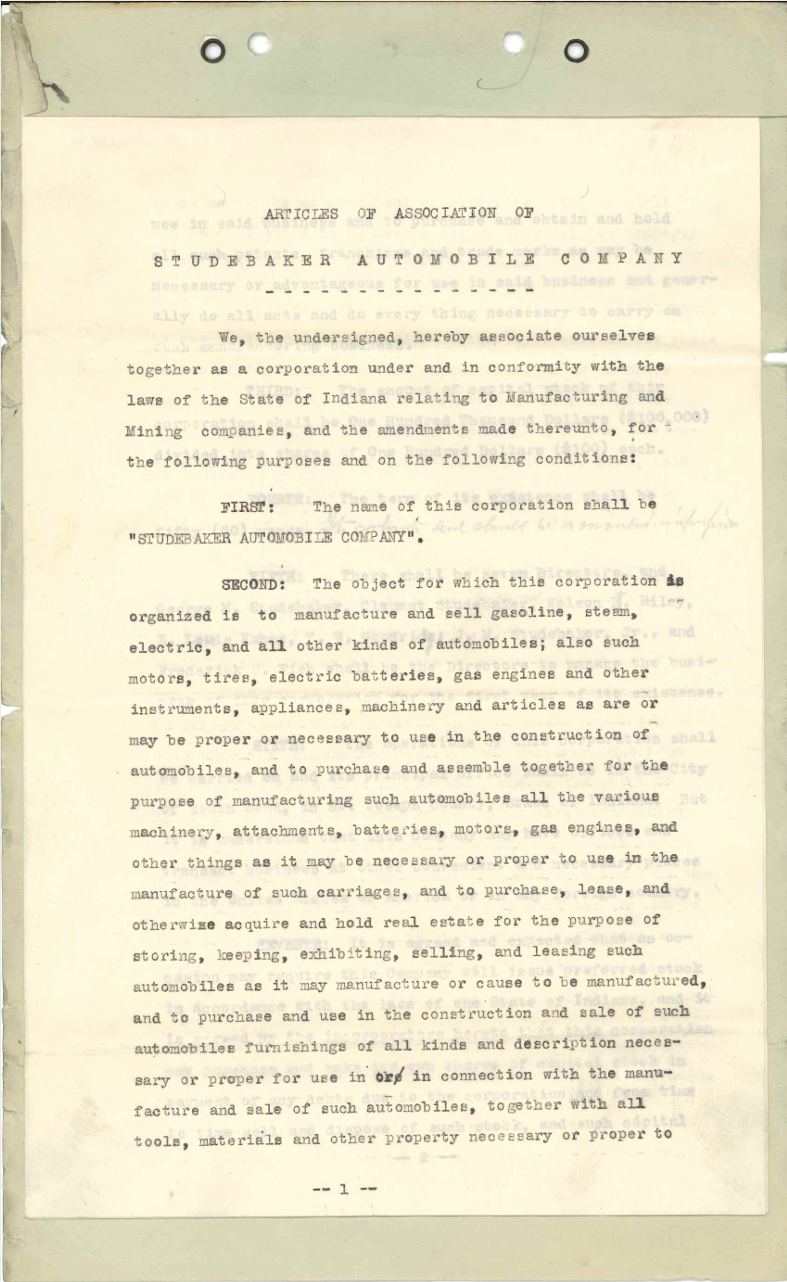 The records for purchased or merged companies were typically rolled into the file for the survivor or purchaser, so some entities may have a card catalog or index entry that points to the file of another corporation.
The Archives does not hold any records for active corporations. Any requests for such records should refer to the InBiz database:https://inbiz.in.gov/BOS/Home/Index. If the records for an active corporation are not present under the filing history on that site, a Due and Diligent search may be requested from the Business Services Division: https://inbiz.in.gov/business-filings/information
Auditor of State Index
Spanning 1902 to 1939, the Auditor's index of corporations contains less information than the corporation packets, but includes records from active corporations and those that may be otherwise missing from the packets.
Corporation Card Catalog
Located in the reading room, this card catalog includes index cards for some records that are not present in either the packet or index. These cards may indicate a purchaser or survivor into which the entity in question was transferred.
Blueprints submitted to State Fire Marshal
While the Archives generally only holds building plans for state buildings, a limited number of plans are included in the Department of Homeland Security Collection from the Office of the State Fire Marshal. The Archives also holds copies of later submitted plans on microfilm, which can be located with a DHS project number. https://www.in.gov/dhs/building-plan-review/project-activity-includes-real-time-plan-submissions-and-releases/
Railroad Annual Reports
The Archives holds annual reports from the Public Service Commission collection filed by railroads with track in Indiana, spanning 1914 to 1975. These reports (accession 1980005) include officer, personnel, asset, and financial data for the filing railroad.
Trademarks
The Secretary of State Trademark Collection includes thousands of trademarks from brands spanning 1888 to 1983. It includes brands from the national to local level, from both active and inactive entities. The Collection has been completely indexed and is included in the Research Indiana Index. In addition to the example images of the marks, the files include registration papers that describe the context and use of the mark.
While the Archives can provide research scans of trademark images, materials from the trademark collection are likely to be covered by copyright and/or trademark laws and may be published or reproduced at the researcher's own risk.