Records Management for State Employees: Online Tutorials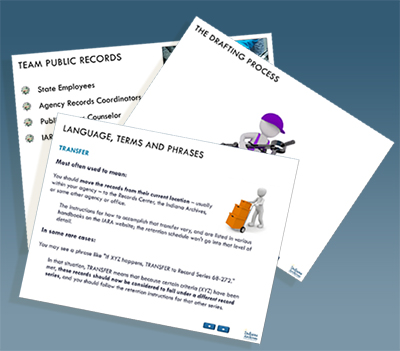 The IARA Records Management Division has developed the following online tutorials for state employees, available in the SPD Learning Center in SuccessFactors, and also viewable right here on the IARA website for reference, review, or presenting to groups!
State Employee Learning Center
To take these courses for credit in the State Employee Learning Center in SuccessFactors:
Click the dropdown menu button on the top-left that says "Home" and choose "Learning."
In the "Find Learning" box, type "IARA" then click Go.
IARA's current course offerings will be displayed, and you can choose any of the listed courses to take or review!
IARA Website Player
Want to watch them right here? We've got you covered!
The first three courses should be viewed in the order listed below the first time you watch them, because each one references concepts explained in the previous tutorial.

For most state employees, courses 1, 2, and 4 (everything except Creating and Updating Records Retention Schedules) will cover the general information you need to know about managing records in your agency, and they can be accessed from the web at any time, without leaving the comfort of your desk.
Our goal is to provide additional tutorials on more specific topics in the future, developed by our staff specialists in each area. As those become available, we'll be sure to inform you about new learning opportunities!
State Agency Records Coordinators are also welcome to contact State Records Management to discuss agency-specific in-person training for themselves and for other agency staff.
Need Help?
If you have questions about the content of the courses, or any questions about records management for state government agencies, please contact IARA's Records Management Division and we'll be happy to help! You can reach us at rmd@iara.in.gov, or 317-232-3285.