Records Management for State Employees: Online Tutorials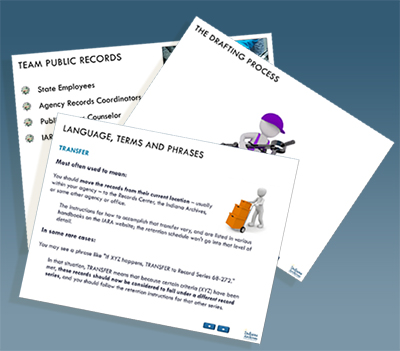 The IARA Records Management Division has developed three online tutorials for state employees.
Each course can be taken in Peoplesoft ELM for employee learning credit, or right here on the IARA website for reference, review, or presenting to staff members at a meeting. Screenreader users can also download text-only versions in Microsoft Word, or PDF. (Only the ELM classes will provide employee learning credit.)

For most state employees, items 1,2 and 4 will cover the general information you need to know about managing records in your agency, and they can be accessed from the web at any time, without leaving the comfort of your desk.
Our goal is to provide additional tutorials on more specific topics in the future, developed by our staff specialists in each area. As those become available, we'll be sure to inform you about new learning opportunities!
Need Help?
If you have questions about the CONTENT of the courses, please contact IARA's Records Management Division at rmd@iara.in.gov or 317-232-3285.
If you have questions or problems with logging in/enrolling/navigation in ELM, or receiving credit for the ELM courses you've taken, please contact the SPD Learning & Development Systems Support Team at SPDTraining@spd.in.gov.