Electronic Records Program
The Indiana Archives and Records Administration's Electronic Records Program assists state and local government employees with the special challenges of organizing, digitizing, maintaining, destroying, and applying records retention requirements to electronic records. We create guidance, policies, and standards for electronic records, provide outreach education and
workshops
on electronic records management, and are the point of contact for Records Coordinators
transferring electronic records
to the Indiana state archives.
Electronic Records Guidance and Policies
IARA's Electronic Records Guidelines is a robust reference guide for use by State and Local government to aid them in their electronic records management responsibilities. It is a best practice guide on electronic records management including: scanning/digitization, electronic records storage locations, electronic mailboxes, social media records management, file management, permanent electronic records, electronic recordkeeping systems, deleting electronic records, etc.…
For a full list of all IARA publications, including the Electronic Records Program's, please see the IARA Publications page.
Have questions about storing your electronic records, scanning paper records, deleting electronic records, email management, electronic recordkeeping systems, or managing permanent electronic records, etc. – send us an email at erecords@iara.in.gov or give us a call (317) 591-5222!
We are a hands-on team and ready to help Indiana's State and Local government offices with their electronic records management needs and are available for consultation (in-person or remotely).
Transferring Electronic Records
If you have electronic records that are scheduled for transfer to the Indiana Archives, please visit the Transfer Records to State Archives webpage for more information. If you do not have specific records to transfer and just want to learn more about transferring records electronically to the Indiana Archives, please reach out to erecords@iara.in.gov.
Transferring Records to State Archives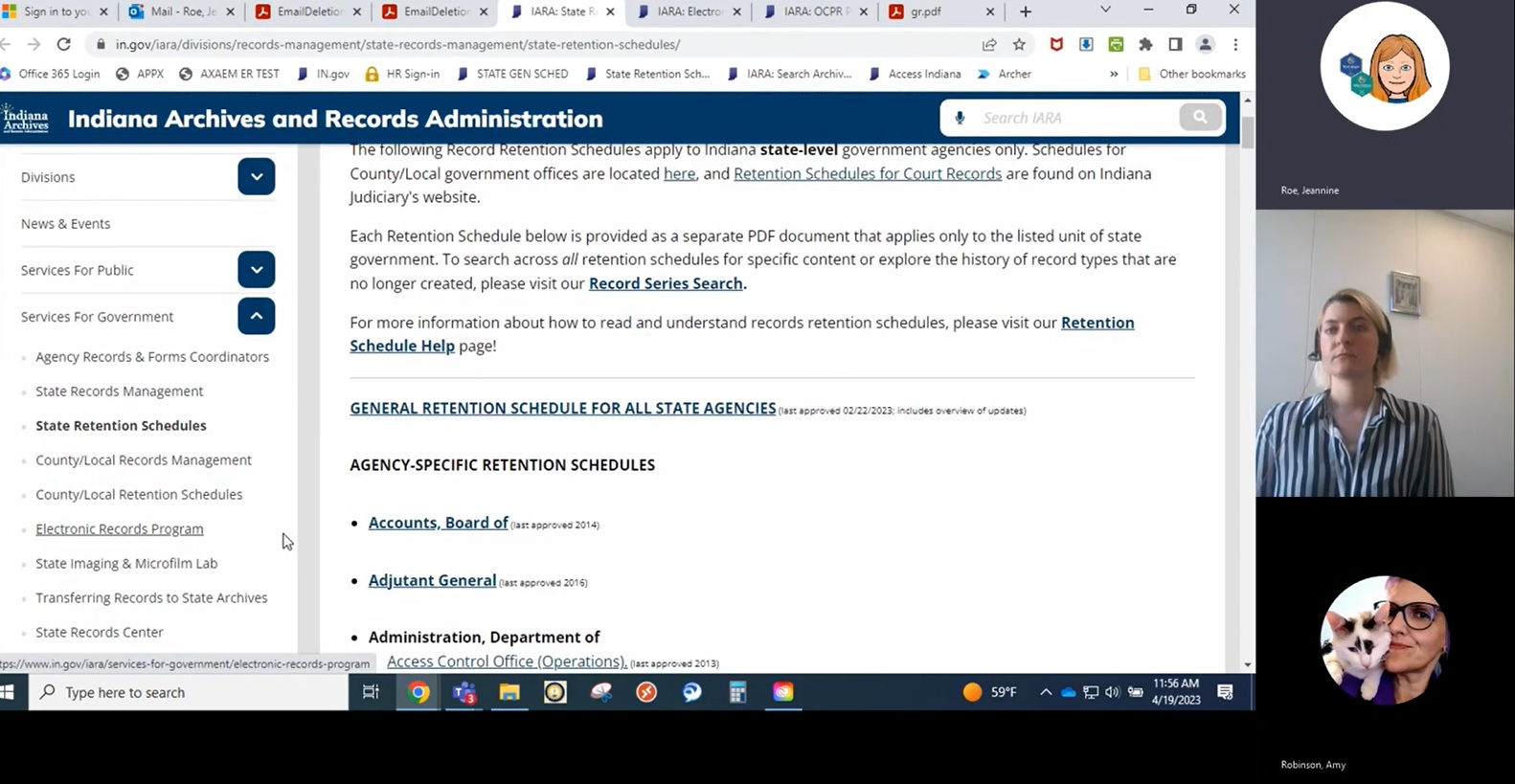 Workshops & Training
Please visit our Workshops and Training page for our list of published self-paced tutorials and recordings of previous live webinars.
Workshops & Training
General Resources for Government Records Management