Help With Your Research
Help with the Research Indiana Indexes
The Research Indiana Indexes has replaced the Indiana Digital Archives. Here, you'll find all of the rich data from the Indiana Digital Archives, in addition to additional tables and increased search capabilities.
There are several ways to search using the Research Indiana Indexes.
Search Bars
The simplest way to search is to type something into the Keyword Search Bar. Be warned, you may get quite a few results – a search for Montgomery will bring up results with the last name or first name of Montgomery, records from Montgomery County, or a mention of Montgomery in the Notes field. If you know the exact name you are searching for, using the First and Last Name search bars will make your search results more specific. However, this may leave out search results that include your party's name elsewhere in the record, like the notes field. We recommend trying several different search strategies.
Use an asterisk if you want to include multiple endings of a name. For example, a search for Last Name = Montgomery and First Name = William will only bring back entries for William Montgomery, whereas changing the First Name to W* will include any names that begin with W. We recommend trying multiple searches to make sure your results are exhaustive.
Some of our indexes are for corporations or subjects – use the keyword search to find these.
Categories
You can also choose a particular index category to search. Each of our indexes belongs to a category. If you click on the Courts button, and then use the Keyword Search, your results will automatically be filtered to only the indexes that belong to the Courts category.
Filters
You can narrow down your search at any time by using the filters at the left-hand side of the page. For example, if you've started a search in the Courts category, you can narrow it down further by clicking Supreme Court to ensure you only get results from the Supreme Court index.
Searching by County
You can use the drop-down 'Search by County' option to filter your results to all entries from a specific county. However, this feature only includes indexes that specifically include a "county" field, and, at this time, not all indexes do. For example, Naturalization Records were indexed by county, so an additional county field was not included. To find all naturalization records from Elkhart County, navigate to the Naturalizations Category, and then click on Elkhart on the left-hand filter, rather than use the drop-down option.
Browsing
There's no need to search for a specific name. Try using the Alphabetic Browse option, or click on any of the categories to browse through all of the results. You may be surprised at what you find!
About Your Results
Click on the drop-down arrow next to a result to see some basic information.
Then, click More Detail to see the entire index record. At the bottom of each result, there is a description that will tell you about the original records that were used to create the index, as well as whether more information may exist at the State Archives. You can email us at arc@iara.in.gov to obtain copies of anything you find on the Research Indiana Indexes.
You can also click the drop-down arrow at the top of the results page in order to open or collapse all entries at once.
Help with the Archives Catalog
Watch this short three minute video to learn how to use our online catalog.
Table of Contents
---
Container Search Help
Using the Advanced Search Options: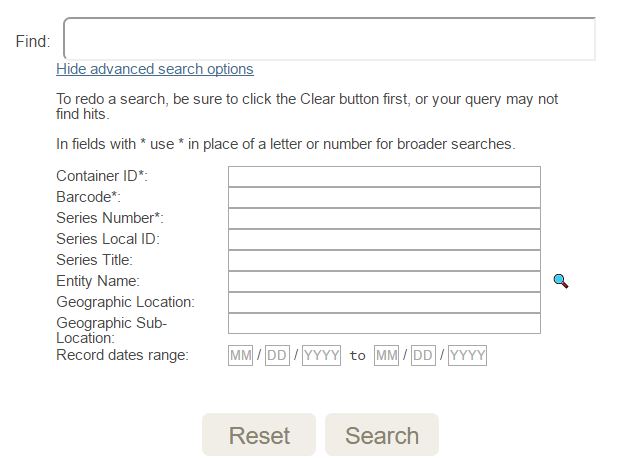 Some of the search options are designed for patrons who know the exact item they are looking for, while others will help you find a range of items.
Find: The search bar at the top is a keyword search. It will find matches across all fields.
Container ID: Use this if you know the box or volume number of the item for which you are looking (i.e. 7).
Barcode: Use this if you know the alpha numeric barcode of the item for which you are looking.
Series Local ID: Use this to search by Record Series Number. The Record Series Number comes from the Records Retention Schedule, which governs each record type. For example, searching archival holdings for GRPUB-1 will give you all results for containers that belong to the GRPUB-1 record series found on the state general retention schedule.
Series Title: A series is a type of record. If you search for "River" here, you will find containers that belong to any series that include the word "River." If you search for "River" in the keyword search, you will also return results that have that word in the container description or the Entity name. For more information about performing a Series Search, see below.
Creating Entity: This will search for all containers created by a state or local agency. Use the magnifying glass to find the one you want.
Geographic Location: Search by county (Not all records have geographic identifiers).
Geographic Sub-Location: You can narrow your results down by using the Geographic Sub-Location to only find results from cities, towns, or townships.
Records Between Dates: Limit your search to records that were created before/after or during a certain date range.
Using the Search Filters:
Once you've retrieved results, use the filter options to narrow down your search even further.
Container Status: Most containers will have the Status as Completed. A container with the Status marked as Checked Out could be being viewed in the reading room, repaired in the conservation lab, or processed by staff or volunteers. You may still request to see these items, but keep in mind that they may take longer to retrieve.
Container Type: Most materials at the Archives are boxes, volumes, or microfilm rolls.
Top Level: Records that are not top level are considered "children" and may be stored within a larger container, or "parent", such as a folder within a box.
Choosing a Record:
Once you complete a search, you will see a list of results.
Clicking on the top line of the result (the container description) will show you detailed information about this item, including the location. Some items will have more information than others.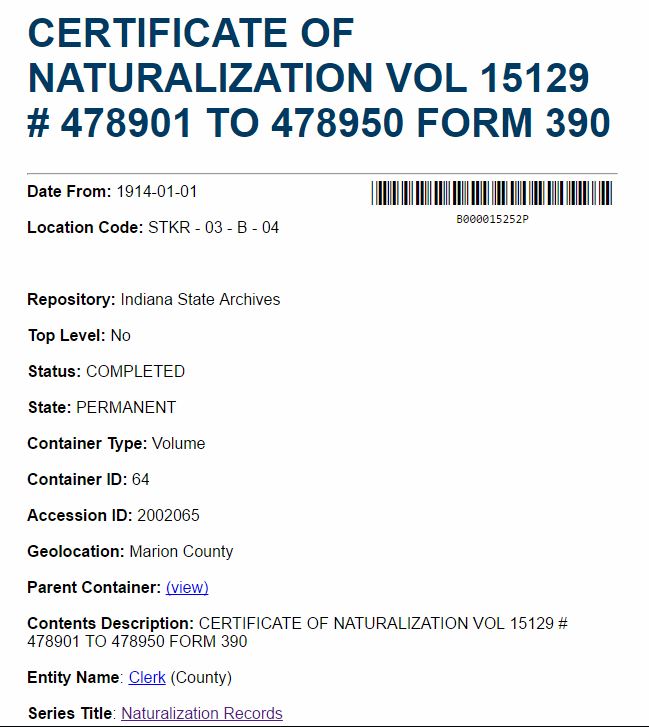 This detailed view gives you the option to link to other results. If there is a parent (or child) container, you can view those.
Clicking on the Entity Name takes you to the state or local agency page where you can find information about that agency, including other records created by that agency. For more information about performing an Entity Search, click here."
Clicking on Series Title will allow you to see other containers within that series. For more information about performing a Series Search, click here.
---
Series Search Help
A series is a grouping of similar records created by a state or local office. These series correspond to the items found on the Retention Schedule Database and are specific to an agency, division, or local office.

For example, all Permanent Tax Records from county treasurers belong to item TR 10-01 on the county treasurer retention schedule, but records from the Jackson County Treasurer are one series, and Permanent Tax Records from the Perry County Treasurer are another.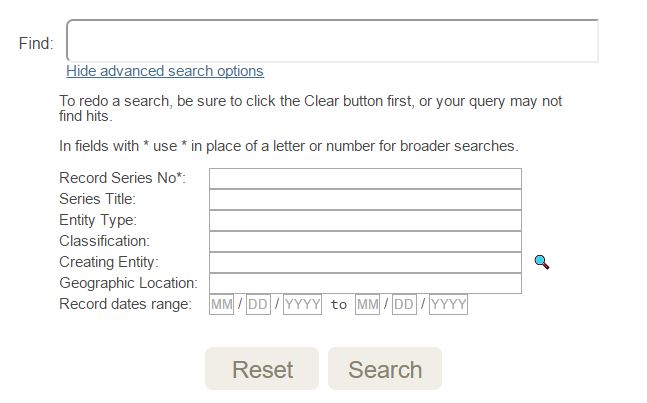 Using the Advanced Search Options
Local ID: Use this search field if you know the exact record series you are looking for (i.e. GRPUB-1, CL 10-06, or 78-514). You can find these by looking at the retention schedules here.
Series Title: Search by keyword in the series title field. Searching for "election" here will show you all the series with the word election in the title.
Creating Entity: You can search by keyword or use the magnifying glass to find an exact match.
Geographic Location: Use this field to find series that have records from a certain county. The results will include any series that have at least one container from that county – this may be a series created by a county office, or could be state-wide records that have items from specific areas.
Record dates range: This field will limit your search to series that have containers created within a given date range.
Using the Search Filters
Level: Some series have been further broken down based on retention requirements and to help agencies transfer items to the archives. Many series have a subseries for the hard copy and another subseries for microfilm.



Entity Type: Use this filter to narrow the type of agency that created the record. For example, if you are looking for election records, you could narrow it down to records created by county governments or records created by state government.

Entity Name: You have the option to narrow your search by entity name.

Series Status: A closed series indicates that this type of record is no longer being created.

Primary Access Classification: Some records may be partially confidential or restricted. If a series is partially confidential, you may need to allow time for archives staff to redact some information before you see the records. Some partially confidential records are confidential until a certain amount of time has passed (often 75 years). If a series is restricted, you will need to fill out a release form to see your file or the file of an immediate family member.

Record Begin Date and Record End Date: Narrow your search by date.
Choosing a Record:
When you complete your search, you will see a list of results. Choosing one will give you more information about that series.

From here, you can click on the links to find out more about the creating entity, or to see the retention schedule.

Clicking on Containers will show you a list of containers within that series.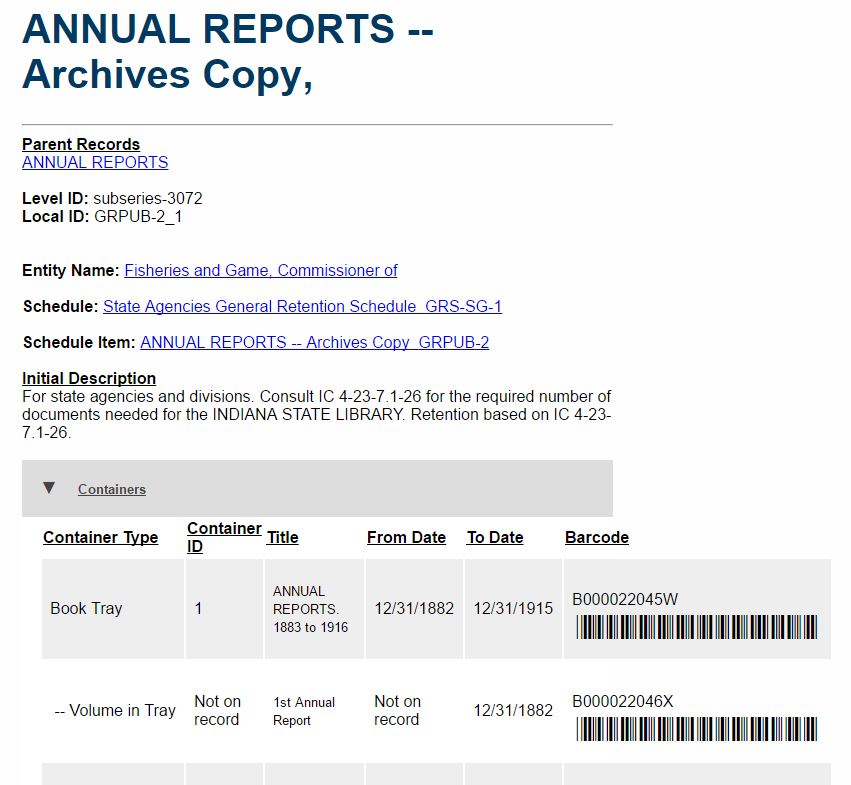 ---
Entity Search Help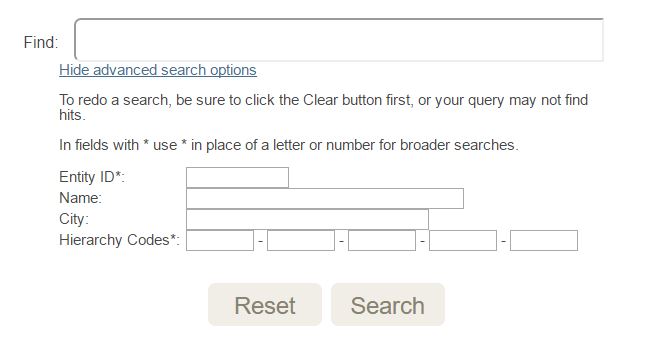 Using the Advanced Search Options:
If you know the exact entity ID (numbers) or hierarchy code (letters), you can use them to pull up an agency quickly. Otherwise search by keyword in the top search bar or name field.
Using the Search Filters: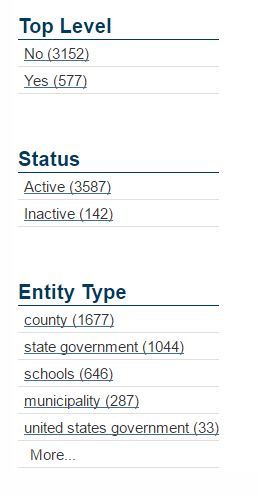 Top Level: Entities that are not top level are divisions of a state agency, like the Division of Water of the Department of Natural Resources, or county offices, like the Rush County Recorder.
Status: Inactive entities are no longer producing records.
Entity Type: The various entities have been classified by type. The majority of the Archives' records come from county and state agencies, but holdings include records from cities, the federal government, local libraries, and schools. Many of the Archives' school records were created long before the current school district system. These records have been listed as if they were created by the county public school system.
Choosing a Record:
After clicking on an agency, you can see detailed information about the agency, including previous names. Click on any of the tabs to see divisions, related agencies, and series. If the agency is active, you will also be able to view retention schedule items and agency contact information.