First People of Indiana
The State Archives has a variety of records available regarding the First People of Indiana. The primary collections of interest are Land Records and both Territorial and Supreme Court Cases, but additional records may be found within any of our collections. The information and links that follow below will provide you with more information.
Land Records and Treaty Maps
Land Records for the First People in Indiana are found in the Auditor of State Land Records Collections. Native American names are frequently found among the correspondence, Registers of Receipt Books for the various land offices, and Treaty Maps. They are sometimes the subject under consideration in both the Territorial and Supreme Court records.
Due to the many attempts of early settlers to phonetically adapt the names of the First People, there are often many variations in spelling. A partial list of early land records found in the LaPorte-Winamac Land Office database illustrates this perfectly.
Below is a cropped section of a Treaty Map. After each treaty was written, typically including land cessions by the Native American tribes, new survey maps were drawn representing the Reserves belonging to the Native American families who remained in Indiana. This map illustrates the Reserves of Francis Godfroy and John B. Richardville.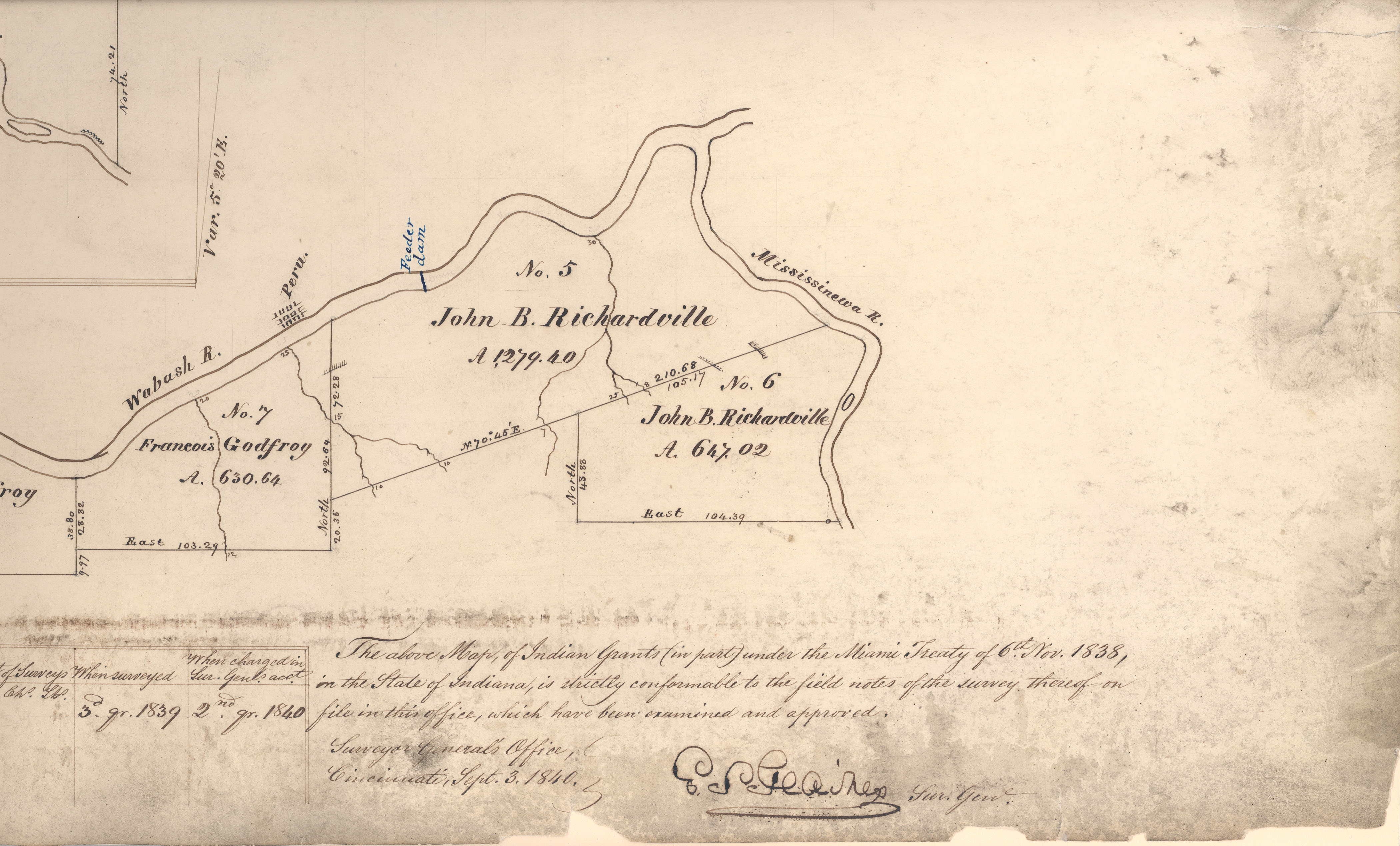 For the full text of individual treaties, visit the Native American Constitution and Law Digitization Project and Oklahoma State Universities online edition of Charles J. Kappler's Indian Affairs: Laws and Treaties arranged by tribal names.
Other Land Resources include:
Auditor of State Land Records
Department of Agriculture
Court Records
Records for Native Americans can be found in both the Territorial Court and Indiana Supreme Court. Many of Indiana's First Families took legal arguments over land, inheritance, and other business issues to the upper courts when dissatisfied with the lower courts' decisions. Cases will often detail information about family members or tribal affiliations. The Supreme Court database is available online at the Indiana Digital Archives. A database for the Territorial Court case files is currently underway, as is a database for the Territorial Court order books.
Territorial Records
Printed indexes to early territorial documents are available in the Archives Reading Room.
Additional supplemental material is available in copies of microfilm from the National Archives.