Dillinger Collection
Background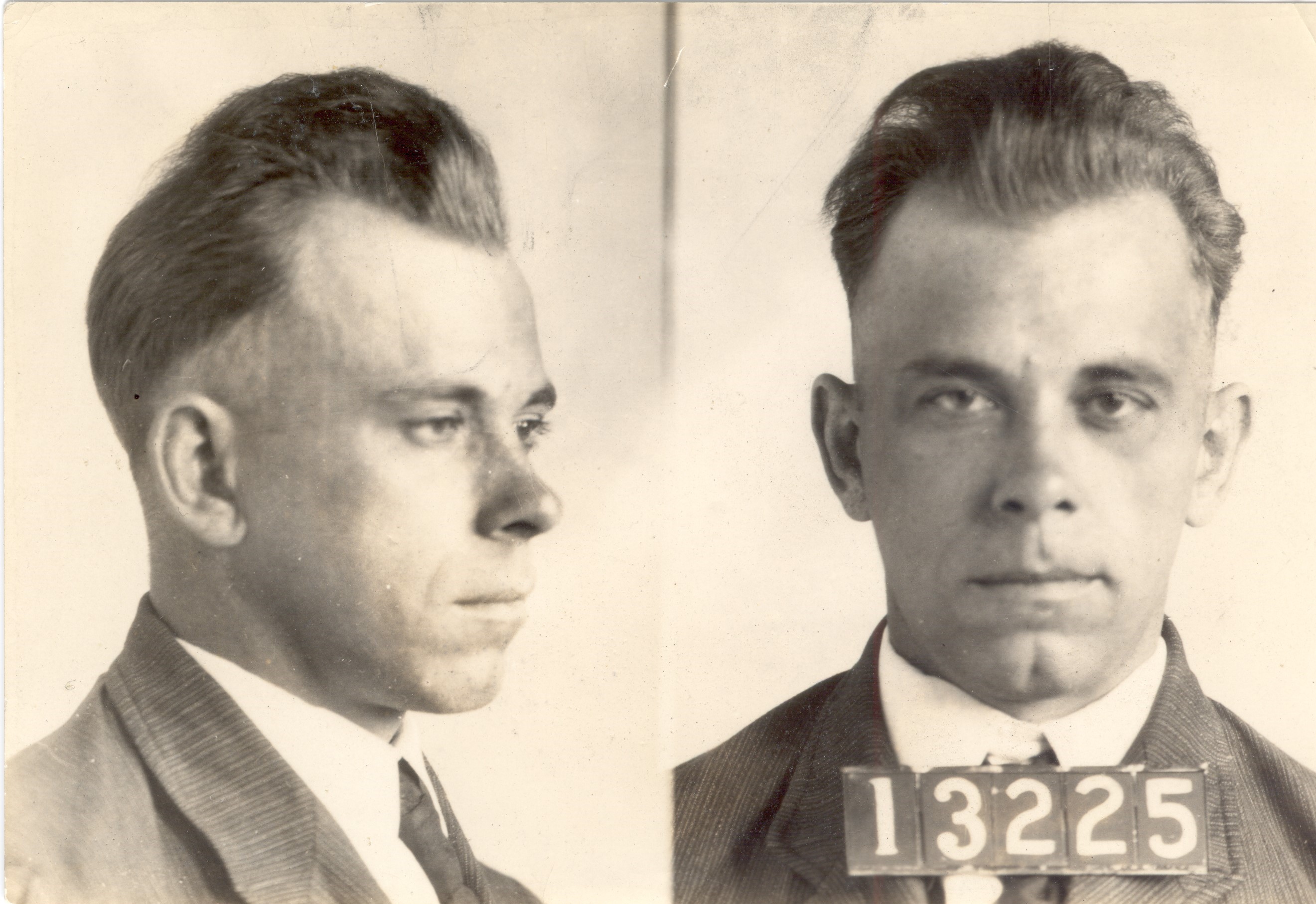 John Dillinger's life and crimes made him Indiana's most notorious criminal. Interest in him and, consequently, in records of him at the Indiana State Archives is high. This text describes what is currently available on Dillinger and his gang in the Archives' collections.
No doubt because of their notoriety, Dillinger's and the Dillinger gang's prison records received extra attention, which inadvertently caused some records to vanish before coming to the Archives. In general, efforts to care for the packets of the gang members led to their removal from their specific record series and their location and relocation in "safer" places, which effectively made them less and less accessible.
Dillinger's Indiana State Reformatory and a limited Indiana State Prison record are available at the State Archives. As a service to our patrons, we have provided a webpage devoted to the inventory of the records from the Reformatory. Visitors will note that some of the materials remain confidential.
Prison Packets
Prison packets contain a varying amount of documents and information. Essentially, they were designed to contain any loose papers that were generated in the course of serving a term. Walter Detrich's packet, for example, contains 39 items, from the receipt for his personal property surrendered upon arrival at the Prison to the commutation of his sentence.
While most of these documents are forms with meager informational value, there are some more interesting records included. One such is a letter written by Detrich requesting the return of $20.13, which he claimed had been taken from him: "That is enough money to make me independent of my relatives for a year and that in itself means a whole lot to me."
Because the state correctional institutes sampled and retained only 5% of their prisoner packets before transfer to the State Archives, many Dillinger related records were destroyed. Packets exist for these men only : Joseph Burns, James Clark, Russell Clark, Walter Detrich, John Dillinger, Joseph Fox, John Hamilton, James Jenkins, Charles Makley, Harry Pierpont and Edward Shouse.
Mug Shots
Copies of mug shots are available through the Indiana State Archives. It is highly recommended that one does not purchase illegal copies through other sources. Prisoners' images from the State Prison and the State Reformatory are the sole property of the state of Indiana, and should not be posted on any website or in any publication without permission from the Indiana State Archives, even if the copies were purchased from mug shots or reward posters issued by other law enforcement agencies. If the mug shot was originally taken at the State Prison or the State Reformatory it belongs to the State of Indiana.
Mug shots follow a standard format. On one side of a roughly 4x5 inch card are two photos, one frontal and one profile view of the prisoner. On the reverse is the basic information on the individual: identification number, name, age, crime, sentence, criminal history and so on.
Mug shots exist for these men: Joseph Burns, James Clark, Russell Clark, Walter Detrich, John Dillinger, Joseph Fox, Eugene Garnett, John Hamilton, Charles Makley, Harry Pierpont, Edward Shouse, Homer Van Meter.
Identification Books
Identification books are very large, standardized volumes recording data on each prisoner's stay at the institution. Walter Detrich's State Prison entry reads as follows:
Register number: 14351
Name: Walter E. Detrich
Alias: Walter E. Dedrich
Color: White
County: Vermillion
Crime: Bank robbery
Sentence: Life
Sentenced: 1-3-1931
Age: 26
Nativity: Mo.
Occupation: Plumber, steamfitter
Previous record and identifications: Wanted by Police Dept. Los Angeles, Calif. Escaped from prison enclosure 9-26-33 Ret escape 1-10-34 In re #288 3-3-44 Return from court 3-13-44 No longer wanted by Los Angeles Calif. Police. In re #5896 7-19-45 Remanded USD Ct. Ret sme day Paroled 1-8-53 12-21-56 Disch. by Exec. Order 21890.
As the identification books were considered the permanent record for a prisoner, no sampling process was followed; consequently, an entry for each gang member who served time in an Indiana state institution should exist. Dillinger was an exception. His record from the Reformatory is available, at the Archives' location A6145, No. 14395. His State Prison entry, though, had been torn out of identification book #3 many years ago. Those missing pages have since been returned after being handed over to the FBI during an investigation.
Governor McNutt Files
On 3 March 1934, John Dillinger is alleged to have used a wooden pistol to escape from the Lake County Jail in Crown Point, Indiana. The escape provoked a public response of nearly universal outrage, as well as an official investigation from the Governor's office. The principal focus of the anger was the apparent friendliness and laxity of the Lake County sheriff and prosecutor; they treated Dillinger as a celebrity, even posing for photos with him.
Gov. McNutt answered the numerous letters of complaint about the incident with the unvarying refrain: "The Indiana law does not give me any authority to remove from office a County Sheriff or a Prosecuting Attorney."
Two folders of correspondence, newspaper clippings and reports on the escape and subsequent manhunt are in the McNutt papers for 1934, at A7135.
GANG MEMBERS
These men are listed in Cromie and Pinkston's Dillinger: A short and violent life as being members of Dillinger's gang: Burns, Joseph; Clark, James; Clark, Russell; Copeland, Harry; Detrich, Walter; Fox, Joseph; Goldstine, Sam; Gray, Jack; Hamilton, John; Jenkins, James; Makley, Charles; McGeoghagen, Daniel; Murphy, Edward; Northern, Earl (left behind in Michigan City jailbreak); Pierpont, Harry; Shaw, William; Shouse, Edward; and Van Meter, Homer.
However, it is more appropriate to look at these men as a network of accomplices who occasionally worked together. Below is a loose sketch and not meant to be complete.
Dillinger Accomplices
Mooresville 1924
Edward Singleton
John Dillinger
Summer 1933 After Parole White Caps
Sam Goldstein
Clifford Mohler
William Shaw
Paul Parker ISR #23663
Summer 1933
George Whitehouse
Frank Whitehouse
Clifford Mohler
Fred Brenman
September 1933
Harry Copeland, ISP12231, 21792
Homer VanMeter, ISP 11561
Hilton Crouch, ISP 12347, 16730
Merritt Longbrake
Michigan City Escapees
Joseph Burns (real name John C. Heaps) ISP 8073
James Clark, ISP 14352
Russell Clark, ISP 12261
Walter Detrich, ISP 14351
Joseph Fox, ISP 13883
John Hamilton, ISP 11963
James Jenkins, ISP 13100
Charles Makley, ISP 12636
Harry Pierpont, ISP 11014
Edward Shouse, ISP 13915
After Crown Point
Homer Van Meter
Possible contact with Joseph Burns
Merger with Nelson
Baby Face Nelson
Tommy Carroll
Eddie Green
Known Informants
Harry Forster
Meyer Bogue
Fred Brenman
Original Gangs
Culver Bandits/ Burns Gang
Joseph Burns (real name John C. Heaps), ISP 8703
Joseph Byers, ISP 8706
Art Silbert (Abe Silver) ISP 8704
Peter Fox (Charles Penders) ISP, 8705
Badgley-Clark Gang
Frank Badgley, ISP 9658, 12174, 23887, 24277
Russell Clark, ISP 12261
Edward Clark
Charles Hovious
Joseph Fox (13883)
Martin O'Leary (13884)
John Hamilton
John Hamilton ISP 11963
Ray Lawrence ISP 11962
Harry Pierpont's Accomplices
Earl Northern ISP 12354, 18194
Everett Bridgewater
Thaddeus Skeer
William Berhens, ISP 12491 and 17432
Baron Lamm Gang
Baron Lamm
James Clark
Walter Detrich, ISP 14351
Friends
Charles Northern, ISP 13354
Mary Northern Kinder
Dale Kinder
William Behrens, ISP 12491 and 17432
Dick Day,
Maurice DelaTour, ISP 12217
Martin O'Leary ISP 13884
Preliminary Inventory of Items in the John H. Dillinger Packet #14395, received from Indiana Reformatory, Indiana Department of Correction on February 6, 1998.
Note to researchers: Inmate #14395: John H. Dillinger = John Herbert Dillinger, the son of John W. Dillinger, sometimes referred to as John W. Dillinger Sr. Items are listed in order, as they appeared in the original packet.
Item #
Date of Document
Contents
Condition/Description

1.

Created 9-16-24
Packet Cover, #14395,
Parole #GP 1110
Binding 1/2 Torn

2.

Created 9-16-24
Photo Inside Cover
Sideview, frontview #14395
Glued to Cover

3.

1-1929
Board of Pardons-Reform
Torn in Pieces
Onionskin Paper Separated from Binder

4.

7-28-33
D.O.J., U.S. Bureau of Investigation
Edges Torn, Onionskin
Separated from Binder

Everything Below is in Metal Clasp Binder

5.

6-13-49
IN Reformatory letter, L.R. Schug
to Noland C. Wright, Re: J.H.D.
Carbon Copy

6.

1-22-35
Letter, Supt. Fulson Prison (Calif.)
to Albert H. Mundt
Pink paper, Rough Edge

7.

1-17-35
Stamped:1-21-35
Letter, Albert H. Mundt
to A.F. Miles
Original

8.

1-28-35
Stamped:2-1-35
Letter, Mundt to Miles
Edges Folded

9.

2-06-34
Stamped:2-7-34
D.O.J., U.S. Bureau of Investigation
Transcript of Record of J. H. Dillinger
Two- (2) pp.
Blue Mimeograph Paper

10.

1-1-34
Stamped:2-3-34
Transcript of Record,
J. H. Dillinger, Two- (2) pp.
Blue Mimeograph Paper

11.

11-20-33
Stamped:11/22/33
D.O.J., U.S. Bureau of Invest.
Transcript of Record Two- (2) pp.
Folded on Edges, Onionskin paper

12.

11-21-33
Supt. to J.E. Hoover
(J.H. Dillinger & Walter Steed #13292)
Reverse side has red stamp of IN Ref.
Carbon Copy

13.

10-17-33
Stamped:10-20-33
Revocation of J.H.D. Parole by
Executive Order #8133 Governor McNutt
Gold Seal, Edge Fold

14.

10-20-33
Stamped:10-20-33
Letter, Ref. Supt. to L.E. Kunkel,
Warden
Front side has red stamp of IN Ref.
Carbon Copy

14.

10-20-33
Stamped:10-20-33
Letter, Ref. Supt. to L.E. Kunkel,
Warden
Front side has red stamp of IN Ref.
Carbon Copy

15.

Stamped:
10-2-33
D.O.J., Transcript of Record for
J. H. Dillinger
Onionskin

16.

9-26-33
Letter, A.F.D. to Governor McNutt
Carbon Copy

17.

9-22-33
Letter, Alfred Dowd to
A.F. Miles, Supt.
1/2 sheet

18.

(1933-34?)
Pink-Note, "Headlines are full
of him this morning", Miles?
4x5 in si

Also available digitally are numerous editions of the Roster of State and Local Officials, which is printed annually.

ze

19.

8-1-33
Letter, A.F. Dowd to Frank Massey
Muncie
Carbon Copy

20.

7-29-33
Letter, (Michigan City,)
Frank D. Hope to A.F. Dowd,
Two- (2) pp. Reformatory
Front side has red stamp of IN Ref.
Typed

21.

8-1-33
Long Distance Telephone,
Dowd to Capt. Nelson
1/2 sheet, Pink

22.

7-1-33
Stamped:8-2-33
Memo, F.S. Patterson to A.F. Dowd
Front side has red stamp of IN Ref
1/2 sheet, White

23.

7-29-33
Long Distance Telephone Note,
Dowd to Nelson
1/2 sheet, Pink Carbon Copy

24.

7-29-33
Long Distance Telephone Note,
Dowd to Hope
1/2 sheet, Pink Carbon Copy

25.

7-29-33
Long Distance Telephone Note,
Dowd to Dowd (For file)
1/2 sheet, Pink Carbon Copy

26.

7-29-33
Long Distance Telephone Note,
Dowd to Nelson
1/2 sheet, Pink Carbon Copy

27.

7-29-33
Statement, William Allen Shaw
#23546 RE: Muncie Robbery 6-1933
Marked with green X
Typed

28.

6-28-33
Stamped:7/7/3
Monthly Parole Report,
J.H. Dillinger - Questionnaire
(Signatures) J.H.D., J.W.D.
Pink, Legal, torn edges

29.

7-21-33
Stamped: 7-24-33
Report of Visit, Paroled Man
Frank D. Hope (Signature)
1/2 sheet, Pink

30.

7-11-33
Transmittal, Dowd to J.H.D.
1/2 sheet, white

31.

5-23-33
Stamped:5-24-33
Change of Address for J.H.D.,
J.H.D. to Supt. J.H.D
(Signatures) J.H.D., J.W.D.
1/2 sheet, white

32.

5-24-33
Stamped:5-25-33
Clerk, State Prison to Reformatory
1/2 sheet, white

33.

9-15-24
Parole Agreement #1110,
Two sided page, J.H.D.
(Signature)
Legal

34.

5-22-33
Parole Agreement #GP1110,
(Part of above Agreement)
Legal, Double sheet

35.

9-15-24
Commitment #5417 Sheet,
10 to 20 years Assault and Battery
Four- (4) pp. bound
Legal, Edges Torn,
4 pp. Double Sided

36.

9-15-24
Commitment #5417 Sheet,
2 to 14 years Conspiracy to commit
a felony (Different from Item 35)
Four- (4) pp. bound
Edges Torn,
4 pp. Double Sided

37.

5-20-33
Agreement to Employ J. H. Dillinger,
John W. Dillinger Sr, (Signature)
2-sided

38.

5-22-33
Letter, Supt. Howard to Reverend
(Form Letter for Local Church)
Misspelled Dillinger's name (Dillenger)

39.

5-22-33
Letter, Re: Parole, Supt. to
WH Daly, State Prison
Front side has red stamp of IN Ref
Carbon Copy

40.

5-18-33
Letter, Dowd to J.H.D
Front side has red stamp of IN Ref
Carbon Copy

41.

N/D
Agreement, Unsigned (Enclosed
with Governor's Parole Item #40)
2 sided Page

42.

N/D
Information Sheet, Parole Dept.
1/2 sheet, Goldenrod

43.

5-10-33
Executive Order #7733, Gov. McNutt,
Parole of J. H. D., Gold Seal
Legal size

44.

10-10-24 to 10-17-28
Prison Index Card, Disciplinary Board
Record, IN Reformatory
8x6 Card, 1/2 sheet, White

45.

7-15-29
Receipt, State Prison to
Reformatory for J.H.D
1/2 sheet, White, Carbon Copy

46.

7-15-29
Letter, Re: Transfer J.H.D. to Prison,
Stoner to A.F. Miles
1/2 sheet, Carbon Copy

47.

7-15-29
Stamped:7-15-29
Letter, Re: Transfer J.H.D. to Prison,
Waymire to A.F. Miles
1/2 sheet, Blue

48.

7-15-29
Letter, Re: Transfer J.H.D. to Prison,
Reform to Warden, State Prison
Carbon Copy

49.

7-15-29
Executive Order #4519 by Governor,
Leslie, Transfer of J.H.D. from
Reformatory to State Prison
Legal, Gold Seal

50.

7-16-29
Letter, Re: J.H.D. new address,
Supt. to J.W.D.
1/2 sheet, White, Carbon Copy

51.

7-16-29
Letter, Re: Transfer of J.H.D.,
Dowd to W.H. Daly, Warden
1/2 sheet, Carbon Copy

52.

N/D
Reformatory Classification Record,
Summary
Legal, Onionskin Torn Edges

53.

N/D
Dates on card
10/10/24 -10/17/28
Index Card, J.H.D.'s Reformatory
Discipline Record, Parole Dept
4x5 Index Card, 2 sided Card

54.

4-10-29
J.H.D.'s Divorce of Wife, Waymire to
R.E. Slater, Mail Dept.
(no correspondence)
1/2 sheet, White Onionskin

55.

1-23-29
Handwritten Request for interview,
J.H.D to A.F. Miles (Signature)
1/2 sheet, Pink

56.

12-27-28
Letter, Supt. to Robert J. Wade,
Appearance before Pardon Board
1/2 sheet, Goldenrod

57.

12-26-28
Handwritten Letter, Robert J. Wade
(Attorney - Martinsville) to Supt. Miles

58.

11-22-28
Letter, Waymire to AF Miles
(30 Days Guard House)
Blue

59.

11-15-28
Handwritten Request for interview
J.H.D. to A.F. Miles(Signature)
1/2 sheet, Pink

60.

10-24-28
Memo, (Disrespect for Court)
Supt. to Dillinger
1/2 sheet, Goldenrod

61.

10-20-28
Handwritten Request for Interview,
J.H.D. to A.F Miles.(Signature)
1/2 sheet, Pink

62.

10-17-28
Letter, F. Rhoades to Institutional Court, Hiding Pen & Ink and Destroying Property
1/2 sheet, White

63.

N/D
Memo from Mail Dept., Re: Pen & Ink found in mattress, R. Hinkle to Capt. L. Parkes
1/2 sheet, Cream

64.

10-17-28
Officer's report #105, Violation of Rules, by Rhoads

65.

2-22-28
Memo, Re: Reply to Request for Interview, Supt. to J.H.D.
1/2 sheet, Goldenrod

66.

2-18-28
Handwritten Request for Interview, J.H.D to Supt. Miles (Signature)
1/2 sheet, Pink

67.

7-22-27
Letter, Permission to Visit, A.F. Miles to Audrey Hancock

68.

7-22-27
Carbon Copy of Item #67
Goldenrod

69.

7-22-27
Memo, Request for Interview, Supt. to J.H. Dillinger
1/2 sheet, Goldenrod
Carbon Copy

70.

7-22-27
Handwritten Request for Interview,
J.H.D. to Supt.(Signature)
1/2 sheet, Pink
Carbon Copy

71.

7-21-27
Handwritten Letter, Sister of J.H. Dillinger, Audrey Hancock to A.F. Miles (Signature)
1/2 sheet, White Lined Paper, Three (3) pp., Handwritten

72.

4-25-27
Receipt
Yellow Note, 4x5

73.

N/D
Receipt, Money for Shoes
White Note

74.

3-12-27
Report, C.F. Williams, Physician to Supt. Miles (Confidential)
1/2 sheet, White

75.

3-12-27
Letter, (Illness) Chaplain to Mrs. Bryl Dillinger (wife) of J.H.D (Confidential)
1/2 sheet, Onionskin, Carbon Copy

76.

3-13-27
Memorandum, Illness Waymire to A.F. Miles (Confidential)
1/2 sheet, Blue

77.

12-31-26
Institutional Court Report
1/2 sheet, White

78.

12-31-26
Officer's Report #245, Violation of Rules

79.

12-27-26
Institutional Court Report, Talking in Mess Hall Line
1/2 sheet, White

80.

12-27-26
Officer's Report for #202, Violation of Rules

81.

8-15-26
Report to Institutional Court, Re: Sparring in Cell
1/2 sheet, White

82.

8-16-26
Officer's Report #99, Violation of Rules

83.

06-17-26
Supt. to Mrs. J. W. Dillinger
Carbon Copy Goldenrod

84.

5-21-26
Handwritten Letter, Mrs. J.W. Dillinger to Supt. Miles (Signature)
Stationery, Lined, 4 pp., Ink Handwriting

85.

5-21-26
Report to Institutional Court (Pants without number)
1/2 sheet, White

86.

5-21-26
Note, Pants Issue, E.C. Moore to Waymire
1/2 sheet, White

87.

5-28-26
Officer's Report #144, Violation of Rules
1 pp., White

88.

2-24-26
Report to Institutional Court, Making & playing cards
1/2 sheet, White

89.

2-25-26
Officer's Report #117, Playing Cards, Violation of Rules

90.

7-25-25
Note, Supt. to J.H. Dillinger (Visits)
1/2 sheet, Goldenrod

91.

4-13-25
Note, Supt. to J. H. Dillinger (Discharge from Navy)
1/2 sheet, Goldenrod

92.

1-15-25
Discharge Certificate from Navy (Signature)(Seal)(Confidential)
1/2 sheet, White 2 sided

93.

6-11-25
Letter, Re: Ed Singleton Supt. to W.H. Daly
Goldenrod

94.

1-29-25
Report to Institutional Court, Disorderly Conduct
1/2 sheet, White

95.

1-31-25
Officer's Report #104, Rules of Violation

96.

1-30-25
Supt. to F.A. Muncey Co. Flynn's Magazines
1/2 sheet, Goldenrod

97.

1-27-25
Letter, Muncey Co. to A.F. Miles, Flynn's Weekly
3/4 sheet, White

98.

1-23-25
Letter, Supt. to Muncey Co.
Goldenrod

99.

1-19-25
Letter, Re: J.H.D. Subscription Muncey to Miles
3/4 sheet, White

100.

1-12-25
Letter, Re: J.H.D. Subscription, Muncey to Miles
3/4 sheet, White

101.

1-08-25
Letter, Supt. to Muncey Co.
Goldenrod Carbon Copy

102.

11-07-24
Inmate Eligible for Parole Sheet
1 pp. Pink, Torn

103.

1-06-25
Letter, Muncey Co., A.F.Miles, to Supt.
3/4 sheet, White

104.

1-03-24
changed to 25
Letter, J.H.D. Subscription, Supt. to Muncey Co
1 page Goldenrod, Carbon Copy

105.

N/D
Blank Card
4x5 Blank unattached Goldenrod

106.

12-31-24
Letter, Re: Subscription Muncey Co. to Supt. A.F Miles
3/4 sheet, White

107.

12-29-24
Report to Institutional Court, Attempted Escape
1/2 sheet, White

108.

12-24?
Memo, J.H. Dillinger Attempted Escape, Assist Supt.
Blue Carbon Copy

109.

12-29-24
Officer's Report #137, Violation of Rules, Re: Escape
Blue Carbon Copy

110.

12-01-24
U.S. Navy to Supt. Re: Service Record (Confidential)

111.

10-31-24
Letter, T.H. Greeson? to AF Miles
Carbon Copy

112.

10-06-24
Letter, James P. Burcham to Supt. (Reliance Specialty Co.) Screw Machine Products, 620 West Merrill Street, Indianapolis
Brown, Torn

113.

09-20-24
Letter, Information on J.H.D., AF Miles to James Burcham

114.

10-17-24
Memo, J.D. returned on Oct 16, Assist Supt. to Supt. A.F. Miles
1/2 sheet, Blue

115.

09-22-24
Letter, Re: J.H.D., E.F. Hadley to Supt. Miles

116.

10-14-24
Receipt for J.H.D., Morgan Co. Sheriff
1/2 sheet, White

117.

10-11-24
Subpoena, Morgan Co. Circuit Court for J.H.D.
3/4 sheet, White

119.

10-10-24
Officers Report #32, Violation of Rules

120.

10-01-24
Memo, (J.H.D. Returned 9-9) Assist Supt. to Miles
1/2 sheet, Blue

121.

09-26-24
Receipt, Morgan Co. Sheriff for J.H. Dillinger, as witness
1/2 sheet, White

122.

09-24-24
Morgan Co. Court Subpoena for witness
3/4 sheet, White

123.

9-19-24
Reformatory, Bureau of Identification Conviction, Speeding 1920
3/4 sheet, White

124.

N/D 1924?
Reformatory, Identification Classification Statement of Inmate (Signature cut off)
Legal, Carbon Copy

125.

1924?
Addresses of Relatives, Dept. of Identification

126.

09-16-24
Description of J.H. Dillinger: 5'7" height 157 lbs. weight
1/2 sheet, White

127.

09-19-24
Biographical Statement (Confidential)
Legal size, Bottom Torn

128.

09-19-24
Letter, Reformatory School Classification & Sample of Penmanship (Signature)
3/4 sheet, White

129.

09-19-24
Physicians Report, 5'6" height 158 lbs. weight (Confidential)
3/4 sheet, White

130.

09-17-24
Receipt for J.H. Dillinger, Supt. to Clerk of Morgan Co. Court
1/2 sheet, White

131.

09-16-24
Reformatory Sheet of Arrival of New Inmate
Letter, Onion skin Paper

132.

N/D
Back Cover of Packet, Blank Top, Inside Label - #14395 John Dillinger G.P.#1110
Torn & folded

133.

Outside Back Cover of Packet
Blank
Total number of pages/items:
1 Packet folder
1 Photograph (2 Views)
146 pages/items
8/27/98-Preliminary Inventory, John H. Dillinger Packet #14395: Transferred to the State Archives Division, IARA, by the Indiana Department of Corrections on 2/6/98
This packet was presented to F.Gerald Handfield Jr., State Archivist, Indiana Archives and Records Administration and Charles Coffey, Indiana Department of Administration, by Commissioner Edward Cohn, Indiana Department of Correction. David Patterson of IDOC was also present in the IDOC Commissioner's Office E334, Indiana Government Center-South.)