Main Content
Article
Records Management for State Employees: Online Tutorials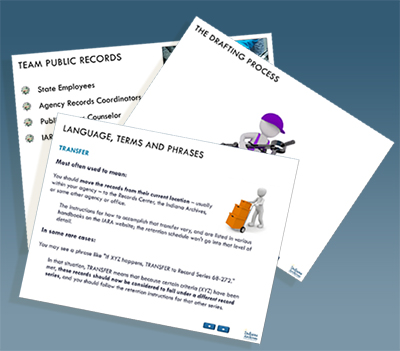 The IARA Records Management Division has developed three online tutorials for state employees:
Records Management Basics (IARA_WBT_0001): How and why we manage public records in state government, and how IARA can help.

Required for Agency Records Coordinators and for all new state employees as of January 2019. (New employees are enrolled by Indiana State Personnel as part of the Employee Onboarding process.) Strongly suggested for any employee who hasn't already taken it during Onboarding.

Reading and Interpreting Records Retention Schedules (IARA_WBT_0002): What a Retention Schedule is, what it looks like, and how to apply it.

Required for Agency Records Coordinators, useful for any state employee.

Creating and Updating Records Retention Schedules (IARA_WBT_0003): A guide to the process of working with IARA to make sure your agency Retention Schedule is current and accurate, and how to update it when that's not the case.

Required for Agency Records Coordinators and mostly geared toward them, but also useful for agency and division directors or any employee who may be asked to assist in an update project.
For most state employees, the first two courses will cover the general information you need to know about managing records in your agency, and they can be accessed from the web at any time, without leaving the comfort of your desk.
For Agency Records Coordinators, while we hope you'll attend our quarterly in-person Records Management Training Workshop as well, the combination of all three online courses provides most of the same information, and is a great temporary substitute or anytime refresher.
Our goal is to provide additional tutorials on more specific topics in the future, developed by our staff specialists in each area. As those become available, we'll be sure to inform you about new learning opportunities!
Taking the Courses for Credit
For employee learning credit, you must enroll in the classes through ELM, Indiana State Personnel's Enterprise Learning Management system in Peoplesoft. Here's a step by step guide for how to accomplish that!

Desktop Versions (reference only)
For your own reference and review, you can also download your own copy of each course below, which can be saved and played on your own computer. It's also fine to use the files in a presentation if you're tasked with educating a group of other state employees (or contractor staff) on agency records management.
The desktop versions will NOT provide employee learning credits or be registered in Peoplesoft HR. Please take them in the order listed; each tutorial contains concepts that are discussed/explained in the previous course.
The files are available in interactive PDF format ("Visual version") and two screen-reader-friendly text formats. In all cases, right-click the file and save it to your computer before playing.​
Records Management Basics
Reading and Understanding Records Retention Schedules
Creating and Updating Records Retention Schedules
Need Help?
If you have questions about the CONTENT of the courses, please contact IARA's Records Management Division at rmd@iara.in.gov or 317-232-3285.
If you have questions or problems with logging in/enrolling/navigation in ELM, or receiving credit for the ELM courses you've taken, please contact the SPD Learning & Development Systems Support Team at SPDTraining@spd.in.gov.