Indiana Youth Advisory Board (IYAB)
Overview
The Indiana Department of Health (IDOH) and the Division of Mental Health and Addiction (DMHA) have partnered to create Indiana's first Youth Advisory Board (YAB). State leaders are seeking input from youth across the state of Indiana who are passionate about shaping the future of public health services including suicide prevention programs. The Youth Advisory Board evaluates public health and suicide prevention services for Indiana youth and makes recommendations for improving the quality of life across Indiana. The current board launched on July 18, 2022, and will serve for one calendar year.
About Indiana YAB
The Indiana YAB represents a diverse group of youth and young adults between the ages of 14 and 23; who come from 22 of Indiana's 92 counties. Of 229 applicants, these members earned their position as representatives for Indiana's youth by undergoing an interview process where they answered questions concerning health issues that they feel are most pressing in Indiana and recommended solutions for their selected issues. Many join us with lived experience; having faced hardships and sought care. They have also acted as support systems for their peers and look forward to advocating for others. The board held its first meeting in July 2022 and continues to meet each month. This is an unprecedented opportunity for youth and young adults to address health at the state level. By empowering youth to speak to their struggles and develop innovative solutions, the YAB will see improved health outcomes across the state.
Mental Health Round Tables
Members of the IYAB reflected on the 2021 Youth Risk Behavior Survey findings in a panel presentation and discussed their perspectives on youth mental health. Decision-makers across the state attended this event, and the IYAB members even had the opportunity to meet with Governor Holcomb.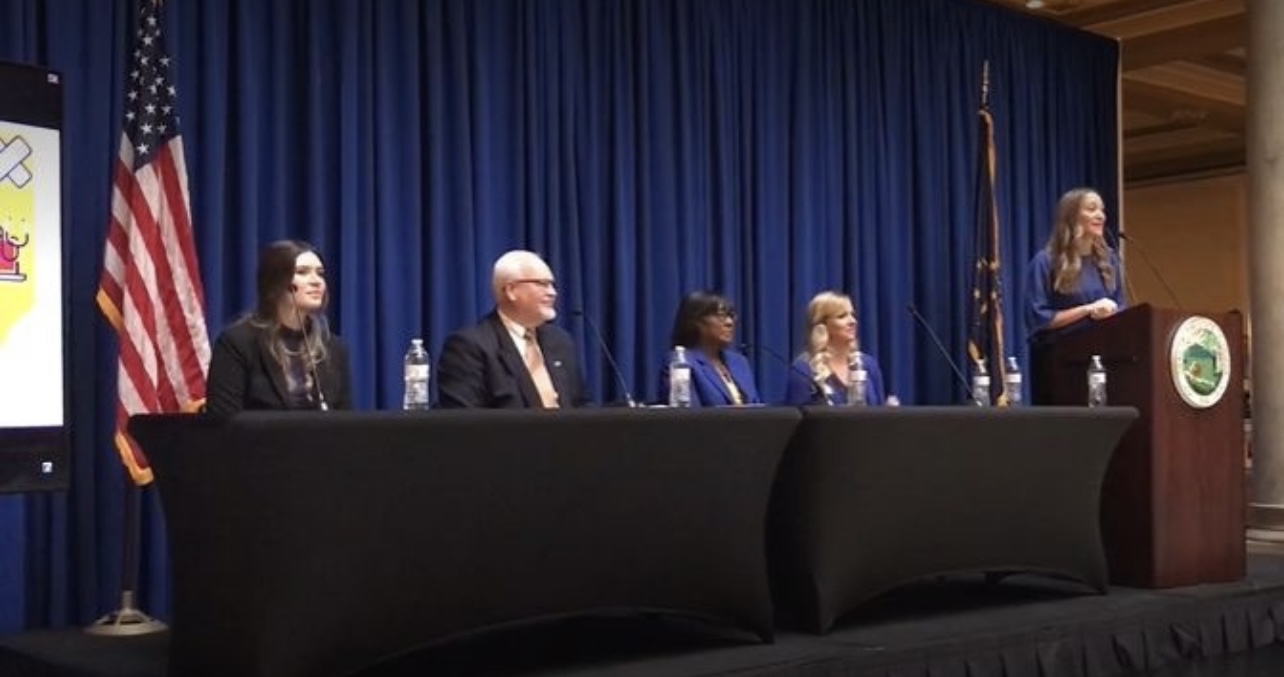 Public Health Day at the Statehouse
IYAB member and Butler student, Lucia, joined a panel of public health experts at Public Health Day to speak about the importance of youth voice in public health work. This was one of the highest-attended events held at the Indiana Statehouse in recent years.
All Member In-Person Meeting
In July 2023, the IYAB met for the first time in person. This meet-up was hosted at the Children's Museum Manor. IYAB members traveled from across Indiana to spend time together, celebrate their accomplishments and plan for the upcoming year. This event will be hosted annually.
Board Members

Board Members

Aedan
Marion County

Alex
Allen County

Ali
Allen County

Amya
Greene County

Aron
St. Joseph County

Austin
Dubois County

Caroline
Marion County

Emily
Lawrence County

Eva
Laporte County

Faith
Hamilton County

Gabriel
Hamilton County

Henry
Bartholomew County

Hollis
Hamilton County

Ingrid
Lake County

Jayma
Fountain County

Jocelyn
Lake County

Kaelynn
Clay County

Kora
Elkhart County

Kylie
Hendricks County

Louis
Porter County

Lucia
Marion County

Madalyn
Washington County

Mickey
Hendricks County

Morgan
Hendricks County

Morgan
Lake County

Nancy
Hamilton County

Nia
Marion County

Nolan
Allen County

Savannah
Warrick County

Sireen
Hamilton County

Tuyet-Anh
Bartholomew County

---

Not Pictured:

Ananza
Marion County
Anna
Vigo County
Bethanie
Porter County
Bethany
Allen County
Hannah
Wayne County
Hannah
Elkhart County
Kalyn
Lawrence County
Kiera
Vanderburgh County
Madyson
Jackson County