GIS Day
SAVE THE DATE! November 15, 2022
Participate in the celebration of GIS technology. GIS is a framework for gathering, analyzing, and visualizing data to help us make better decisions. On GIS Day, we will help others learn more about geography and the real world applications of GIS that help make a difference. This is our chance to share accomplishments and inspire others to use GIS.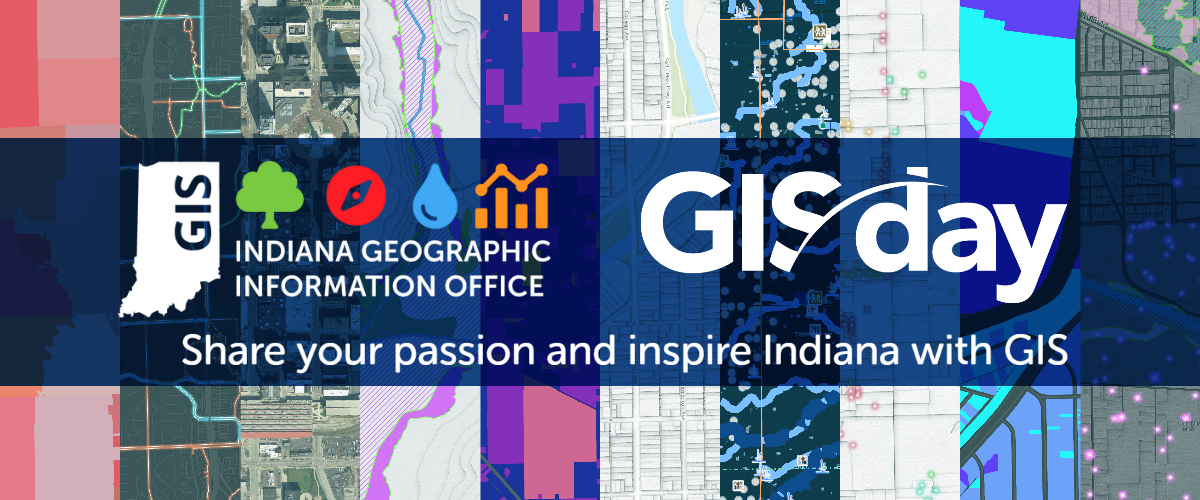 Visit the hubsite for more information here.
Want to learn more about GIS?
Geographic information systems (GIS) have become an integral tool in state agencies and local governments where they are used to support decision making in the public interest.
Explore the innovative ways GIS is used to improve government operations. GIS has the unique capability to help explain large amounts of information via maps and graphics using location information. Cross agency applications appear seamless when data is merged into a GIS. See the many new avenues for using this increasingly important technology.
GIS is used at the state to:
Issue permits
Plan transportation projects
Share information with the public
Study flooding
Prepare for and respond to emergencies
Understand environmental issues
Study water quality
Track health issues
Inventory assets
Understand public needs
Plan new programs
Promote economic development
For more information, contact:
Megan Compton
Indiana Geographic Information Officer
Indiana Office of Technology
100 North Senate Ave.
N551 Government Center North
Indianapolis, IN 46204

Office: (317) 234-5889
gio@iot.in.gov

Amanda O'Daniel
Indiana Office of Technology
100 North Senate Ave.
N551 Government Center North
Indianapolis, IN 46204

Office: (317) 296-2516
amodaniel@iot.in.gov