Indiana Adult Education
Adult Education COVID-19 Updates
ADULT EDUCATION'S Virtual DOORS are OPEN
Students – Contact Programs Near Your Home
Indiana Adult Education programs provide math, reading, and writing instruction free of charge to help you acquire the skills needed to earn a high school equivalency diploma, go to college, or enter an entry-level occupational certification program. You can even earn a high school equivalency diploma and an occupational certificate at the same time through our WorkINdiana program, allowing you to get back to work or switch careers quickly.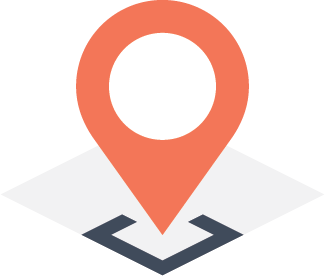 Locate a nearby adult education program and schedule an appointment to enroll today.

While deciding on your future plans, explore your career interests and skills online free of charge at Indiana Career Explorer.
Questions? Email AdultEd@dwd.IN.gov or call 1-866-220-6675 for all inquiries, including questions regarding the Indiana High School Equivalency (formerly GED).
ECA Testing
Adult students who need the End-of-Course Assessments (ECAs) in Algebra I and/or English 10 for graduation can now take them at an Adult Education Site. ECA Testing is available in spring and in fall. Email AdultEd@dwd.in.gov to locate an ECA testing site. Interested test takers will need to contact the site prior to testing day. Walk-in testers may not be admitted.
Adult Education Program Management & Professional Development Resources
Adult educators and Workforce Development staff can find resources and information on professional development, program administration and policy on AmplifyAE.org.
WorkINdiana
Employers want individuals with experience and training. A high school diploma or a high school equivalency diploma alone may not be enough to get the job you need. Take your skills to the next level with WorkINdiana.
The WorkINdiana program allows you to earn your high school equivalency certificate or improve your skills in an Adult Education classroom, and earn a career certificate giving you the boost you need to get the job you want. Choose from over 30 certifications and start a career in Advanced Manufacturing, Business Administration and Support, Construction, Health Care, Hospitality, Information Technology, or Transportation and Logistics. Choose one today; start earning tomorrow.
Interested? Learn more about WorkINdiana occupations and how WorkINdiana training can benefit you. Or, contact your local WorkOne or adult education provider for more information today!
Adult education and workforce development staff can find more WorkINdiana information and materials here.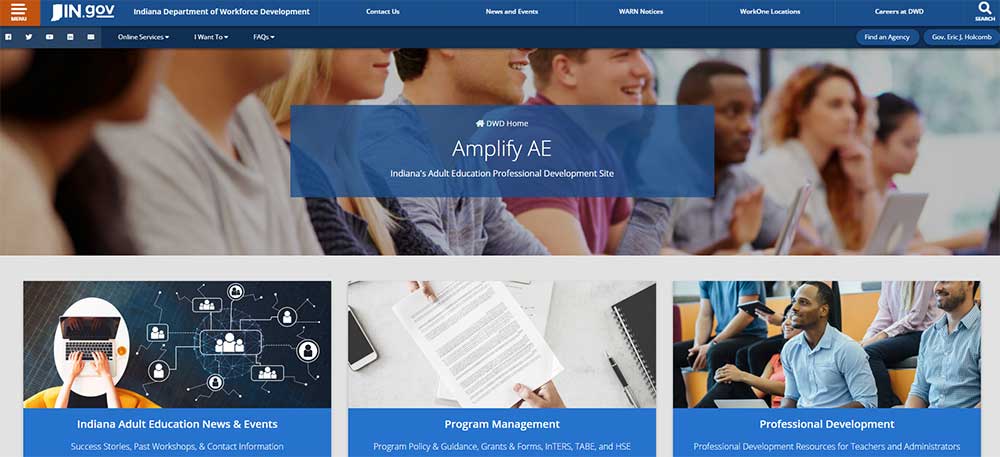 AmplifyAE - Access the image to learn more.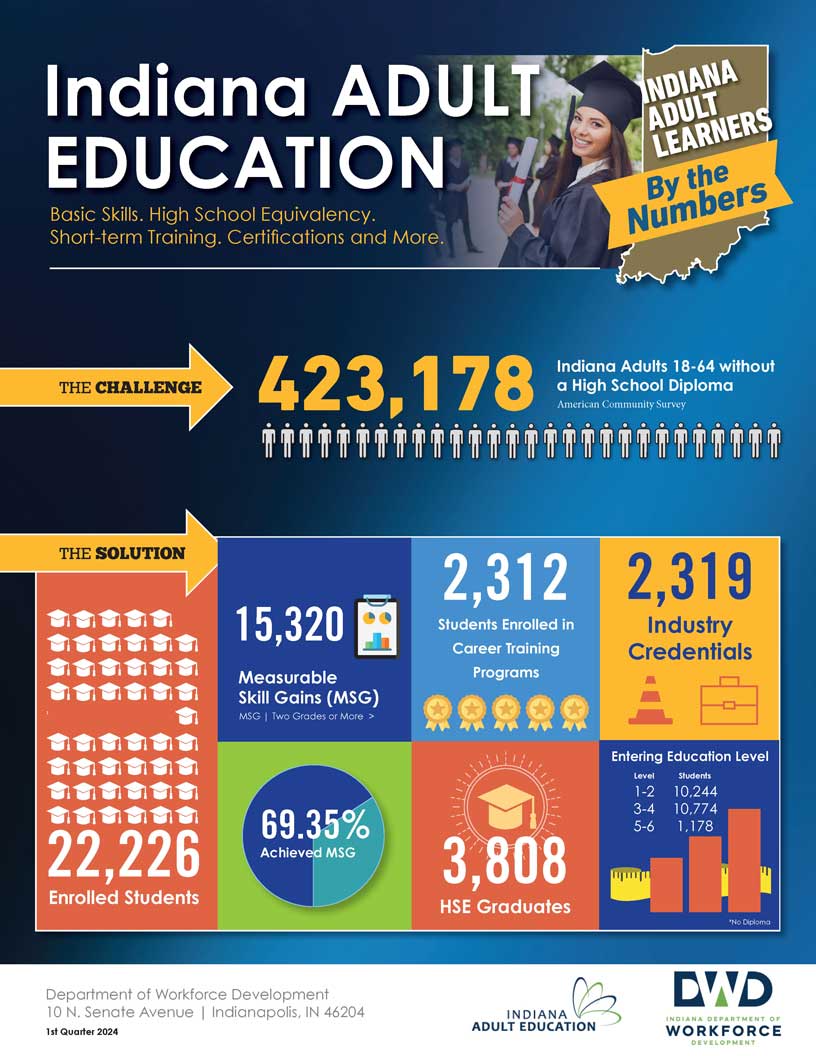 IN Adult Ed By the Numbers
Access the image to learn more.

Access the image to view in full screen
or download the PDF here.