Article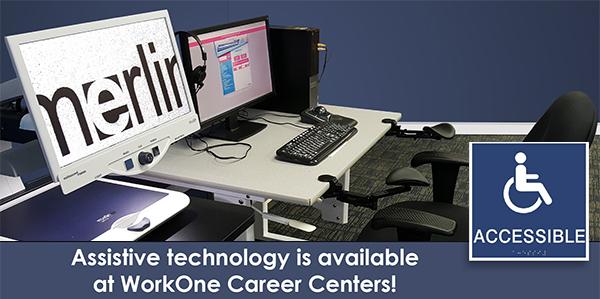 DWD and its WorkOne partners offer workstations that contain assistive technology designed to help Hoosiers with disabilities in their search for gainful employment. These workstations can be found at over 20 WorkOne Career Centers throughout the state. WorkOne assistive technology workstations include adjustable workstations, articulating arm supports, large print keyboards, and ultra HD video magnifier. WorkOne team members have been participating in regular training sessions to learn new strategies for assisting individuals with disabilities in their job search.
Click here to learn more about WorkOne assistive technology.
WorkOne Assistance for Hoosiers with Disabilities
WorkOne welcomes all Hoosiers and provides reasonable accommodations to ensure that its buildings, programs, and services are accessible.
Employment Assistance: WorkOne provides services in both individual and group settings. Some locations may require you to attend an orientation session to identify the services you are eligible for or fit your individual needs. Visit your local WorkOne to find out how to get started.
Reasonable Accommodations: Materials in alternate formats and reasonable accommodations are provided to job seekers upon request. Depending on the specific request, advance notice may be required. Visit your local WorkOne office to inquire about reasonable accommodations and/or receive information on services offered. Examples of reasonable accommodations include:
Materials in alternate formats;
An individual meeting rather than group orientation; and
Assistance with filling out forms.
Click here to view WorkOne locations.
Disability Resources
Indiana's Disability Employment Initiative
In 2012, Indiana was one of seven states to receive grant funding to implement the Disability Employment Initiative (DEI). The initiative is jointly funded and administered by the U.S. Department of Labor's (USDOL) Employment and Training Administration and its Office of Disability Employment Policy.
DEI aims to improve education, training, and employment opportunities for adults with disabilities (ages 18-64) who are:
Unemployed
Underemployed
and/or Receiving Social Security disability benefits.
DEI is administered in specific locations; click here for a list of counties. To learn more about DEI, viewers can access http://www.dei-ideas.org.
Ticket to Work
Individuals participating in the Ticket to Work (TtW) Program can connect with Certified Benefits Counselors to discuss how returning to work impacts Social Security benefits. Not sure if you are part of Ticket to Work? Click here for more information.
Vocational Rehabilitation Services
Vocational Rehabilitation Services (VR) provides quality individualized services to enhance and support people with disabilities to prepare for, obtain or retain employment. The individual will work closely with a VR Counselor throughout the process. Through active participation in their rehabilitation, people with disabilities achieve greater level of independence in their work place and living environments. VS is a program of the Division of Disability and Rehabilitative Services (DDRS) within the Family & Social Services Administration (FSSA). Click here to learn more about programs and services provided through VR.
Equal Opportunity is the Law. Equal Opportunity Employer/Program Auxiliary aids and services are available upon request to individuals with disabilities.