Scissor Lifts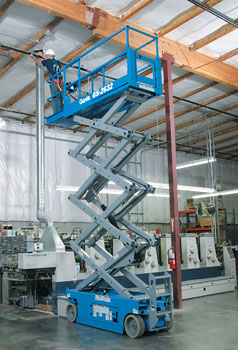 Scissor lifts are large pieces of versatile equipment that are commonly used inside warehouses, factories and on construction jobsites. In addition to these traditional worksites, these lifts are often found on many high school, college and university campuses for the purposes of viewing, videotaping or directing activities such as athletic, band and theatre events and productions. Scissor lifts and other elevated work platforms are used by workers to gain access to conduct work at heights.
However, scissor lifts can be dangerous when not properly maintained and serviced, used inappropriately or used by an untrained operator. According to the federal Bureau of Labor Statistics' (BLS) Census of Fatal Occupational Injuries (CFOI), nationally in 2009, 22 workers were fatally injured while operating a man lift. Scissor lifts are classified as a type of man lift.
This webpage has been developed to connect employers and employees with key information and resources to ensure aerial lift safety. The information, checklists, links and other resources provided on this webpage is not a substitute for operator training. Information downloaded on this webpage should be tailored and customized to fit your organization's needs.
Safety Hazards for Scissor Lifts
Employers that have workers using scissor lifts must adequately address the hazards associated with the use of this equipment. Some of the common occupational hazards associated with the use of scissor lifts include the following:
The lift tipping-over or a worker falling off the platform if the lift is:

Operated in unfavorable weather conditions (i.e. high winds, snow, sleet, hail or rain);
Positioned on soft or unlevel ground or surfaces;
Positioned on weak utility covers (i.e. sprinkler valve boxes);
Overloaded with heavy objects;
Used without guardrails;
Driven on uneven, unstable ground, while the lift is in an elevated position; and
Elevated and the brakes have not been properly set.

Electrocution if the lift makes contact with overhead electrical or power lines.
Crushing if the lift platform comes into contact with overhead structures (i.e. beams, ceilings, etc.)
LiftUpRight, a resource launched by the University of Notre Dame, to promote awareness of aerial, scissor and boom lift safety for universities, colleges and high schools has also been created. LiftUpRight provides information on ensuring the right setup, right training, right weather information and right safety contact for scissor lift safety.
Also, review the Hazard Alert: Scissor Lift Safety and the Indiana Department of Labor's recently published safety alert article, Safe Operational Use of Scissor Lifts, as well for more information and resources on safe work practices and procedures.
Operator Training
One of the most important aspects in the safe operation of scissor lifts includes ensuring operators have received the appropriate training to safely operate the equipment. Only trained and competent workers should be permitted to use any scissor lift. To be effective, classroom-style instruction must be combined with a safe operational procedure demonstration.
Training must also be specific to the type of scissor lift the employee will operate. Employers must stress the importance of workers to follow the established safe work practices and manufacturers' recommendations for operating scissor lifts safely.
Training must include the following elements:
Employer's established safe work practices;

Manufacturers' recommendations for safe operation;

Hazards associated the scissor lift and worksite;
Procedures for dealing with and reporting potentially hazardous situations; and
Trainee demonstration of safe operational use of the lift.
Documentation of operator training must be maintained for a minimum of three years. Employers should retraining scissor lift operators as necessary. Operator retraining should occur as equipment or work conditions change. Additionally, retraining scissor lift operators is necessary if circumstances (e.g. near misses) lead the employer to believe operators do not have the skill set required to operate the equipment safely.
Regular Lift Inspections
Once on a jobsite and prior to its use, lifts must be visually inspected. Effective inspections are performed before each work shift and after any occurrence that could affect the structural integrity of the equipment. Foregoing regular scissor lift inspections has the potential to have life-threatening consequences.
Lift operators must walk around the equipment to ensure it is in good working order. Operators must also review all safety devices, emergency controls, fall protection equipment, the lift vehicle's tires as well as other critical components. If the lift is equipped with outriggers, they should be adequately inspected for wear and damage and used in accordance with the manufacturer's recommendations. Lift operators should report any equipment damage to their supervisor immediately. Unsafe equipment must taken out of service until repair immediately.
A model scissor lift safety checklist has been created for employers to customize and implement in their workplaces.
Work Area Inspections
Areas where lifts will be operated must also be inspected. During these inspections, operators must pay special attention to the following:
Ground depressions and obstructions (i.e. drop-offs, debris, potholes, etc.); and
Overhead obstructions (i.e. power lines, trees, pipes, building structures, canopies, etc.).
To ensure safety from electrocution and electrical shock hazards, operators must maintain a minimum clearance of at least ten feet from the nearest overhead power line.
Adverse Weather Conditions
It is important to note, not all scissor lifts are rated for outdoor use. Employers must review the equipment's operator manual and recommendations to scissor lifts are operated according to the manufacturers' recommendations. When using scissor lifts that have been appropriately rated for outdoor use, operators must regularly monitor outside weather conditions. Potentially hazardous weather may include, but are not limited to the following conditions:
Rain;
Snow; and
Wind.
Employers must review the equipment's operator manual and ensure employees do not operate scissor lifts in adverse weather conditions.
Preventative Maintenance
All equipment, including scissor lifts, should be scheduled to and receive regular preventative maintenance to ensure it is in good working condition. Repairs should be made to equipment as needed. To ensure worker safety, equipment must be serviced in accordance with the manufacturer's recommendations. Using substitute parts or poor repair methods could result in equipment failures, and thus lead to serious injury or death.
Employers must consult and receive written approval from the equipment manufacturer prior to making any modifications to scissor lifts.
Employer Resources
Many scissor lifts are covered under OSHA's scaffolding standard. In addition, OSHA has developed a Scaffolding eTool.
The American National Standards Institute (ANSI) has standards for manufacturing, owning and operating scissor lifts. They can be found in ANSI A92.3-2006 (Manually Propelled Elevating Aerial Platforms) and A92.6-2006 (Self-Propelled Elevating Work Platforms).
The International Powered Access Federation (IPAF) has a training program for aerial and scissor lifts. For a fee, successful trainees receive a one day, hands-on aerial lift training and are awarded the PAL Card (Powered Access License) as proof of training. More information is available at IPAF's website.
Additional Resources
The Indiana Department of Labor's INSafe division provides free, confidential and onsite consultation to Hoosier employers. Employers will not receive citations for safety and health hazards identified by INSafe Safety and Health Consultants. Instead, INSafe Consultants proactively work with employers and employees to identify and correct these hazards. Requests for consultation will not initiate an IOSHA inspection.
For more information about INSafe, please click here. Employers may request a free onsite consultation online at www.in.gov/dol/insafeconsultation.
Other helpful website links, resources and online training tools may be found below.