Main Content
Article
Coal Mine Information System
The Coal Mine Information System (CMIS) is a repository for historical coal mining information in Indiana. It was developed through a cooperative agreement between the Indiana Geological Survey and the Indiana Department of Natural Resources, Division of Reclamation. In addition to historical documents, prepared maps and reports, the CMIS has compiled digital geographic data and associated mine information. This data is publicly accessible through an online map viewer.
CMIS Map Viewer
The CMIS web map has moved. It is now an ArcGIS Online map application and will be administered by the Indiana Department of Natural Resources. This map shows the location of all documented surface and underground coal mines in the state. It can be accessed at dnrmaps.dnr.in.gov/apps/cmis.htm or by selecting the thumbnail below. Please contact cmishelp@dnr.IN.gov if you have questions or need assistance.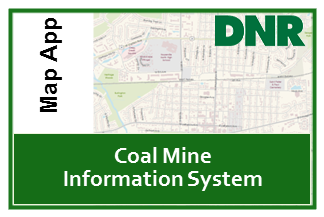 CMIS Library
A variety of publications concerning Indiana coal mining and geology, some of which date back to the late 1800s, are available online. Prepared maps are also available on a state and county level. Documents are in Adobe Acrobat (PDF) format unless otherwise noted.
Directory of Coal Mines and Producers
Historical Indiana Department of Geology and Natural Resources Annual Reports