Main Content
The following BMV services can be conducted on myBMV.com. Expand each section below to view the BMV's available online services and follow the direct links in each section to access the service.
To see what transactions can be completed at one of our 24-hour self-service kiosks, visit the BMV Kiosk Connect information webpage.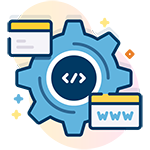 myBMV Downtime
Please Note: myBMV.com is unavailable every Sunday from 5:00a.m. to 10a.m. for routine maintenance.
Fees Waived
Transaction fees for credit or debit card payment on myBMV.com are temporarily waived due to the COVID-19 public health emergency. READ MORE