About the Program
On-Ramp teaches entrepreneurship to artists and creative professionals by focusing on a portfolio career, 10 key business concepts, and a community-engaged artistic practice.
On-Ramp includes:
Creative Entrepreneur Course: A three-day intensive entrepreneurship and community engagement workshop
One-to-One Coaching: A follow up session with an arts business pro
Fellowship: Up to $2,000 to put the lessons into action
Cohorts become incredible networks of support and collaboration. Don't be surprised if you leave feeling like you've just met your long lost family. Read more stories about the On-Ramp community in the "Cohort" tab.
Six different teams across Indiana will offer On-Ramp this year. Click here to learn about these teams of instructors and coaches.
Program Contact:
Anna Tragesser, Artist and Community Services Manager
atragesser@iac.in.gov
317-508-6115
To participate in an On-Ramp Creative Entrepreneur Accelerator, you must submit an application.
The program is not accepting new applications right now, but we anticipate that it will open for new applications in Fall 2021. Sign up for the IAC's newsletters to stay updated.
Submitting a strong application
Click here to view a sample On-Ramp application.
Applications are reviewed and recommended by an admissions committee of creative peers and professionals. Applicants that are the best fit for On-Ramp:
show commitment to their creative work based on artistic training, artistic experience and artistic work sample relevant to their discipline.
are currently actively working in their creative practice. They have a long term goal that shows commitment to their creative work. They are confident, excited and aspirational.
are actively connecting their work with others, or thoughtfully considering possible ways their work may connect with others. Their expectations for On-Ramp demonstrate an open-mindedness for learning and moving their career forward (as an artist/creative small business, not a nonprofit administrator), not just looking for one particular thing (i.e. marketing plan, Quick Books training, etc.)
Further, the admissions committee will use these priorities to assemble a cohort that has:
Variety of artistic career experience
Statewide representation
Variety of creative disciplines
Diverse racial/ethnic representation
Representation of underserved populations
Guidelines to participate
Like finding family.
Regardless of your background or where you are in your career, you quickly realize that an entire group of strangers share the similar fears, insecurities, questions, and dreams as you, and you become a great source of empowerment for one another. (Alicia Dawn Criswell, Lafayette, 2019 Cohort)
It feels good to be surrounded around creatives that KNOW the value of their material and aren't afraid to pursue the passion full time! (Chris Mack, Muncie, 2018 Cohort)
I've built relationships with fellow On-Rampers. They are like my board of trusted advisors; it feels great to have a support system within this group of people. (Erica Parker, Indianapolis, 2019 Cohort)
My business skills toolbox was topped off with access to a powerful, diverse artist network among my fellow classmates who mutually vowed to provide future support and accountability. (Olivia Ulch, Fort Wayne, 2019 Cohort)
The cohorts I met through On Ramp have been inspiring and helpful. I have volunteered to help with writing, installing-- help in any way-- with collective shows for the On-Ramp artists. The knowledge, support, and friendships I have developed through networking have been invaluable. (Dawn England-Harless, Napanee, 2019 Cohort)
I'm so grateful that I got to come to this conference- but more importantly this was the FIRST time I'd been in a room with so many like-minded people. You guys were so kind, helpful, and supportive. Because of Elaine Grogan Luttrull's modules and everyone's input I feel confident saying 'I'm an artist.' (Bethany Hohman, Lafayette, 2018 Cohort)
The Creative Entrepreneur Course is designed by Elaine Grogan Luttrull of Minerva Financial Arts. Read more about Minerva Financial Arts
here
.
Check out "Building a Portfolio Career with Minerva Financial Arts" to get a sense of the type of conversations we'll have in On-Ramp.
Over the course of three days, cohorts complete six modules that covering ten key business areas.
Who are you?
Whom do you serve?

Identifying customers
Communicating with customers (marketing strategy)

What do you need?

Identifying allies and partners
Communicating with allies and partners
Identifying key resources
Protecting assets and creativity

What does it cost?
How do you monetize it?
Talking the talk.
Through the weekend experience and the following months, cohorts also develop:
grant writing skills
community engagement practices
mentor relationships
connections with local small business resources
The On-Ramp Fellowship spotlights you as a motivated creative entrepreneur. To be awarded the fellowship, you must complete the On-Ramp Creative Entrepreneur Course and successfully propose a fellowship project.
Applicants may request up to $2,000 to put the course lessons to use for their creative career development. The fellowship project proposal must fully meet all review criteria (listed in the guidelines below), may not include any ineligible expenses, and must start and end within the project period.
Guidelines
Fellowship Manager
Your fellowship manager can answer all questions related to the fellowship before, during and after the fellowship. Contact the fellowship manager listed for your cohort.
Greater Lafayette: Anna Tragesser, atragesser@iac.in.gov, 317-508-6115
Northwest Indiana (Munster): Paige Sharp, psharp@iac.in.gov, 317-416-8536
Northeast Indiana (Huntington): Anna Tragesser, atragesser@iac.in.gov, 317-508-6115
Marion: Anna Tragesser, atragesser@iac.in.gov, 317-508-6115
South Central Indiana (Bloomington): Miah Michaelsen, mmichaelsen@iac.in.gov, 812-606-6531
Floyd County: Paige Sharp, psharp@iac.in.gov, 317-416-8536
Webinar: Fellowship Proposal Development
This webinar is for artists who have completed the 2021 On-Ramp Creative Entrepreneur Course. It walks cohorts through how to turn the On-Ramp Creative Entrepreneur Course lessons into a fellowship project.
Public Panel Review Meetings
Each fellowship proposal is reviewed by a panel of mentors. They provide feedback and assure that they meet the fellowship guidelines. They may require identify areas that need adjusted before moving forward. These virtual meetings are open to the public for observation. On-Ramp cohorts are encouraged but not required to attend.
Recording - Greater Lafayette Cohort Panel A: Media, Music, Literature and Performing Arts (Tuesday, August 3, 2:30 pm - 4:00 pm ET)
Recording - Greater Lafayette Cohort Panel B: Visual Arts, Photography and Craft Arts (Tuesday, August 3, 10:30 am - 12:00 pm ET)
Webinar: You got a fellowship! Now what?
In this web meeting, we'll will walk you through the grant contract, requirements to keep in mind during the fellowship period, and the final grant report.
Participants are assessed three times throughout the accelerator to track how knowledgeable they feel about business areas, how likely they are to take action, how much control they believe they have, and how they see themselves growing.
The bottom line: It's not just a "summer camp high."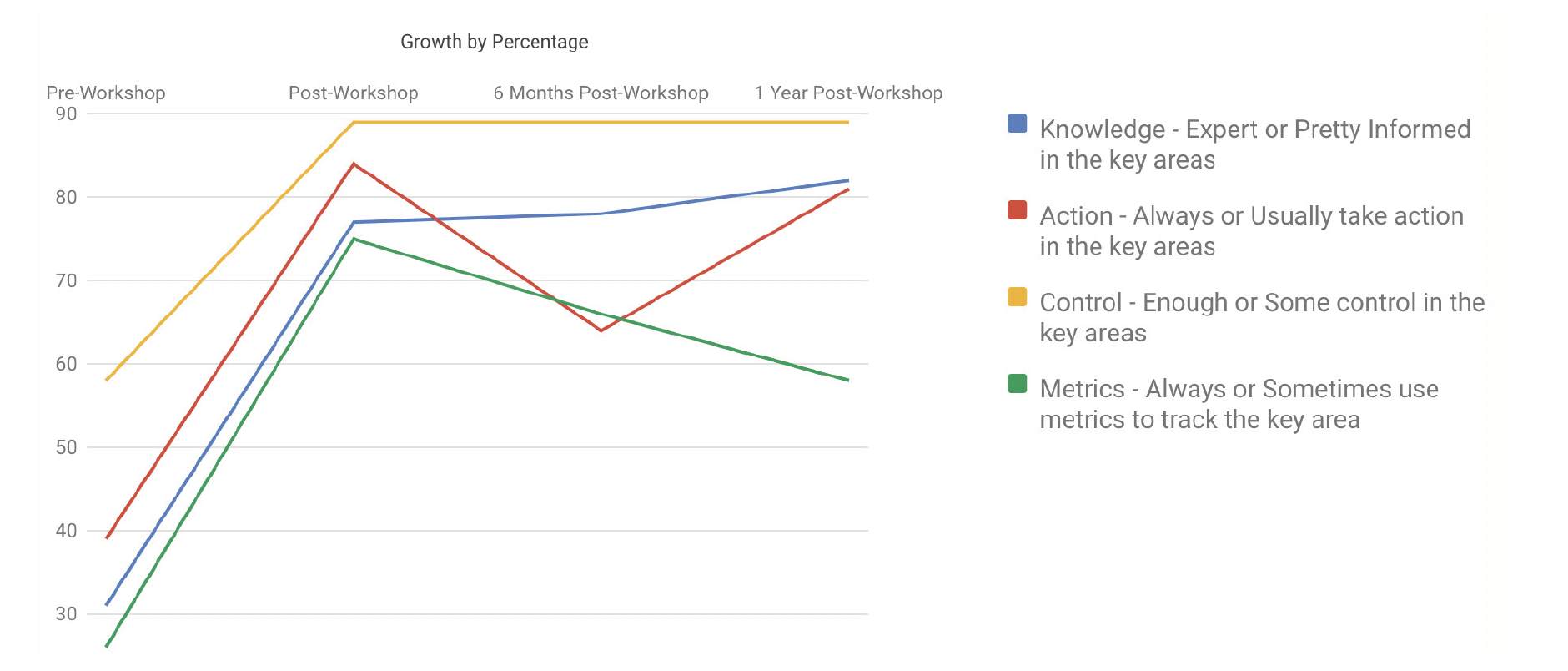 On-Ramp cohorts experience see massive increases that sustain over time. Even a year after the workshop, they have much more confidence in business skills, are more likely to take action in business, believe they have much more control and are able to see their own growth.
Artists who participated in On-Ramp have been more resilient through the economic pressures of the COVID-19 pandemic compared to artists across the nation.
Through their fellowship projects, cohorts make progress on their career goals, secure new or bigger opportunities and expand their reach and deepen their validity as a professional.
This research has been peer-reviewed by academics and received a national award from the Society for Arts Entrepreneurship Education.
Like most creatives, I have experienced stress relating to financial knowledge, business law, marketing skills, and overall personal confidence in my perceived value in society as a creative. Course leader Elaine Grogan Luttrull's uniquely specific creative entrepreneur teachings have alleviated those fears. My toolbox was topped off with access to a powerful diverse artist network among my fellow classmates; who mutually vowed to provide future support and accountability. (Olivia Ulch, Fort Wayne, 2019 Cohort)
I can't express enough, this weekend was life changing and I have so much gratitude because it was exactly what I've been looking for. I knew this was the next step in my creative career that I needed to take, but I had NO CLUE how. After this weekend I can say… 'I empower individuals to find themselves through the art of dancing.' Moving forward, I have an even bigger vision for myself and I'm so ready to embrace it and tackle it with all the knowledge I have now! (Jacob Drummer, Muncie, 2019 Cohort)
I have gained the knowledge necessary to run my own website and reach clients all over the world. I have made new partnerships and turned clients into allies. Most importantly, I can now point to a professional online presence that will help with local leadership to create a more vibrant arts community in Warsaw. (Stephanie McDairmant, Warsaw, 2019 Cohort)[My fellowship project] has truly propelled me to another level. Being able to complete my first album and two concerts have been a lifetime goal of mine. I was pushed to complete something that had my own personal signature on it. I proved to myself that I truly had 'Everything I Need' (the name of the EP is You Have Everything You Need). It catapulted me into a space of realizing more of my capabilities and strengths. (Sanovia Garrett, Muncie, 2019 Cohort)
I believe I have made significant progress towards my career goals in the past year; more so than I have in all the years since I graduated from college combined. This includes obtaining a tax ID, forming an LLC, design and fabrication of a variety of marketing material, business bank account, website, teaching, art fairs, etc. (Alexandra Geske, Indianapolis, 2019 Cohort)
It was above and beyond what I hoped it would be! I feel like I have a solid understanding of what it takes to be a business-savvy artist, as well as a renewed investment in the Indiana art community. (Anonymous 2018 Cohort)
I had an incredible time connecting with other artists from across Indiana that come from different backgrounds and have different pursuits. It was inspiring to know that they all had the same passion for making a full-time career out of their art. Elaine was an incredible instructor with a real knack for understanding artists and the struggles we often go through with understanding the business side of everything. (Anonymous 2018 Cohort)

On-Ramp Creative Entrepreneur Accelerators are brought to you by the Indiana Small Business Development Center, a program of the Indiana Economic Development Corporation, Minerva Financial Arts, and the Indiana Arts Commission (IAC). This initiative is funded in part through a Cooperative Agreement with the U.S. Small Business Administration.
Reasonable accommodations for persons with disabilities will be made if requested at least two weeks in advance. Please reach out to the team primary contact or contact Paige Sharp at psharp@iac.in.gov to make a request.