Arts Project Support (APS) grants provide funding to Indiana 501(c)3 nonprofit organizations and public entities for a specific arts project or arts activity(ies). Some examples of eligible projects include a one-time art event, a single performance, an exhibition, an educational workshop, or series of related arts activities such as art classes or training sessions that are open to the public whether free or for a fee. APS is administered by the Regional Arts Partners (RAP) across the state. This grant program is created with a focus on the Indiana Arts Commission's Funding Imperatives.
APS applicants may request up to $5,000 to support their arts project. Grant funds must only be used for eligible expenses only.
This grant program's objective is to provide:
The general public access to quality arts activities, with special attention to underserved communities; and,
Support for local or Indiana artists who are a vital part of Indiana's economy and community life.
Match Requirement: There is no match requirement for this grant.
Applicant Eligibility Requirements
All applicants must meet all of the following eligibility requirements:
Must be a 501(c)(3) nonprofit organization, a unit of state or local government, an institution of higher education, or a federally recognized Indian tribal government;
a. A 501(c)(3) organization may act as a fiscal sponsor/agent for an organization that has not secured their federal tax-exempt status. Please contact your Regional Arts Partner representative (the contact in these guidelines) if you wish to apply using a fiscal sponsor/agent. Learn more.
Must be incorporated in the State of Indiana at the time of application and for the duration of the grant period;
Must be physically located in Indiana, have an address in the region to which the organization is applying, with the majority of its arts programming, services, or activities taking place in Indiana, and must primarily serve and engage Indiana audiences and participants;
If awarded funding, organizations will be required to obtain a Unique Entity Identifier (UEI) prior to payment. Since 2010, this has been a Dun & Bradstreet number, or DUNS. In April 2022 the Federal government will switch to the use of a UEI created in SAM.gov to be the official UEI. Visit this link for more information on how to obtain a UEI.
Must not have any overdue and/or unresolved Final Grant Reports with the Indiana Arts Commission or the Regional Arts Partner;
Organizations whose primary purpose is higher education (e.g. universities, colleges, division of a college) are eligible to apply for arts activities that are open to the public and clearly serve the needs of surrounding communities and involve community input during planning and implementation. Activities that are credit-producing or oriented primarily to university students and the academic community are not eligible;
Must comply with all federal, state, and local laws and ordinances, including but not limited to those that prohibit discrimination on the basis of race, color, national origin, gender, sexual orientation, age, or disability;
An organization may only apply for one of the following grant programs in the same fiscal year: APS, AOS l, AOS Il, or AOSIII;
APS funding may not be used for projects already supported by the Indiana Arts Commission (for example, more than one organization receiving APS funding for the same project is not allowable).
Allowable Project Expenses
Funds awarded by the IAC may be used to support the following:
Salaries and fees
Contractors
Artist contracts, honorarium, stipends
Staff or contractor training; conferences**
Rent or mortgage payments
Utilities
Space rental
Promotion and marketing
Printing
Security
Insurance
Building Maintenance
Personal Protective Equipment (PPE)
Cleaning services
Information Technology (e.g. software, captioning, streaming - including increased bandwidth, hardware, specialized audio-visual equipment, etc.)
Fee subsidies for presenting services
Capital Expenditures (not to exceed $5,000)
Equipment (purchase or rental) provided it plays an integral part of the project (for project support grants) or the organization's operations (e.g. theatre rigging, exhibition pedestals)
Construction and renovation-type projects that are integral to an organization's mission or that facilitate accessibility (e.g., accessibility‐related construction and renovation, substantial exhibition design, the installation of climate control systems for a museum, etc.,) are allowable.
Construction and renovation:
Organization Support – must be integral to the organization's mission or facilitate accessibility (e.g., accessibility‐related construction and renovation, substantial exhibition design, the installation of climate control systems for a museum, etc.,) are allowable.
Project Support – must be integral to the project as in the project goal(s) could not occur without it.
Production or commissioning costs
Consumable supplies
Costs associated with the creation of a temporary or permanent piece of public art
Non-Allowable Project Expenses
Funds awarded by the IAC may not be used to support any of the following:
Operations
Cash reserves, endowment accounts, deficit reduction or elimination
Taxes and interest
Compensation to foreign nationals
Visa costs
Travel outside the United States
Indirect costs or underwriting for programming, activities, and/or services by degree-granting colleges and universities outside of what is explicitly allowable for project-based grants.
Resale items purchased for resale
Alcoholic beverages
Donations and contributions
Entertainment costs (such as receptions, parties, galas, dinners, community gatherings, etc.)
Fundraising and Investment costs
Lobbying
Home office workspace
Prohibited telecommunications and video surveillance services and equipment
Regranting to individuals or other organizations
Applications for projects that primarily present political, denominational, religious, or sectarian ideas or projects that enhance the property of religious institutions.
Capital Expenditures
Capital improvements, facility construction, structural renovations, and restorations not integral to an organization's mission or that facilitate accessibility
Purchase of artwork
The purchase of vehicles
Events not open to the public. (Project Support for schools, disability service organizations, and similar service agents with specific communities served, must include an event/activity that is open to the public).
Projects or programs to be delivered outside the State of Indiana
Activities and expenses outside the grant period
Activities that are solely for the purpose of fundraising
| | |
| --- | --- |
| Applications Open | December 21, 2021 |
| Applications Due | March 9, 2022, 4:30PM (ET) |
| Panel Review | April 25 - May 5, 2022 |
| Award Notification | July 2022 |
| First Payment | September/October 2022 |
| Final Payment | Varies - The final payment is made after the final grant report is submitted. |
Questions about the program itself, application, and panel process should be directed to the applicant's Regional Arts Partner.
Region 1 - David Mika, South Shore Arts, david@southshoreartsonline.org
Region 2 - Kayla Myers, Community Foundation of St. Joseph County, kayla@cfsjc.org
Region 3 - Philip Slane, Arts United of Greater Fort Wayne, pslane@artsunited.org
Region 4 - Ann Fields Monical, The Arts Federation, ann@theartsfederation.org
Region 5 - Braydee Euliss, Community Foundation of Randolph County, beuliss@randolphcountyfoundation.org
Region 6 - Sherri Wright, Arts Illiana, sherri@artsilliana.org
Region 7 - Ryan Shelton, Nickel Plate Arts, grants@nickelplatearts.org
Region 8 - Sean Hildreth, Brown County Community Foundation, sean@bccfin.org
Region 9 - Kim Wadholm, Columbus Area Arts Council, kwadholm@artsincolumbus.org
Region 10 - Anne McKim, Arts Council of Southwestern Indiana, anne.mckim@artswin.org
Region 12 - Alex Helton, Madison Area Arts Alliance, alex.artsherenow@gmail.com
---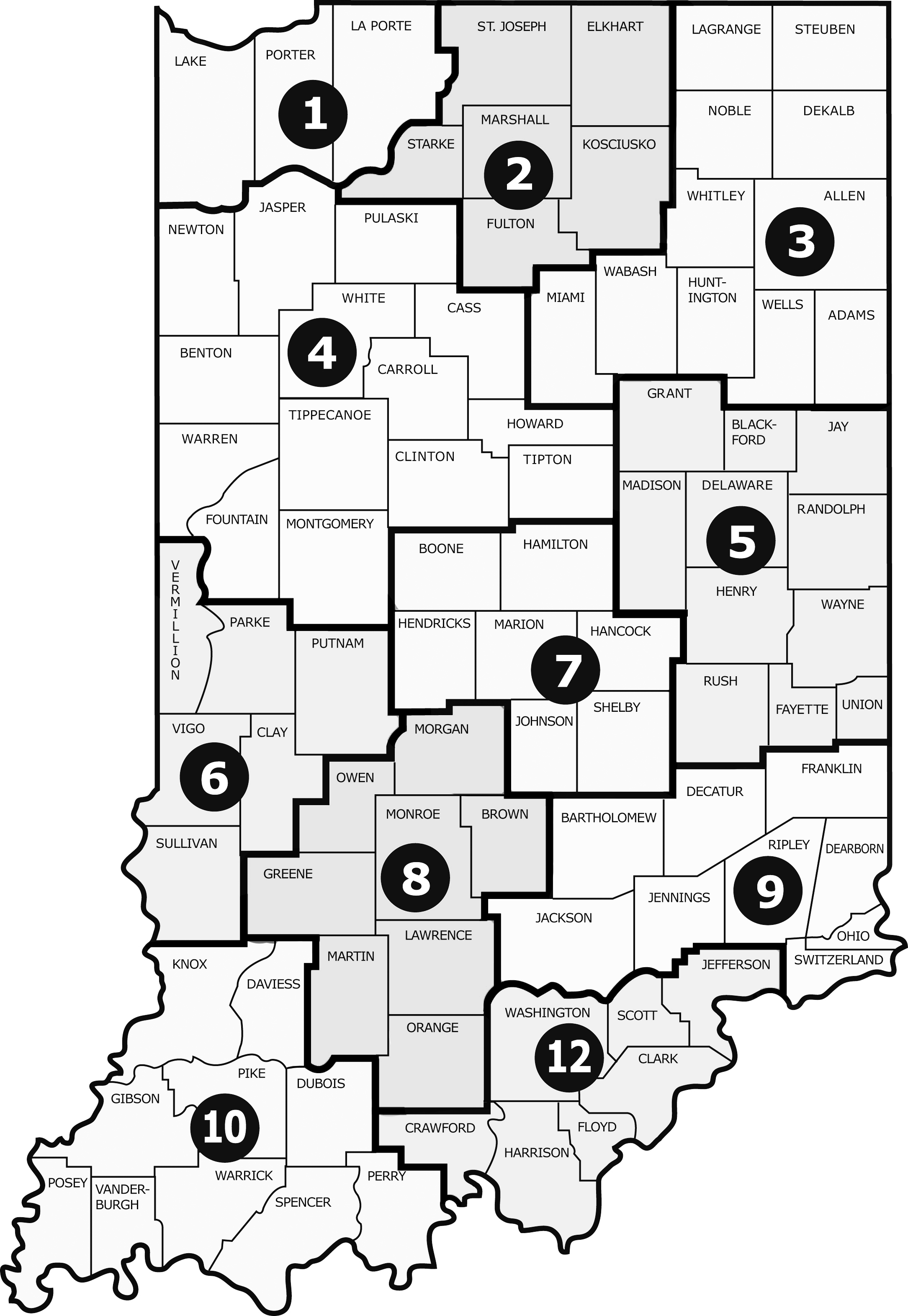 | Date | Time | Region | Link to watch |
| --- | --- | --- | --- |
| Monday, April 25, 2022 | 9:30AM ET | Region 6 - Greater Terre Haute | Watch the panel. |
| Monday, April 25, 2022 | 12:00PM ET | Region 2 - Greater South Bend | Watch the panel. |
| Monday, April 25, 2022 | 2:30PM ET | Region 2 - Greater South Bend | Watch the panel. |
| Tuesday, April 26, 2022 | 9:00AM ET | Region 3 - Greater Fort Wayne | Watch the panel. |
| Tuesday, April 26, 2022 | 10:00AM ET | Region 10 - Greater Evansville | Watch the panel. |
| Tuesday, April 26, 2022 | 1:00PM ET | Region 3 - Greater Fort Wayne | Watch the panel. |
| Wednesday, April 27, 2022 | 9:30AM ET | Region 12 - Greater New Albany | Watch the panel. |
| Wednesday, April 27, 2022 | 10:00AM ET | Region 4 - Greater Lafayette | Watch the panel. |
| Thursday, April 28, 2022 | 1:30PM ET | Region 5 - Greater Muncie | Watch the panel. |
| Friday, April 29, 2022 | 9:30AM ET | Region 9 - Greater Columbus | Watch the panel. |
| Monday, May 9, 2022 | 9:00AM ET | Region 8 - Greater Bloomington | Watch the panel. |
| Wednesday, May 4, 2022 | 10:00AM ET | Region 7 - Greater Indianapolis | Watch the panel. |
| Wednesday, May 4, 2022 | 10:30AM ET | Region 1 - Greater Gary | Watch the panel. |
| Wednesday, May 4, 2022 | 2:00PM ET | Region 7 - Greater Indianapolis | Watch the panel. |
| Wednesday, May 4, 2022 | 2:30PM ET | Region 1 - Greater Gary | Watch the panel. |
| Thursday, May 5, 2022 | 10:00AM ET | Region 7 - Greater Indianapolis | Watch the panel. |
| Thursday, May 5, 2022 | 10:30AM ET | Region 1 - Greater Gary | Watch the panel. |
| Process Name | Organization Name | Amount Awarded | Region | County | Congressional District | State House District | State Senate District | Project Title | Type of Activity |
| --- | --- | --- | --- | --- | --- | --- | --- | --- | --- |
| FY23 Arts Project Support (APS) | North Adams Arts Council | $4,000.00 | 3 | Adams | IN3 | SHD79 | SSD19 | Decatur Sculpture Tour | 06 Exhibition |
| FY23 Arts Project Support (APS) | Kekionga Festival (FS: Decatur Main Street) | $4,000.00 | 3 | Adams | IN3 | SHD79 | SSD19 | Kekionga Festival | 08 Fair/Festival |
| FY23 Arts Project Support (APS) | Fort Wayne Artists Guild | $4,000.00 | 3 | Allen | IN3 | SHD80 | SSD16 | Month of Plein Air, Kekionga Plein Air Event | 08 Fair/Festival |
| FY23 Arts Project Support (APS) | Northern Indiana Bluegrass Association, Inc. | $4,000.00 | 3 | Allen | IN3 | SHD83 | SSD16 | Bluegrass & Americana Music Community Outreach | 08 Fair/Festival |
| FY23 Arts Project Support (APS) | East Allen County Schools | $4,000.00 | 3 | Allen | IN3 | SHD85 | SSD14 | Southwick Elementary Arts Integrated Residency (Language Acquisition and Literacy through the Arts) | 20 School residency |
| FY23 Arts Project Support (APS) | Science Central, Inc. | $4,000.00 | 3 | Allen | IN3 | SHD81 | SSD16 | Winter Break STEAM Camps | 99 None of the above |
| FY23 Arts Project Support (APS) | Allen County-Fort Wayne Historical Society, History Center | $4,000.00 | 3 | Allen | IN3 | SHD81 | SSD16 | 2022 Miami Indian Heritage Days | 12 Arts Instruction |
| FY23 Arts Project Support (APS) | The Bach Collegium-Fort Wayne, Inc | $4,000.00 | 3 | Allen | IN3 | SHD80 | SSD16 | Bach Collegium presents 2022-2023 | 05 Concert/Performance/Reading |
| FY23 Arts Project Support (APS) | University of Saint Francis - School of Creative Arts | $4,000.00 | 3 | Allen | IN3 | SHD81 | SSD16 | The Jesters 2022-2023 | 12 Arts Instruction |
| FY23 Arts Project Support (APS) | Sophia's Portico Inc. | $4,000.00 | 3 | Allen | IN3 | SHD85 | SSD15 | Frida for All | 08 Fair/Festival |
| FY23 Arts Project Support (APS) | The Arc of Northeast Indiana, Inc (DBA: Easterseals Arc of NE IN) | $4,000.00 | 3 | Allen | IN3 | SHD81 | SSD16 | Easterseals Arc Art Adventures 2022-2023 | 12 Arts Instruction |
| FY23 Arts Project Support (APS) | Japanese American Association of Indiana | $4,000.00 | 3 | Allen | IN3 | SHD85 | SSD15 | Fort Wayne Cherry Blossom Festival 2023 | 08 Fair/Festival |
| FY23 Arts Project Support (APS) | Amani Family Services | $4,000.00 | 3 | Allen | IN3 | SHD81 | SSD15 | Unity with Variety | 04 Creation of a Work of Art |
| FY23 Arts Project Support (APS) | Memorial Park Middle School | $4,000.00 | 3 | Allen | IN3 | SHD80 | SSD15 | Jazz Mentorship Program | 12 Arts Instruction |
| FY23 Arts Project Support (APS) | Believe In A Dream Inc | $4,000.00 | 3 | Allen | IN3 | SHD84 | SSD15 | String Jams 2022 Holiday Concert | 05 Concert/Performance/Reading |
| FY23 Arts Project Support (APS) | Columbus City Band | $3,900.00 | 9 | Bartholomew | IN6 | SHD59 | SSD44 | 2022-2023 Concert Season | 05 Concert/Performance/Reading |
| FY23 Arts Project Support (APS) | Ivy Tech Community College of Indiana, Columbus | $1,500.00 | 9 | Bartholomew | IN6 | SHD59 | SSD41 | Comic-Con | 08 Fair/Festival |
| FY23 Arts Project Support (APS) | Ethnic Expo - City of Columbus | $3,900.00 | 9 | Bartholomew | IN6 | SHD59 | SSD44 | Ethnic Expo | 08 Fair/Festival |
| FY23 Arts Project Support (APS) | Just Friends, Inc | $3,510.00 | 9 | Bartholomew | IN6 | SHD59 | SSD44 | Music Therapy | 05 Concert/Performance/Reading |
| FY23 Arts Project Support (APS) | Columbus Museum of Art and Design | $3,900.00 | 9 | Bartholomew | IN6 | SHD59 | SSD44 | Reborn | 04 Creation of a Work of Art |
| FY23 Arts Project Support (APS) | Columbus Scottish Festival Inc | $3,900.00 | 9 | Bartholomew | IN9 | SHD59 | SSD41 | Columbus Scottish Festival | 08 Fair/Festival |
| FY23 Arts Project Support (APS) | Brick Street Poetry Inc. | $3,900.00 | 7 | Boone | IN5 | SHD88 | SSD31 | What I Can See, I Can Be | 04 Creation of a Work of Art |
| FY23 Arts Project Support (APS) | Black Box Theatre Company, Inc. | $2,000.00 | 7 | Boone | IN4 | SHD41 | SSD23 | Winter Show | 05 Concert/Performance/Reading |
| FY23 Arts Project Support (APS) | RiverSong Music, Inc. | $4,000.00 | 8 | Brown | IN9 | SHD65 | SSD44 | ChamberFest Brown County | 05 Concert/Performance/Reading |
| FY23 Arts Project Support (APS) | Psi Iota XI Beta Alpha Chapter WC, Inc. | $4,000.00 | 4 | Carroll | IN4 | SHD38 | SSD18 | Storytelling Through Art | 12 Arts Instruction |
| FY23 Arts Project Support (APS) | L & A Park Foundation | $500.00 | 4 | Carroll | IN4 | SHD25 | SSD7 | Arts in the Park | 05 Concert/Performance/Reading |
| FY23 Arts Project Support (APS) | Flora-Monroe Twp. Public Library | $1,600.00 | 4 | Carroll | IN4 | SHD38 | SSD18 | Friendship in Art | 12 Arts Instruction |
| FY23 Arts Project Support (APS) | Flora Community Club, Inc. | $1,000.00 | 4 | Carroll | IN4 | SHD38 | SSD18 | All Aboard for Art! | 08 Fair/Festival |
| FY23 Arts Project Support (APS) | Charlestown-Clark County Public Library | $3,900.00 | 12 | Clark | IN9 | SHD66 | SSD45 | All Together Now - Friendship Art at the Library! | 12 Arts Instruction |
| FY23 Arts Project Support (APS) | Greater Clark County Schools | $4,000.00 | 12 | Clark | IN9 | SHD71 | SSD45 | Jeffrey, Poetry, and Me | 04 Creation of a Work of Art |
| FY23 Arts Project Support (APS) | Jeffersonville High School Instrumental Band Boosters, Inc. | $4,000.00 | 12 | Clark | IN9 | SHD71 | SSD46 | Access to Artists | 12 Arts Instruction |
| FY23 Arts Project Support (APS) | City of Jeffersonville - Public Art Commission | $4,000.00 | 12 | Clark | IN9 | SHD71 | SSD46 | Teen Arts Council | 12 Arts Instruction |
| FY23 Arts Project Support (APS) | Friends of the Frankfort Public Library | $2,000.00 | 4 | Clinton | IN4 | SHD38 | SSD7 | Hubbard Artist in Residence Program | 21 Artist Residency |
| FY23 Arts Project Support (APS) | Crawford County Community School Corp (West Crawford Elementary) | $4,000.00 | 12 | Crawford | IN9 | SHD74 | SSD47 | West Crawford Elementary School Arts Program | 12 Arts Instruction |
| FY23 Arts Project Support (APS) | Auburn Automotive Heritage, Inc. | $4,000.00 | 3 | De Kalb | IN3 | SHD52 | SSD14 | Luster | 06 Exhibition |
| FY23 Arts Project Support (APS) | Lawrenceburg Community School Corporation Central Elementary School Visual Art Department | $3,880.00 | 9 | Dearborn | IN6 | SHD68 | SSD43 | Digital Screen Printing Up Start | 12 Arts Instruction |
| FY23 Arts Project Support (APS) | Sustainable Muncie/Madjax | $3,900.00 | 5 | Delaware | IN6 | SHD34 | SSD25 | Arts for All Ages at Madjax | 12 Arts Instruction |
| FY23 Arts Project Support (APS) | East Central Neighborhood Association | $3,900.00 | 5 | Delaware | IN6 | SHD34 | SSD25 | Old Washington Street Festival | 08 Fair/Festival |
| FY23 Arts Project Support (APS) | 8twelve Coalition (FS: Open Door Health Services) | $3,900.00 | 5 | Delaware | IN6 | SHD34 | SSD25 | 8twelve Creative Placemaking - Mural Project | 37 Public Art/Percent for Art |
| FY23 Arts Project Support (APS) | Actors Community Theatre, Inc. | $3,900.00 | 10 | Dubois | IN8 | SHD63 | SSD48 | Performances and Workshops | 05 Concert/Performance/Reading |
| FY23 Arts Project Support (APS) | Goshen Community Chorale, Incorporated | $3,900.00 | 2 | Elkhart | IN2 | SHD49 | SSD12 | Goshen Community Chorale FY22-23 season | 05 Concert/Performance/Reading |
| FY23 Arts Project Support (APS) | Goshen Theater, Inc | $3,900.00 | 2 | Elkhart | IN2 | SHD49 | SSD12 | After School Program for Theater Experiences | 12 Arts Instruction |
| FY23 Arts Project Support (APS) | Elkhart Community School Art Depot | $3,900.00 | 2 | Elkhart | IN2 | SHD48 | SSD2 | Elkhart Art Depot | 12 Arts Instruction |
| FY23 Arts Project Support (APS) | Goshen Arts & Events | $3,900.00 | 2 | Elkhart | IN2 | SHD49 | SSD12 | Arts on the Millrace | 08 Fair/Festival |
| FY23 Arts Project Support (APS) | Goshen Art House | $3,900.00 | 2 | Elkhart | IN2 | SHD49 | SSD12 | 24/7 Play Festival | 05 Concert/Performance/Reading |
| FY23 Arts Project Support (APS) | Downtown Goshen, INC | $3,900.00 | 2 | Elkhart | IN2 | SHD49 | SSD12 | November Arts Tour | 08 Fair/Festival |
| FY23 Arts Project Support (APS) | Covington United Methodist Church | $850.00 | 4 | Fountain | IN4 | SHD42 | SSD23 | 2022 Community Christmas Concert | 05 Concert/Performance/Reading |
| FY23 Arts Project Support (APS) | Rochester Downtown Partnership, Inc. | $3,900.00 | 2 | Fulton | IN2 | SHD17 | SSD18 | Nickel Plate Music and Arts Festival | 08 Fair/Festival |
| FY23 Arts Project Support (APS) | Fulton County Historical Society Inc. | $3,900.00 | 2 | Fulton | IN2 | SHD17 | SSD18 | Trail of Courage Living History Festival | 08 Fair/Festival |
| FY23 Arts Project Support (APS) | Princeton Band Boosters | $3,900.00 | 10 | Gibson | IN8 | SHD64 | SSD48 | Princeton Marching Band | 05 Concert/Performance/Reading |
| FY23 Arts Project Support (APS) | Carmel International Arts Festival | $3,900.00 | 7 | Hamilton | IN5 | SHD29 | SSD29 | Educating the Community Through the Arts in a Festival Format | 08 Fair/Festival |
| FY23 Arts Project Support (APS) | Resounding Joy | $3,900.00 | 7 | Hamilton | IN5 | SHD39 | SSD20 | The Ariana Miller Healing Notes Program | 12 Arts Instruction |
| FY23 Arts Project Support (APS) | International Talent Academy | $3,900.00 | 7 | Hamilton | IN5 | SHD39 | SSD30 | Rising Star Arts competition and festival | 05 Concert/Performance/Reading |
| FY23 Arts Project Support (APS) | Town of Arcadia | $3,900.00 | 7 | Hamilton | IN5 | SHD32 | SSD21 | 2022 Downtown Arcadia Banners | 37 Public Art/Percent for Art |
| FY23 Arts Project Support (APS) | Hyperion, Inc. | $3,900.00 | 7 | Hamilton | IN5 | SHD29 | SSD20 | "Call Me Sister" and Production-Related Activities | 05 Concert/Performance/Reading |
| FY23 Arts Project Support (APS) | Janus Developmental Services, Inc. | $3,900.00 | 7 | Hamilton | IN5 | SHD29 | SSD20 | Photography and Technology | 33 Building Public Awareness |
| FY23 Arts Project Support (APS) | Carmel Clay Historical Museum | $3,899.00 | 7 | Hamilton | IN5 | SHD29 | SSD29 | Community Farm Mural for Children's Gallery at the Carmel Clay Historical Society | 04 Creation of a Work of Art |
| FY23 Arts Project Support (APS) | Lanesville Community School Corporation | $4,000.00 | 12 | Harrison | IN9 | SHD70 | SSD47 | Expanding Our Art Experiences | 99 None of the above |
| FY23 Arts Project Support (APS) | Historical Society of Harrison County | $4,000.00 | 12 | Harrison | IN9 | SHD70 | SSD47 | Beauty of Blue River | 16 Recording/Filming/Taping |
| FY23 Arts Project Support (APS) | Hayswood Theatre Group, Inc. | $4,000.00 | 12 | Harrison | IN9 | SHD70 | SSD47 | Season 51 - Hayswood Theatre 2022/2023 - (4 shows included) | 05 Concert/Performance/Reading |
| FY23 Arts Project Support (APS) | North Harrison Band Boosters | $4,000.00 | 12 | Harrison | IN9 | SHD70 | SSD47 | Winter Performance Ensembles Support | 12 Arts Instruction |
| FY23 Arts Project Support (APS) | Hendricks County Arts Council | $2,000.00 | 7 | Hendricks | IN4 | SHD28 | SSD24 | Make An Impression | 06 Exhibition |
| FY23 Arts Project Support (APS) | Trustees of Indiana University - IU Kokomo | $4,000.00 | 4 | Howard | IN4 | SHD30 | SSD21 | Outdoor Art for All: Plein Air Art Events in Kokomo | 08 Fair/Festival |
| FY23 Arts Project Support (APS) | The Rev. Dr. Martin Luther King Jr. Memorial Commission Corporation | $2,450.00 | 4 | Howard | IN4 | SHD21 | SSD21 | Little Artists | 12 Arts Instruction |
| FY23 Arts Project Support (APS) | Parkview Huntington Family YMCA | $4,000.00 | 3 | Huntington | IN3 | SHD50 | SSD17 | Huntington Y School of the Arts | 12 Arts Instruction |
| FY23 Arts Project Support (APS) | Children's Choir of Huntington County | $4,000.00 | 3 | Huntington | IN3 | SHD50 | SSD17 | Concert Series | 05 Concert/Performance/Reading |
| FY23 Arts Project Support (APS) | Jackson County Community Theatre | $3,900.00 | 9 | Jackson | IN9 | SHD69 | SSD44 | JCCT Season 53 | 05 Concert/Performance/Reading |
| FY23 Arts Project Support (APS) | Happy Tree Art Studio (FS: Crothersville Community Schools) | $3,900.00 | 9 | Jackson | IN9 | SHD69 | SSD45 | Art For All, Big And Small | 12 Arts Instruction |
| FY23 Arts Project Support (APS) | National Center for Great Lakes Native American Culture | $3,900.00 | 5 | Jay | IN3 | SHD33 | SSD19 | NCGLNAC Cultural Art Series | 12 Arts Instruction |
| FY23 Arts Project Support (APS) | Madison Performing Arts Foundation | $4,000.00 | 12 | Jefferson | IN6 | SHD66 | SSD45 | Madison Performing Arts Foundation's 2022-2023 Concert Season | 05 Concert/Performance/Reading |
| FY23 Arts Project Support (APS) | Ohio River Valley Folk Society | $4,000.00 | 12 | Jefferson | IN6 | SHD66 | SSD45 | Kindred Folk Society Music Series | 05 Concert/Performance/Reading |
| FY23 Arts Project Support (APS) | House of Jane (FS: Cultural Continuum of Madison) | $4,000.00 | 12 | Jefferson | IN6 | SHD66 | SSD45 | House of Jane Songwriter Sessions | 05 Concert/Performance/Reading |
| FY23 Arts Project Support (APS) | Oak Heritage Conservancy | $4,000.00 | 12 | Jefferson | IN6 | SHD66 | SSD45 | Nature's Magical Moments | 33 Building Public Awareness |
| FY23 Arts Project Support (APS) | Southwestern Jefferson County Consolidated School Corp. | $4,000.00 | 12 | Jefferson | IN6 | SHD66 | SSD45 | Bands | 12 Arts Instruction |
| FY23 Arts Project Support (APS) | Perceptions Yoga, Mindfulness & Art, Inc | $3,900.00 | 9 | Jennings | IN6 | SHD67 | SSD43 | Creative Aging Series | 12 Arts Instruction |
| FY23 Arts Project Support (APS) | Jennings County Historical Society (DBA: Our Heritage, Inc.) | $3,900.00 | 9 | Jennings | IN6 | SHD69 | SSD43 | Sassafras Tea Festival & Civil War Living History, Historical Museum, Blacksmith Shop & Ghost Walk | 33 Building Public Awareness |
| FY23 Arts Project Support (APS) | Johnson County Public Library Foundation | $2,340.00 | 7 | Johnson | IN9 | SHD47 | SSD41 | Native Voices: Cultures of Storytelling | 05 Concert/Performance/Reading |
| FY23 Arts Project Support (APS) | Northwest Territory Art Guild | $3,900.00 | 10 | Knox | IN8 | SHD45 | SSD48 | Public Sculpture Project | 06 Exhibition |
| FY23 Arts Project Support (APS) | Old Town Players, Inc. | $2,000.00 | 10 | Knox | IN8 | SHD45 | SSD48 | Children's Theater - "Matilda Jr." | 05 Concert/Performance/Reading |
| FY23 Arts Project Support (APS) | City of Warsaw - Parks & Recreation Department | $3,900.00 | 2 | Kosciusko | IN3 | SHD22 | SSD9 | Summer Concert Series | 05 Concert/Performance/Reading |
| FY23 Arts Project Support (APS) | International Friendship Gardens Music Festival, Inc | $3,900.00 | 1 | La Porte | IN1 | SHD9 | SSD8 | Opera in the Gardens | 05 Concert/Performance/Reading |
| FY23 Arts Project Support (APS) | Michigan City Chamber Music Festival, Inc. | $3,510.00 | 1 | La Porte | IN1 | SHD9 | SSD4 | Musical Outreach Program for Children | 05 Concert/Performance/Reading |
| FY23 Arts Project Support (APS) | Michigan City Messiah | $3,900.00 | 1 | La Porte | IN1 | SHD4 | SSD5 | Messiah and Choral Masterworks Concerts | 05 Concert/Performance/Reading |
| FY23 Arts Project Support (APS) | Tradewinds Services Inc. | $3,900.00 | 1 | Lake | IN1 | SHD19 | SSD3 | ARTS & CRAFTS PROJECTS | 99 None of the above |
| FY23 Arts Project Support (APS) | African American Achievers Youth Corps, Inc. | $3,900.00 | 1 | Lake | IN1 | SHD14 | SSD3 | 12th Annual Bill Johnson Black Film Festival | 08 Fair/Festival |
| FY23 Arts Project Support (APS) | Humane Indiana, Inc. | $3,900.00 | 1 | Lake | IN1 | SHD12 | SSD1 | Art In Nature | 33 Building Public Awareness |
| FY23 Arts Project Support (APS) | Whiting/Robertsdale Community Improvement Corporation | $3,900.00 | 1 | Lake | IN1 | SHD1 | SSD2 | Summer with the Symphony | 05 Concert/Performance/Reading |
| FY23 Arts Project Support (APS) | Teena's Legacy | $3,557.00 | 1 | Lake | IN1 | SHD3 | SSD3 | Message From The Soul: Bring your own chair to the table | 18 Repair/Restoration/Conservation |
| FY23 Arts Project Support (APS) | Town of Schererville | $3,900.00 | 1 | Lake | IN1 | SHD15 | SSD1 | SYMPHONY IN THE PARK | 05 Concert/Performance/Reading |
| FY23 Arts Project Support (APS) | Rockopelli, Inc. | $3,900.00 | 1 | Lake | IN1 | SHD12 | SSD1 | Rockopelli Music Festival 2022 | 08 Fair/Festival |
| FY23 Arts Project Support (APS) | Top 20, Inc. | $3,900.00 | 1 | Lake | IN1 | SHD19 | SSD6 | Top 20 II/SSDA Summer Intensive Dance Workshop and Productions | 12 Arts Instruction |
| FY23 Arts Project Support (APS) | WJOB Radio Station (FS: Legacy Foundation) | $3,900.00 | 1 | Lake | IN1 | SHD1 | SSD1 | Of Notoriety Weekly Radio Show | 16 Recording/Filming/Taping |
| FY23 Arts Project Support (APS) | Hammond Development Corp | $3,900.00 | 1 | Lake | IN1 | SHD1 | SSD1 | Creative HUB | 06 Exhibition |
| FY23 Arts Project Support (APS) | Northwest Indiana Public Broadcasting | $3,900.00 | 1 | Lake | IN1 | SHD14 | SSD3 | Eye on the Arts | 36 Broadcasting |
| FY23 Arts Project Support (APS) | Town of St. John | $3,900.00 | 1 | Lake | IN1 | SHD11 | SSD6 | St. John: Tradition and Growth | 06 Exhibition |
| FY23 Arts Project Support (APS) | Gary Shakespeare Company | $2,340.00 | 1 | Lake | IN1 | SHD14 | SSD3 | Julius Caesar | 04 Creation of a Work of Art |
| FY23 Arts Project Support (APS) | Central Indiana Powwow Inc | $3,900.00 | 5 | Madison | IN5 | SHD36 | SSD25 | Andersontown Powwow & Education Day | 08 Fair/Festival |
| FY23 Arts Project Support (APS) | Anderson Public Library | $2,000.00 | 5 | Madison | IN5 | SHD36 | SSD25 | Art Explorers, Explorations in Art, and Art-on-the-Go | 12 Arts Instruction |
| FY23 Arts Project Support (APS) | Indy Movement Arts Collective | $3,900.00 | 7 | Marion | IN5 | SHD86 | SSD30 | Blind/Vision Impaired Movement Research | 19 Research/Planning |
| FY23 Arts Project Support (APS) | Indy Folk Series Inc. | $3,900.00 | 7 | Marion | IN7 | SHD96 | SSD33 | Indy Folk Series 2022/2023 Season Support for Equipment and Performers | 05 Concert/Performance/Reading |
| FY23 Arts Project Support (APS) | Arte Mexicano en Indiana, Inc. | $3,900.00 | 7 | Marion | IN7 | SHD97 | SSD33 | Ambulante Gallery (Traveling Mexican Art Gallery) | 06 Exhibition |
| FY23 Arts Project Support (APS) | Indiana Fashion Foundation Corporation | $3,900.00 | 7 | Marion | IN5 | SHD86 | SSD30 | Making It In Fashion Conference | 29 Professional Development/Training |
| FY23 Arts Project Support (APS) | Big Brothers Big Sisters of Central Indiana | $3,900.00 | 7 | Marion | IN7 | SHD96 | SSD33 | Infusing Art into Mentoring Hub | 37 Public Art/Percent for Art |
| FY23 Arts Project Support (APS) | Art Nature Consortium Incorporated | $4,000.00 | 3 | Miami | IN2 | SHD18 | SSD18 | Indiana Waterways | 17 Publication |
| FY23 Arts Project Support (APS) | ReDiscover Downtown Peru Inc | $4,000.00 | 3 | Miami | IN2 | SHD23 | SSD18 | Cole Porter Festival | 08 Fair/Festival |
| FY23 Arts Project Support (APS) | LIFEDesigns | $3,200.00 | 8 | Monroe | IN9 | SHD61 | SSD40 | IDD Arts Festival | 08 Fair/Festival |
| FY23 Arts Project Support (APS) | Bloomington Boogies (FS: Fairview Elementary PTO) | $4,000.00 | 8 | Monroe | IN9 | SHD60 | SSD40 | Bloomington Boogies: The Bloomington Blues & Boogie Woogie Piano Festival | 08 Fair/Festival |
| FY23 Arts Project Support (APS) | Early Music Associates Inc | $4,000.00 | 8 | Monroe | IN9 | SHD62 | SSD40 | BLEMF 2023: Connected Worlds--Early Music in Latino, Iberian & Arabic Lands | 08 Fair/Festival |
| FY23 Arts Project Support (APS) | Arts Alliance of Greater Bloomington | $3,200.00 | 8 | Monroe | IN9 | SHD60 | SSD40 | Expanding Creativity Workshops | 12 Arts Instruction |
| FY23 Arts Project Support (APS) | Area 10 Council on Aging of Monroe and Owen Counties, Inc. | $4,000.00 | 8 | Monroe | IN9 | SHD46 | SSD40 | Endwright Center & Endwright East Music & Art Program Support | 12 Arts Instruction |
| FY23 Arts Project Support (APS) | Forgotten Clefs, Inc. | $4,000.00 | 8 | Monroe | IN9 | SHD62 | SSD40 | Shawms and Stories | 05 Concert/Performance/Reading |
| FY23 Arts Project Support (APS) | OperaMaya Inc. | $4,000.00 | 8 | Monroe | IN9 | SHD61 | SSD40 | Viva! Mayan Culture Festival | 08 Fair/Festival |
| FY23 Arts Project Support (APS) | Amity Trio | $4,000.00 | 8 | Monroe | IN9 | SHD61 | SSD40 | Amity Trio: Indiana in the Springtime | 05 Concert/Performance/Reading |
| FY23 Arts Project Support (APS) | Reimagining Opera for Kids | $4,000.00 | 8 | Monroe | IN9 | SHD61 | SSD40 | ROK presents The Magic Flute! | 05 Concert/Performance/Reading |
| FY23 Arts Project Support (APS) | Shakespeare's Ear (FS: Southern Indiana Youth Symphony Inc) | $4,000.00 | 8 | Monroe | IN9 | SHD61 | SSD40 | Shakespeare's Ear | 20 School residency |
| FY23 Arts Project Support (APS) | Bloomington Chamber Opera | $4,000.00 | 8 | Monroe | IN9 | SHD61 | SSD40 | Scott Joplin's Treemonisha | 05 Concert/Performance/Reading |
| FY23 Arts Project Support (APS) | Porcelain Art School of Indiana | $4,000.00 | 8 | Morgan | IN9 | SHD60 | SSD37 | Oil on Porcelain Painting | 04 Creation of a Work of Art |
| FY23 Arts Project Support (APS) | Orange County Rehab (DBA First Chance Center) | $3,760.00 | 8 | Orange | IN9 | SHD73 | SSD47 | First Chance Center's Artistic Expressions | 04 Creation of a Work of Art |
| FY23 Arts Project Support (APS) | Regional Performing Arts Company | $3,900.00 | 1 | Porter | IN1 | SHD10 | SSD4 | Putting Youth Center Stage | 12 Arts Instruction |
| FY23 Arts Project Support (APS) | Opportunity Enterprises | $3,900.00 | 1 | Porter | IN1 | SHD4 | SSD5 | Educational Art Programs for Adults with Disabilities | 12 Arts Instruction |
| FY23 Arts Project Support (APS) | Indiana Dunes Environmental Learning Center | $3,900.00 | 1 | Porter | IN1 | SHD10 | SSD4 | Connecting Art and Nature in Indiana Dunes National Park | 99 None of the above |
| FY23 Arts Project Support (APS) | Sequenza Chamber Music, Inc. (DBA: Duo Sequenza) | $3,900.00 | 1 | Porter | IN1 | SHD11 | SSD5 | Project Listen Up! | 05 Concert/Performance/Reading |
| FY23 Arts Project Support (APS) | Northwest Indiana Excellence in Theatre Foundation Inc | $3,900.00 | 1 | Porter | IN1 | SHD4 | SSD5 | Theatre Festival | 08 Fair/Festival |
| FY23 Arts Project Support (APS) | Neighbors Broadcasting (DBA: WVLP-LP) | $2,849.00 | 1 | Porter | IN1 | SHD4 | SSD5 | Arts on the Air | 16 Recording/Filming/Taping |
| FY23 Arts Project Support (APS) | Gabis Arboretum at Purdue Northwest | $3,228.00 | 1 | Porter | IN1 | SHD4 | SSD5 | Inclusive Earth Art | 04 Creation of a Work of Art |
| FY23 Arts Project Support (APS) | The Caring Place, Inc | $3,900.00 | 1 | Porter | IN1 | SHD5 | SSD5 | Filling the Gaps: Art as a Source of Strength! | 12 Arts Instruction |
| FY23 Arts Project Support (APS) | Seedlings Theatre Company | $3,900.00 | 1 | Porter | IN1 | SHD11 | SSD5 | Pop Up Theatre | 05 Concert/Performance/Reading |
| FY23 Arts Project Support (APS) | Chautauqua in the Dunes | $3,900.00 | 1 | Porter | IN1 | SHD11 | SSD5 | 5th Annual Chautauqua in the Dunes | 08 Fair/Festival |
| FY23 Arts Project Support (APS) | South Shore Chamber Orchestra | $3,900.00 | 1 | Porter | IN1 | SHD4 | SSD4 | Music On the Road | 05 Concert/Performance/Reading |
| FY23 Arts Project Support (APS) | Boys & Girls Clubs of Greater Northwest Indiana | $3,900.00 | 1 | Porter | IN1 | SHD10 | SSD4 | 2022-2023 Fine Arts Exhibit | 12 Arts Instruction |
| FY23 Arts Project Support (APS) | University of Southern Indiana-Division of Outreach and Engagement (DBA: New Harmony Gallery of Contemporary Art) | $3,900.00 | 10 | Posey | IN8 | SHD76 | SSD49 | Free Public Exhibition Series | 06 Exhibition |
| FY23 Arts Project Support (APS) | Working Men's Institute | $3,900.00 | 10 | Posey | IN8 | SHD76 | SSD49 | Woven in Harmony: Connecting through the Arts | 12 Arts Instruction |
| FY23 Arts Project Support (APS) | Pulaski County Tribe Inc | $3,500.00 | 4 | Pulaski | IN2 | SHD16 | SSD5 | Welcome to Monterey | 04 Creation of a Work of Art |
| FY23 Arts Project Support (APS) | Greencastle Arts Council | $1,250.00 | 6 | Putnam | IN4 | SHD44 | SSD37 | Third Annual Putnam County Adult Visual Arts Exhibition | 06 Exhibition |
| FY23 Arts Project Support (APS) | DePauw University - School of Music | $3,900.00 | 6 | Putnam | IN4 | SHD44 | SSD37 | DePauw University Jazz Festival (Fall 2022) | 12 Arts Instruction |
| FY23 Arts Project Support (APS) | Putnam County Mural Project (FS: Greencastle Civic League) | $3,900.00 | 6 | Putnam | IN4 | SHD44 | SSD37 | Putnam County Mural Festival | 08 Fair/Festival |
| FY23 Arts Project Support (APS) | Ripley County Tourism Bureau | $3,900.00 | 9 | Ripley | IN6 | SHD67 | SSD43 | Ripley County Plein Air Paint Out | 04 Creation of a Work of Art |
| FY23 Arts Project Support (APS) | Michiana Public Broadcasting Corporation/WNIT | $3,900.00 | 2 | St. Joseph | IN2 | SHD6 | SSD10 | Experience Michiana | 16 Recording/Filming/Taping |
| FY23 Arts Project Support (APS) | Community Foundation of St. Joseph County | $3,900.00 | 2 | St. Joseph | IN2 | SHD6 | SSD10 | 2022 Community Foundation Performing Arts Series | 05 Concert/Performance/Reading |
| FY23 Arts Project Support (APS) | Ensemble Concept/21 Inc. | $3,900.00 | 2 | St. Joseph | IN2 | SHD7 | SSD9 | Ensemble CONCEPT/21 2022-2023 Season: Nurturing New Voices | 05 Concert/Performance/Reading |
| FY23 Arts Project Support (APS) | Downtown South Bend, Inc. | $3,900.00 | 2 | St. Joseph | IN2 | SHD6 | SSD10 | Art Beat 2022 | 08 Fair/Festival |
| FY23 Arts Project Support (APS) | Trustees of Indiana University - Indiana University South Bend | $3,900.00 | 2 | St. Joseph | IN7 | SHD97 | SSD36 | Michele's Little Hearts Children's Theater Program | 05 Concert/Performance/Reading |
| FY23 Arts Project Support (APS) | Ripple Effect Vocal Visionary Project, Inc | $2,340.00 | 2 | St. Joseph | IN2 | SHD7 | SSD8 | "If You Knew Me, You'd Love Me" Concert | 05 Concert/Performance/Reading |
| FY23 Arts Project Support (APS) | South Bend Heritage | $3,900.00 | 2 | St. Joseph | IN2 | SHD6 | SSD10 | Colfax Campus Gallery Exhibitions | 06 Exhibition |
| FY23 Arts Project Support (APS) | The Starke County Youth Club, Inc. | $3,900.00 | 2 | Starke | IN2 | SHD20 | SSD8 | SCYC CREATE - Afterschool Art Programs and Performances | 12 Arts Instruction |
| FY23 Arts Project Support (APS) | Constellation of Starke Creatives Network (FS: Northern Indiana Community Foundation) | $3,900.00 | 2 | Starke | IN2 | SHD16 | SSD5 | Starke County Mural Series: Bass Lake Project | 37 Public Art/Percent for Art |
| FY23 Arts Project Support (APS) | Steuben Arts Scene Corp | $4,000.00 | 3 | Steuben | IN3 | SHD51 | SSD13 | 2022-2023 Arts Education | 12 Arts Instruction |
| FY23 Arts Project Support (APS) | To Be Honest, Inc. (FS: Independent Arts and Media) | $4,000.00 | 3 | Steuben | IN3 | SHD51 | SSD13 | TBH TV Series | 16 Recording/Filming/Taping |
| FY23 Arts Project Support (APS) | Vevay Main Street, Inc. | $3,900.00 | 9 | Switzerland | IN6 | SHD67 | SSD45 | First Fridays | 08 Fair/Festival |
| FY23 Arts Project Support (APS) | Historic Hoosier, Inc. | $3,900.00 | 9 | Switzerland | IN6 | SHD67 | SSD45 | 2022-2023 Music, Movies, and Plays | 05 Concert/Performance/Reading |
| FY23 Arts Project Support (APS) | City of West Lafayette | $3,500.00 | 4 | Tippecanoe | IN4 | SHD26 | SSD22 | Global Fest | 08 Fair/Festival |
| FY23 Arts Project Support (APS) | Joyful Journey Inc, Adult Day Service | $2,400.00 | 4 | Tippecanoe | IN4 | SHD26 | SSD22 | Artist-in-Residence: Denise Wilson | 21 Artist Residency |
| FY23 Arts Project Support (APS) | Lafayette Transitional Housing Center (DBA: LTHC Homeless Services) | $1,638.00 | 4 | Tippecanoe | IN4 | SHD27 | SSD7 | Voices of Homelessness | 04 Creation of a Work of Art |
| FY23 Arts Project Support (APS) | Westminster Village | $3,320.00 | 4 | Tippecanoe | IN4 | SHD22 | SSD26 | About Face: An Intergenerational Arts Program | 04 Creation of a Work of Art |
| FY23 Arts Project Support (APS) | Purdue University - Department of Educational Studies | $1,950.00 | 4 | Tippecanoe | IN4 | SHD26 | SSD22 | Grant's House Mural | 04 Creation of a Work of Art |
| FY23 Arts Project Support (APS) | Latino Center for Wellness and Education (LCWE) | $4,000.00 | 4 | Tippecanoe | IN4 | SHD27 | SSD7 | 2022 Tippecanoe Latino Festival | 08 Fair/Festival |
| FY23 Arts Project Support (APS) | Purdue University Asian American & Asian Resource and Cultural Center | $1,950.00 | 4 | Tippecanoe | IN4 | SHD26 | SSD22 | Mural Arts with Asian/American Artist in Residence | 04 Creation of a Work of Art |
| FY23 Arts Project Support (APS) | Wolf Park, Inc. | $3,880.00 | 4 | Tippecanoe | IN4 | SHD25 | SSD7 | Art & Enrichment Camps | 12 Arts Instruction |
| FY23 Arts Project Support (APS) | West Lafayette Public Library | $2,000.00 | 4 | Tippecanoe | IN4 | SHD27 | SSD22 | Creative Lab Arts Series | 12 Arts Instruction |
| FY23 Arts Project Support (APS) | Tipton Community Theatre | $4,000.00 | 4 | Tipton | IN5 | SHD32 | SSD21 | Roald Dahl's Matilda, the Musical | 05 Concert/Performance/Reading |
| FY23 Arts Project Support (APS) | Victory International Film Festival (FS: Friend's of the Victory, Inc.) | $3,900.00 | 10 | Vanderburgh | IN8 | SHD78 | SSD50 | Victory International Film Festival | 08 Fair/Festival |
| FY23 Arts Project Support (APS) | Patchwork Central, Inc. | $3,900.00 | 10 | Vanderburgh | IN8 | SHD77 | SSD49 | Arts & Smarts | 12 Arts Instruction |
| FY23 Arts Project Support (APS) | EVSC Foundation (formerly Public Education Foundation of Evansville) | $3,900.00 | 10 | Vanderburgh | IN8 | SHD77 | SSD49 | The SpongeBob Musical - Summer Musical #34 | 05 Concert/Performance/Reading |
| FY23 Arts Project Support (APS) | Carver Community Organization | $3,900.00 | 10 | Vanderburgh | IN8 | SHD49 | SSD49 | Carver Multi-generational Neighborhood Mural | 04 Creation of a Work of Art |
| FY23 Arts Project Support (APS) | Louis J. Koch Family Children's Museum of Evansville | $3,900.00 | 10 | Vanderburgh | IN8 | SHD77 | SSD49 | Artist in Residence Program | 21 Artist Residency |
| FY23 Arts Project Support (APS) | STAGEtwo Productions INC. | $3,900.00 | 10 | Vanderburgh | IN8 | SHD64 | SSD49 | STAGEtwo Productions Presents Avenue Q | 05 Concert/Performance/Reading |
| FY23 Arts Project Support (APS) | Linda Luebke Strings Festival (FS: Arts Illiana) | $3,900.00 | 6 | Vigo | IN8 | SHD43 | SSD38 | Linda Luebke Strings Festival 2022 | 12 Arts Instruction |
| FY23 Arts Project Support (APS) | Indiana State University - School of Music | $3,900.00 | 6 | Vigo | IN8 | SHD43 | SSD38 | 56th Annual Contemporary Music Festival | 08 Fair/Festival |
| FY23 Arts Project Support (APS) | Indiana State University - Community School of the Arts | $3,900.00 | 6 | Vigo | IN8 | SHD43 | SSD38 | Rock Camp! 2022 | 12 Arts Instruction |
| FY23 Arts Project Support (APS) | Indiana State University - African and African American Studies | $3,900.00 | 6 | Vigo | IN8 | SHD43 | SSD38 | Generational Listening: Dancing the Rhythms of Youth and the Chants of Elders | 21 Artist Residency |
| FY23 Arts Project Support (APS) | North Manchester Civic Symphony Society Inc | $2,720.00 | 3 | Wabash | IN2 | SHD18 | SSD17 | Beethoven Mass in C - with high school choirs and four alumni soloists | 05 Concert/Performance/Reading |
| FY23 Arts Project Support (APS) | MSD of Warren County (DBA: Warren County Learning Center) | $4,000.00 | 4 | Warren | IN4 | SHD13 | SSD23 | Summer Enrichment Program | 12 Arts Instruction |
| FY23 Arts Project Support (APS) | Warrick Public Education Foundation | $3,900.00 | 10 | Warrick | IN8 | SHD78 | SSD50 | 26th Annual Warrick County Summer Musical | 05 Concert/Performance/Reading |
| FY23 Arts Project Support (APS) | Historic Newburgh, Inc | $3,900.00 | 10 | Warrick | IN8 | SHD50 | SSD50 | 2022-2023 Arts Series | 05 Concert/Performance/Reading |
| FY23 Arts Project Support (APS) | The Foundry Center for the Arts | $3,900.00 | 10 | Warrick | IN8 | SHD75 | SSD50 | After School Arts | 12 Arts Instruction |
| FY23 Arts Project Support (APS) | Hagerstown Nettle Creek Players Inc | $3,900.00 | 5 | Wayne | IN6 | SHD54 | SSD27 | The Nettle Creek Players 2022 Summer Stock Theatre Season | 05 Concert/Performance/Reading |
| FY23 Arts Project Support (APS) | Chanticleer String Quartet (FS:Earlham College) | $3,900.00 | 5 | Wayne | IN6 | SHD56 | SSD27 | Earlham College for the Chanticleer String Quartet | 05 Concert/Performance/Reading |
| FY23 Arts Project Support (APS) | Richmond Community Schools / Civic Hall Performing Arts Center | $3,900.00 | 5 | Wayne | IN6 | SHD56 | SSD27 | 2022-2023 Proudly Presenting Series | 05 Concert/Performance/Reading |